From XXXL to Medium with P90X3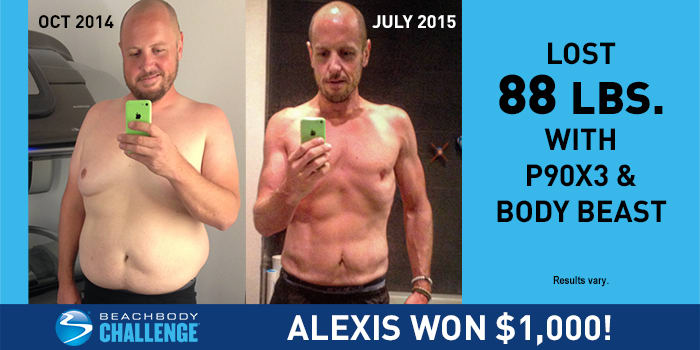 Alexis W, age 35 from Sherman Oaks, CA, lost 88 with P90X3 and Body Beast. He entered his results into The Beachbody Challenge and won $1,000!
Tell us about your life before you started the program. How did you feel about yourself and your body?
I am a Father of two boys. After my second boy was born, I gained even more weight. I felt like crap, slow, tired, grumpy…
What inspired you to change your life and begin your transformation journey?
I decided to change things when I felt like I wasn't enjoying life with my kids, and I was struggling to breathe when we were playing. I don't have those problems anymore, and I can run like a true athlete! My kids love it when I throw them in the air, and when we play for hours because my cardio is on point!
What is the greatest challenge you faced before beginning the program? How did the program and Beachbody® help you overcome that challenge?
I was overweight my entire life, and I always thought that it was genetics. Bull$#*t! Beachbody gave me the knowledge and ability to live and eat clean and feel good. For the first time in my life I can wear a M size t-shirt! I had always bought XXL or XXXL.
What in particular did you like about the program you chose?
P90X3 was really good, because its approach helped me lose a lot of fat. It is fast, intense, and perfect to burn fat. It also taught me to stretch, proper form, and different types of fitness activities like yoga, pilates, weight training, and bootcamp. It is a very good all around program.
Describe the results you achieved with your Beachbody program. Which achievements are you proud of?
I have lost more than 90 lbs because of P90X3 and Body Beast.
How has your life changed since completing your Beachbody program?
Everybody sees me differently now. People don't approach me the same way. Some people even tell me that I am happier, more friendly, and a lot easier to approach now. At work, I got promoted recently. Maybe my weight loss wasn't part of it, but I'm pretty sure it helped. 🙂
How did a Beachbody Supplement or Nutritional Product or Program (such as Shakeology® or Beachbody Ultimate Reset®) support your transformation? What are the greatest benefits you gained? Did you see benefits to your energy, sleep, mood/mental clarity, digestion/regularity?
Shakeology helped me fight cravings when I was cutting calories, and creatine helped my muscles recover faster.2
You can change your life, too. Take the Beachbody Challenge for the tools you need to Decide, Commit, and Succeed! Complete any Beachbody program, and enter your results for a free gift and a chance to win cash and prizes.

†Results vary depending on starting point and effort.
2These statements have not been evaluated by the Food and Drug Administration. This product is not intended to diagnose, treat, cure, or prevent any disease.