From Lethargic to Lean in 90 Days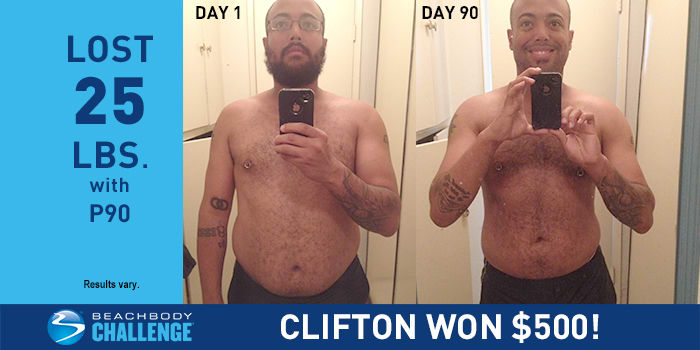 Clifton B lost 22 lbs in 90 days with P90. He entered his results into The Beachbody Challenge, and won the $500 Daily Prize for August 18th!
Tell us about your life before you started the program. How did you feel about yourself and your body?
I was sluggish, my eating and drinking was out of control. I felt fat, tired, very self conscious, and nothing fit right.
What inspired you to change your life and begin your transformation journey?
My Coach Jason, is an old high school buddy. He got ripped and I saw his before and after photos. Once he started a Challenge Group, and I saw others who were transformed, I wanted to try it. I tried borrowing the DVDs from someone, but didn't stick with it. I decided to get the challenge pack with Shakeology. Then I was invested.
What is the greatest challenge you faced before beginning the program? How did the program and Beachbody® help you overcome that challenge?
I had a bad knee, but also I was a very lethargic person. It is not in my nature to want to work out. Beachbody and P90 was a good gateway because the program was low impact. I could modify with bands instead of weights and jumping since I live in an apt.. The workouts also fit my schedule because they were 25 – 55 minutes. I started waking up early to do them as my schedule at night can get chaotic. It's a sacrifice but well worth it.
What in particular did you like about the program you chose?
Tony is a great trainer. He doesn't take himself too seriously, and he wants you to do well. I like doing it at home and rolling right out of bed instead having to go to the gym. Saves me time. Shakeology in the morning is also a great breakfast, and I just shake it and go. No fuss!
Describe the results you achieved with your Beachbody program. Which achievements are you proud of?
I lost over 25 lbs, and I'm almost rid of my spare tire. I can do more push ups than I ever could. I don't get winded walking up the stairs anymore. I'm more conscious of what I am eating and drinking. I'm proud most of all that I stuck with it, and hopped back on when I got sidelined from being sick. It made me push myself and be creative with when and where I did the workouts. Total commitment.
How has your life changed since completing your Beachbody program?
People started noticing and complimenting me about looking better and younger. I inspired people with my results and people in the Challenge Group on Facebook are asking me questions about what I did.
How did participating in a Challenge Group help you reach your goals? How did your group support you and keep you accountable?
People were really encouraging to me in the group. Jason, my Coach, was motivating me the whole time, and they wouldn't let me beat myself up when I messed up. It also helped to know people were doing it with me.
How did your Team Beachbody® Coach support you on your journey?
Jason is the main man. Always inspiring with his Shakeology recipes, photos, and quotes. He always commented on my posts to keep me encouraged.
How did a Beachbody Supplement or Nutritional Product or Program (such as Shakeology® or Beachbody Ultimate Reset®) support your transformation? What are the greatest benefits you gained? Did you see benefits to your energy, sleep, mood/mental clarity, digestion/regularity?
Shakeology helped me lose weight.1 When I took, it I lost weight, and when I didn't, I stalled. Not sure how it works, but it works. Keeps you fuller longer.1 I definitely felt more energy.1
You can change your life, too. Take the Beachbody Challenge for the tools you need to Decide, Commit, and Succeed! Complete any Beachbody program, and enter your results for a free gift and a chance to win cash and prizes.

Results vary depending on starting point and effort.
1These statements have not been evaluated by the Food and Drug Administration. This product is not intended to diagnose, treat, cure, or prevent any disease.