Former Competitive Bench Presser Loses 28 Pounds in 60 Days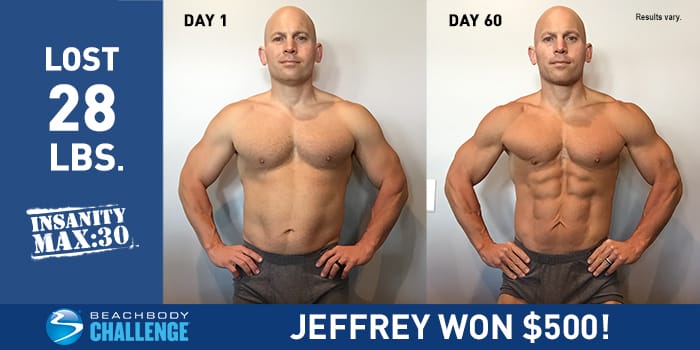 Results vary depending on starting point and effort.
Jeffrey B. lost 28 lbs. in 60 days with INSANITY MAX:30. He entered his results into The Beachbody Challenge, and won the $500 Daily Prize for September 10th!
Tell us about your life before you started the program. How did you feel about yourself and your body?
At one point in my life, I weighed over 300 pounds. I was a competitive bench presser on a world record level. I retired from the sport in 2012 and began to look for ways to transform my physique. It has been a long journey but I feel I am making progress. I have used the original INSANITY program before, but it wasn't until MAX:30 that I really started making the gains I wanted to see.
What inspired you to change your life and begin your transformation journey?
My inspiration has been my family. I want to constantly challenge myself and set a solid example for my three children.
What is the greatest challenge you faced before beginning the program? How did the program and Beachbody help you overcome that challenge?
Getting started and learning that daily improvements are what it's all about.
What in particular did you like about the program you chose?
The fact that it was only 30 minutes, and that I could always find 30 minutes to improve my life.
Describe the results you achieved with your Beachbody program. Which achievements are you proud of?
Single digit body fat.
How has your life changed since completing your Beachbody program?
Changing…I'm not finished yet.
You can change your life, too. Take the Beachbody Challenge for the tools you need to Decide, Commit, and Succeed! Complete any Beachbody program, and enter your results for a free gift and a chance to win cash and prizes.