FOCUS T25: This Working Mom Lost 32 Pounds in 10 Weeks!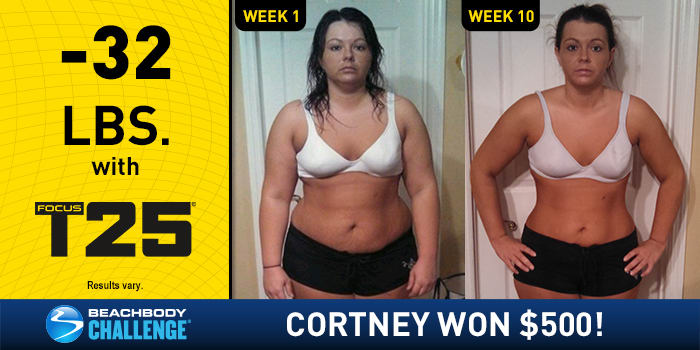 Cortney Arp lost 32 lbs. in 10 weeks with FOCUS T25. She entered her results into the Beachbody Challenge, and won the $500 Daily Prize for May 8th!
Tell us about your life before you started the program. How did you feel about yourself and your body?
Before I started the programs, I was at a very low point in my life. I had been having health issues and let myself go! I finally figured out what was going on, so it was time to do something about my body to get my health back in order for myself and my son.
What inspired you to change your life and begin your transformation journey?
I had never weighed that much in my life, and was so sick of the way I looked and felt. I wanted to be able to do things with my son again.
What is the greatest challenge you faced before beginning the program? How did the program and Beachbody help you overcome that challenge?
My health. I had completed the TurboFire program a few years prior to this, so I knew that Beachbody was the way to go since I knew the results I could have. I looked amazing after TurboFire, but I couldn't do the program again due to a car wreck injury on my knee years ago; my body couldn't handle it.*
What in particular did you like about the program you chose?
T25 was awesome because of the 25-minute duration.
Describe the results you achieved with your Beachbody program. Which achievements are you proud of?
I am amazed at the muscle tone I have that I never thought I would have! I'm also very proud of just how much weight I was able to lose when I didn't think I could!
How has your life changed since completing your Beachbody program?
I am able to do more with my son, and I can keep up now. I can fit in clothes that I would never have been able to before. I can also play sports and just play in the yard with my son without losing my breath or having to rest every few minutes. I am physically and mentally in a much better place!
You can change your life, too. Take the Beachbody Challenge for the tools you need to Decide, Commit, and Succeed! Complete any Beachbody program, and enter your results for a free gift and a chance to win cash and prizes.

Results vary depending on starting point, goals, and effort.
*Always consult with your physician about your unique medical needs before starting any fitness program or nutrition product.