FOCUS T25 Results: Zachary Lost 30 Pounds in 10 Weeks!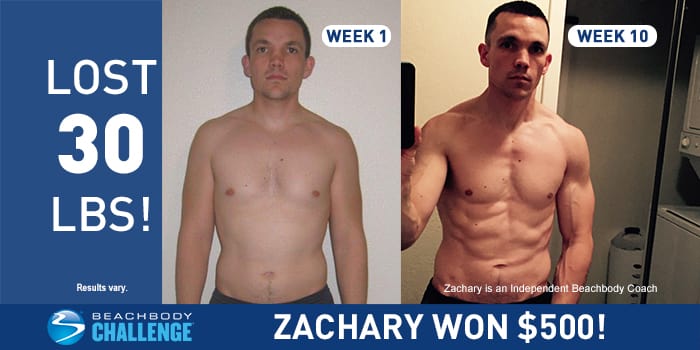 Zachary Wirfs lost 30 lbs. in 10 weeks with FOCUS T25 and Shakeology. He entered his results into the Beachbody Challenge, and won the $500 Daily Prize for February 6th!
Zachary is an independent Beachbody Coach.
Tell us about your life before you started the program. How did you feel about yourself and your body?
I'm in the Air Force, and Basic Military Training (BMT) got me in good shape losing almost 15 pounds. But after two foot surgeries, I had almost gained all the weight back. I've always been in okay shape, but felt something was missing. I couldn't seem to get past this plateau I had been stuck at for years. The biggest thing that bothered me was I felt like I never had enough energy.
What inspired you to change your life and begin your transformation journey?
I had started workouts in the past, but never saw them through to the end. I heard about a Challenge Group a neighbor of mine was putting on, who was a Beachbody Coach. I joined the group, and never looked back. The encouragement and accountability that I got from that group was what I was missing!
What is the greatest challenge you faced before beginning the program? How did the program and Beachbody help you overcome that challenge?
My biggest challenge was getting back into fitness and an active lifestyle after two foot surgeries, nearly back to back. FOCUS T25 was just what I needed! The challenge was there when I needed it, and I could handle it. But it allowed for modifications too, which worked great for me since I was recovering from surgery. I also loved the fact that I could build my way up through Alpha, Beta, and finally Gamma.
Why did you choose this particular program?
I had done INSANITY, but it had been too high-intensity; I was recovering from two foot surgeries. When I heard about FOCUS T25, and how it's only 25 minutes a day and less high-intensity, it sounded like exactly what I was looking for.
What in particular did you like about the program you chose?
It was a small time commitment.
Describe the results you achieved with your Beachbody program. Which achievements are you proud of?
I lost 30 pounds!
How has your life changed since completing your Beachbody program?
I'm in the best shape of my life, and have an amazing amount of energy!
How did participating in a Challenge Group help you reach your goals? How did your group support you and keep you accountable?
It gave me a group of people who were going through exactly what I was. It was really motivating.
How did your Team Beachbody Coach support you on your journey?
He invited me to my first Challenge Group.
How did a Beachbody supplement, nutritional product, or program (such as Shakeology or Beachbody Ultimate Reset) support your transformation? What are the greatest benefits you gained? Did you see benefits to your energy, sleep, mood/mental clarity, or digestion/regularity?
Shakeology has completely changed the way I eat for the better! My energy is higher than it's ever been. I wake up every day refreshed, and think clearer throughout the day!
You can change your life, too. Take the Beachbody Challenge for the tools you need to Decide, Commit, and Succeed! Complete any Beachbody program, and enter your results for a free gift and a chance to win cash and prizes.

*Results vary depending on starting point, goals, and effort.