FOCUS T25 Results: This Mom Lost 43 Pounds in 14 Weeks!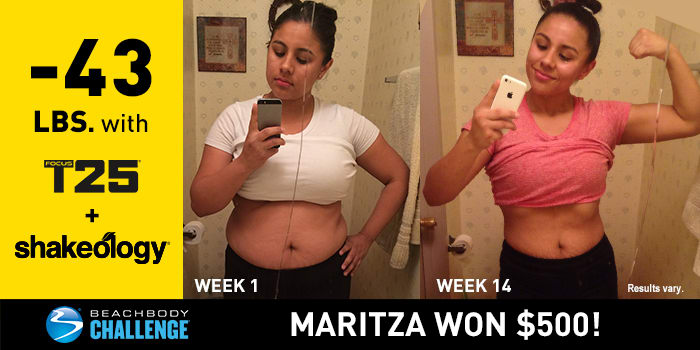 Maritza Perez lost 43 lbs. in 14 weeks with FOCUS T25 and Shakeology. She entered her results into the Beachbody Challenge, and won the $500 Daily Prize for February 21st!
Tell us about your life before you started the program. How did you feel about yourself and your body?
My eating habits were horrible. I ate junk food almost daily, including sweets, fried, processed, and fast food. I was always tired and sluggish. I did hardly any physical activity. The last time I honestly worked out was back in high school (2005). I felt unhealthy, out of shape, and extremely insecure about myself. This made me moody and heavily depressed.
What inspired you to change your life and begin your transformation journey?
My children and husband were my biggest motivation. After not being able to post any pictures of myself at my eldest daughter's birthday party, I knew I had to change ASAP.
What is the greatest challenge you faced before beginning the program? How did the program and Beachbody help you overcome that challenge?
My biggest challenge was getting over my fear of failure. I didn't want to start and quit as I had already done in the past. Shaun T is an amazing trainer. His workout DVDs are the best and his words are so motivating. I get emotional hearing him be so encouraging after a workout. I honestly had no moral support at all. Nobody cared or took me seriously, but Shaun made me realize the huge accomplishment it was to complete each and every workout. I am forever grateful for Shaun T, FOCUS T25, and Beachbody. You gave me my life back, and so much strength and confidence I had no clue I could possess. Thank you!
What in particular did you like about the program you chose?
T25 was ideal for me, because it only took 25 minutes, and was fun and challenging. Shaun T was also so encouraging.
Describe the results you achieved with your Beachbody program. Which achievements are you proud of?
Today I am fit, not just thin, but fit. I have toned legs and arms. I can do push-ups for the first time in my life! I just completed a Mud Run obstacle course and finished in third place. My mood has changed dramatically, and I am proud to say I am more flexible than my crazy, active nine-year-old.
How has your life changed since completing your Beachbody program?
My life has changed in the sense that I feel like a brand-new person. My eating habits are totally the opposite from before. I enjoy eating clean, and have encouraged others to live a more active, healthy lifestyle.
How did a Beachbody supplement, nutritional product, or program (such as Shakeology or Beachbody Ultimate Reset) support your transformation? What are the greatest benefits you gained? Did you see benefits to your energy, sleep, mood/mental clarity, or digestion/regularity?
Shakeology is amazing. I have it every day, and it is delicious. I love the energy it gives me and the way it keeps my digestive tract regular.+
You can change your life, too. Take the Beachbody Challenge for the tools you need to Decide, Commit, and Succeed! Complete any Beachbody program, and enter your results for a free gift and a chance to win cash and prizes.

Results vary depending on starting point, goals, and effort.
+These statements have not been evaluated by the Food and Drug Administration. This product is not intended to diagnose, treat, cure, or prevent any disease.