FOCUS T25 Results: This Firefighter Got Ripped in 10 Weeks!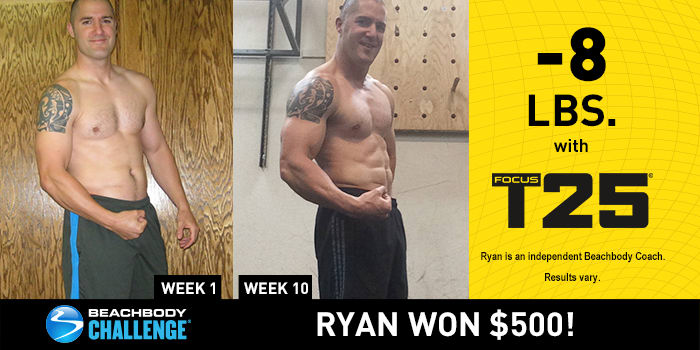 Ryan Smith lost 8 lbs. and got ripped in 10 weeks with FOCUS T25. He entered his results into The Beachbody Challenge, and won the $500 Daily Prize for May 15th!
Tell us about your life before you started the program. How did you feel about yourself and your body?
I was already active and fit, but I wanted to tone up and really look defined.
What inspired you to change your life and begin your transformation journey?
I was inspired by the short time frame required to commit to the daily workouts. Everything I had seen and heard about T25 led me to believe it would be effective.
What is the greatest challenge you faced before beginning the program? How did the program and Beachbody help you overcome that challenge?
My biggest challenge was curving my diet. I like to cook healthy, but I found it difficult to come up with new tasty and healthy meals. I got through it by using the healthy options and food ideas included in the program. I now have lots of healthy go-to meals that I rotate through the week.
What in particular did you like about the program you chose?
I liked the short commitment time per day since I have a busy work schedule.
Describe the results you achieved with your Beachbody program. Which achievements are you proud of?
I reduced my body fat and put on lean muscle.
How has your life changed since completing your Beachbody program?
I've realized that it's much easier to commit to a short workout every day, and it can be very effective. I now eat better and feel better. My mobility and flexibility have drastically improved; my abs are in the best shape ever; and my endurance is through the roof.
How did a Beachbody supplement, nutritional product, or program (such as Shakeology or Beachbody Ultimate Reset) support your transformation? What are the greatest benefits you gained? Did you see benefits to your energy, sleep, mood/mental clarity, or digestion/regularity?
I used the Actvit vitamins sold by Beachbody. They seem to work well, and I've continued taking them.
You can change your life, too. Take the Beachbody Challenge for the tools you need to Decide, Commit, and Succeed! Complete any Beachbody program, and enter your results for a free gift and a chance to win cash and prizes.

Results vary depending on starting point, goals, and effort.