FOCUS T25 Results: Saladin Lost 37 Pounds in Just 10 Weeks!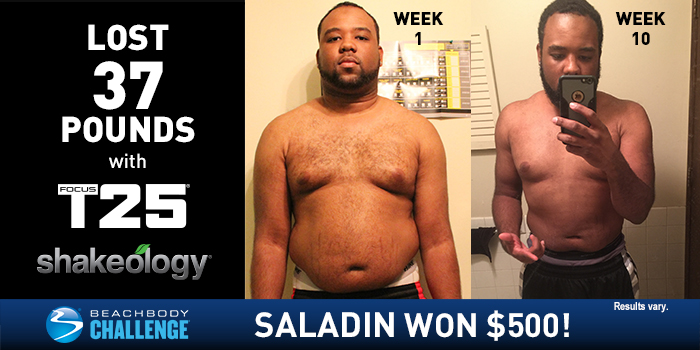 Saladin Broadway lost 37 lbs. in 10 weeks with FOCUS T25 and Shakeology. He entered his results into the Beachbody Challenge, and won the $500 Daily Prize for April 3rd!
Tell us about your life before you started the program. How did you feel about yourself and your body?
It all started before my kid was born. Three years ago, I started to gain weight. I gained over 40 pounds at the time! I just couldn't take it anymore, so I decided to change my lifestyle.
What inspired you to change your life and begin your transformation journey?
I was never overweight before, and gaining so much weight took a toll on my body. I was lazy, always tired, and lacked the motivation to do anything.
What is the greatest challenge you faced before beginning the program? How did the program and Beachbody help you overcome that challenge?
My greatest challenge was finding motivation and most of all, staying motivated to lose weight. Only 25 minutes a day? You can't beat that!
What in particular did you like about the program you chose?
I really love that it's only 25 minutes a day, and it makes you sweat a lot.
Describe the results you achieved with your Beachbody program. Which achievements are you proud of?
I am very proud of how much weight I lost in such a short amount of time.
How has your life changed since completing your Beachbody program?
It has changed my life tremendously. I now have more energy, and I'm more outgoing. I love it!
How did participating in a Challenge Group help you reach your goals? How did your group support you and keep you accountable?
The Challenge Groups are great and everybody is really supportive!
How did your Team Beachbody Coach support you on your journey?
My Coach was awesome! She always checks in on me every day to make sure I'm not slacking.
You can change your life, too. Take the Beachbody Challenge for the tools you need to Decide, Commit, and Succeed! Complete any Beachbody program, and enter your results for a free gift and a chance to win cash and prizes.

Results vary depending on starting point, goals, and effort.