FOCUS T25 Results: J.J. Lost 32 Pounds in Just 10 Weeks!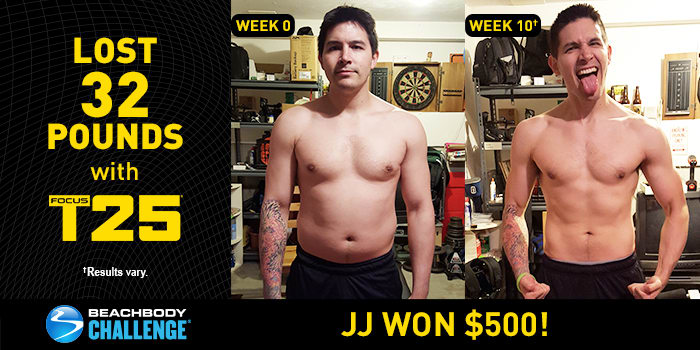 J.J. Long lost 32 lbs. in 10 weeks with FOCUS T25. He entered his results into the Beachbody Challenge, and won the $500 Daily Prize for September 21st!
Tell us about your life before you started the program. How did you feel about yourself and your body?
I felt bloated and lacked energy all the time. I was unhappy with my outward appearance and also with my inner self as a result. I knew I needed a lifestyle change, but knew the level of commitment I needed in order to transform and was just lazy and slow to start.
What inspired you to change your life and begin your transformation journey?
I had done INSANITY five years prior and was very happy with the results. I knew that if I pressed play and started working out to a Beachbody program again, I would see similar results to INSANITY. But I wanted to try something different. T25 appealed to me because it was only 25 minutes per workout, and I could manage to fit that into my busy schedule. INSANITY had worked for me before, so I was confident that I would see similar results.
What is the greatest challenge you faced before beginning the program? How did the program and Beachbody help you overcome that challenge?
The greatest challenge I faced before beginning the program was the dieting and following along to the meal plan. When I did INSANITY, I followed along to the meal plan almost exactly, so I knew I had to do the same with T25 if I wanted to see similar results. The food prep alone was something I needed to recondition myself to do, but after a few weeks, it became habit again. T25 and Beachbody helped me overcome this challenge by already having a recipe book with set meal plans. For T25, I actually went out and bought a food scale, tablespoons, and measuring cups to make sure I followed along to the meal plans exactly. Also, having the workout calendar was great to follow along to. I didn't have to worry about what workout to do on what days, because it was already laid out in front of me. All in all, this was a solid program and I saw similar results to INSANITY, so this made me extremely happy.
What in particular did you like about the program you chose?
With T25, my workouts lasted only 25 minutes, which was perfect for my busy schedule. Also, the meal plans were laid out really nicely. I chose five meals that didn't require a lot of prep for me and just repeated the same meals for 10 weeks. I'm the type of guy who can eat the same thing for days on end so this wasn't an issue for me. The exercises were also fun!
Describe the results you achieved with your Beachbody program. Which achievements are you proud of?
I lost 32 lbs. with T25, which was more than when I completed INSANITY. Also, my body fat percentage is comparable with INSANITY. I think if it wasn't for my age (being five years older), I think I would be down to the same body fat percentage as INSANITY. But the weight loss is a huge achievement I feel, and also I feel my abs are more prominent than when I finished INSANITY.
How has your life changed since completing your Beachbody program?
I have more energy and I feel really fit for my age. I also enjoy clean eating now and don't reach for the junk food as much. I'm starting Gamma today actually, and I can't wait to get more lean and cut. I still have further to go with my fitness, but I believe those goals are much more achievable now after completing T25.
You can change your life, too. Take the Beachbody Challenge for the tools you need to Decide, Commit, and Succeed! Complete any Beachbody program, and enter your results for a free gift and a chance to win cash and prizes. What program are you committing to next?

†Results vary depending on starting point and effort.