Fitspiration Friday: Training for Marathons with INSANITY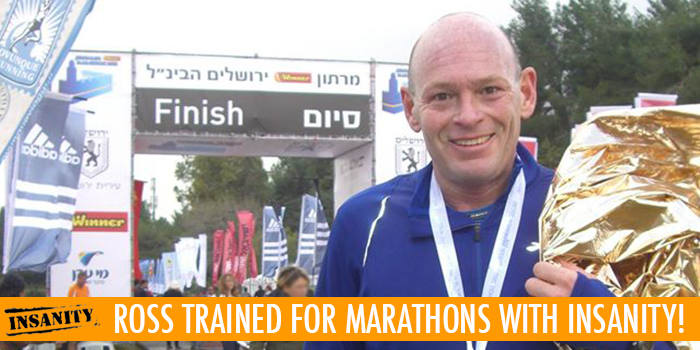 Results vary depending on starting point and effort. Ross is an independent Beachbody Coach.
If you've tried a Beachbody program, you've probably had a goal in mind that you wanted to achieve. Maybe you wanted to lose weight. Maybe you wanted to get stronger. Maybe you wanted to improve your health. Maybe it was a mix of all three, or something else entirely. But, along the way, no matter what your goal, everyone needs a little inspiration. Starting this Friday, the Beachbody Success Stories team will be sharing inspirational fitness stories from some of the folks who have done Beachbody programs. Maybe one will inspire you!
Here's today's. Meet Ross F.
"At the expo for the 2010 Honolulu Marathon, I met Fran P., who was there promoting Beachbody programs. She suggested INSANITY as an alternative route to training. I was skeptical. I didn't know much about INSANITY, though I had remembered seeing the infomercials, and thinking, "No way I could do that!"
After finishing the Honolulu Marathon, I started planning for 2011 and choose to do the Tel Aviv Marathon in April. I don't like running outside in the winter, so I knew training would be really difficult…since I live in Chicago. So, around Christmas, I purchased INSANITY and was set to start on New Year's Day.
I watched the Fit Test before I did it, just so I knew what I was getting into. I did the same with Day Two… but never did that again. I knew if I watched the workouts before actually doing them, I'd get intimidated and probably stop. I stayed focused throughout January. I was running the Miami Half Marathon at the end of that month and didn't do any outdoor training or running other than a couple days in mid-January, just INSANITY and my usual ice hockey officiating. And, I beat my previous half marathon personal record by 10 minutes. In mid-February, I ran the annual Great Aloha Run and, again, beat my previous best by about 10 minutes.
Flash-forward to the Tel Aviv Marathon. I felt good and was confident that I'd do well, despite only running outside about 6 or 7 times. The night before the marathon, at a pasta party, it hit me: 'What am I doing, running a marathon without any true outside running for the past 3 or 4 months?' I got really nervous. However, the race went great. I beat my marathon PR by about 20 minutes! I called my parents to tell them I finished and that I was OK, and after them, my first call was to Coach Fran.
I had run between 5 to 10 marathons before starting INSANITY and have now run 22, but the Tel Aviv Marathon was — and still is — my best."