Fitspiration Friday: I Was a Halloween Hit!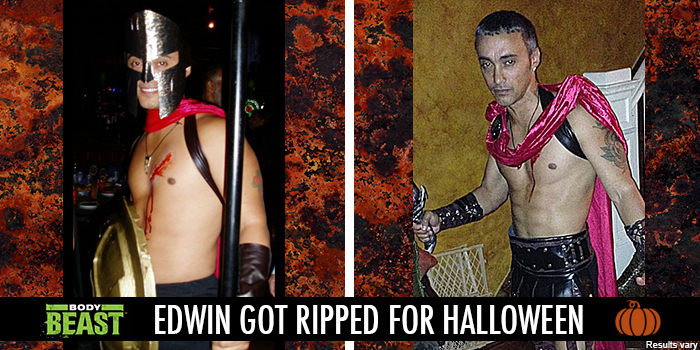 Results vary depending on starting point and effort. Edwin is an independent Beachbody Coach.
If you've tried a Beachbody program, you've probably had a goal in mind that you wanted to achieve. Maybe you wanted to lose weight. Maybe you wanted to get stronger. Maybe you wanted to improve your health. Maybe it was a mix of all three, or something else entirely. But, along the way, no matter what your goal, everyone needs a little inspiration. Every other Friday, the Beachbody Success Stories team will be sharing inspirational fitness stories from some of the folks who have done Beachbody programs. Maybe one will inspire you!
This is Edwin. He wanted to find a solution that worked, so he joined a Halloween Challenge Group and got ripped for his costume!
"I, like many, have joined numerous gyms, bought equipment (a few of the gimmick ones), and tried weight loss pills even though I was never overweight. I hated that I had the dreaded pot belly and I wanted badly to see my abs again! At 46 years old, I decided enough was enough of feeling tired, unmotivated and feeling uncomfortable to take off my shirt.
I've tried other programs and gyms and had seen what Body Beast did for my Coach. He signed me up for his Halloween Challenge group. The knowledge from my Coach and support from the group were instrumental in me achieving my goals! We motivated each other and held each accountable.
I loved using the weights with the program. Sagi's instructions and attention to proper form and technique were key in my transformation
I have a ripped and toned body! I lost 13 pounds and 2 inches off my waist. I'm proud of myself for sticking to the Challenge Group meal plan that was so instrumental in achieving my eye-popping results! At age 46, I found the abs I last had in my teens.
I'm way more confident in myself and my body. Others have noticed and compliment me about how I look. I now look forward to taking off my shirt, and last Halloween I was a hit wearing The Spartan 300 Costume!"