"For the First Time in 8 Years, I'm Looking Forward to Bathing Suit Season!"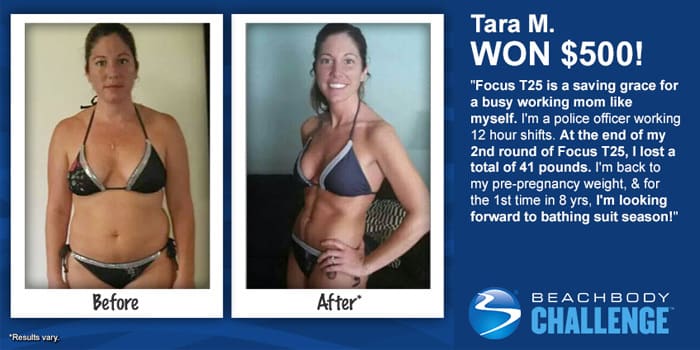 Meet Tara M.! She participated in The Beachbody Challenge and won the $500 Daily Prize for August 19!
Tell us about your life before you started the program. How did you feel about yourself and your body?
I considered myself to be a hard working mother of two young children, currently ages 4 & 7. I'm a police officer and work 12 hour shifts rotating between day & overnight shifts. Before I had my kids I was in great shape (size 2), had lots of energy, and was dedicated to running & working out. Once I had my kids I hadn't been able to return to the fun, energetic, thin person I was when I met my husband. I put every ounce of energy I had left at the end of my day towards my kids and taking care of business around the house. It was always something that kept me away from exercising…packing lunches, helping with homework, games/practices, groceries & endless laundry. My busy lifestyle had led me to become depressed & ashamed of how I looked. I felt far from attractive! After injuring myself at work, which required me to have knee surgery, I gained about 20 more pounds. I was the heaviest I had ever weighed, including when I was 9 months pregnant, and shamefully I went up to a size 14.
What inspired you to change your life and begin your transformation journey?
My husband began using Shakeology and doing Focus T25 workouts in Aug 2013. Within just a few short weeks, I saw great changes in him. A part of me was happy & proud of him for doing so well, but honestly a huge part of me felt extremely jealous & made me feel even worse about myself. My husband never gave up on me and encouraged me to try it, to spend time working out together. He assured me my bad knee could handle it, because there was a modifier I could follow if needed. I agreed to it, & he took my before pictures. When I looked at them I just cried thinking how could I have let myself go like that. I'm thankful everyday for my husband being so supportive of me regardless of what my weight is. My inspiration & determination comes from wanting him to be proud to have me as a wife.
What in particular did you like about Focus T25?
What I loved about Focus T25 is obviously that it was only 25 minute but still intense! That is a Saving Grace for a busy, working mom like myself! Just when I thought I would talk myself out of it, I would say to myself, "it's only 25 minutes. I can be done before this TV show is even over with!" The other aspect I loved was that there was a modifier in every video throughout the entire workout. I found myself relying on her to get me through the exercises that were too hard on my knee…..but I was still sweating, so that's what mattered to me!
Describe the results you achieved. Which achievements are you proud of?
I started T25 for the 1st time in Sept 2013 when I was at my heaviest, wearing a size 14 pants. I finished my first round in November right before Thanksgiving and was down 23 pounds. I started my 2nd round of T25 in January 2014 where I joined my first Challenge Group. I loved how it kept me accountable & motivated, and I found that I loved encouraging & motivating others going through the same struggles as well. At the end of my 2nd round of T25, I had lost another 18 pounds for a Total of 41 pounds, and fitting into Size 2 pants!! Since then, I've been continuing Shakeology and T25 to maintain. I'm back to my pre-pregnancy weight, and for the first time in 8 years, I'm looking forward to bathing suit season!
How has your life changed since completing Focus T25?
My life has totally changed since completing T25. Doing the workourts and drinking Shakeology has become a daily routine for my husband and I — a new healthy lifestyle. This is something that we can do together and enjoy! After posting my results on Facebook, I was overwhelmed with the responses and the amount of people coming to me for help with advice, tips, and motivation. I never thought in a million years I would hear anyone say that I was the one who inspired them to make a change to get healthy. I love the feeling of helping others change their life for the better, not just physically but emotionally as well. That's when I decided to become a Beachbody Coach! These last 2 months as a Coach have been unbelievably satisfying in knowing that I'm playing a part in helping people get through the same struggle I went though and helping them reach their fitness goals. Beachbody has definitely been a positive experience!
You can change your life, too. Take the Beachbody Challenge, select any Beachbody program, and once you complete it, share your results for your chance to win cash and prizes.