P90 Results: This 44-Year-Old Lost 43 Pounds in 90 Days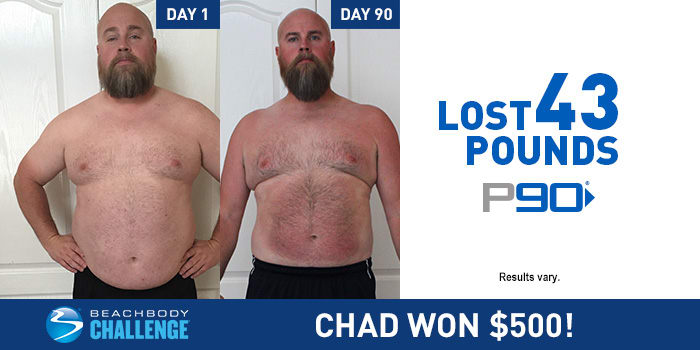 †Results vary depending on starting point and effort.
Chad Heyborne lost 43 lbs. in 90 days with P90. He entered his results into the Beachbody Challenge, and won the $500 Daily Prize for November 5th!
Tell us about your life before you started the program. How did you feel about yourself and your body?
I was fairly healthy, but had no stamina and was getting bigger and bigger. I used to be very active and athletic during my teens and early 20s, but then life happened. At 27, my wife and I had our first child, and it started to get harder to keep active. At 30, we had our second child and at 32, our third. I had my own business at the time, and things weren't going well. I started to get down on myself and let my weight go. Right before I decided to start P90, I was at 277 pounds.
What inspired you to change your life and begin your transformation journey?
I decided to change direction when I went to buy a new pair of pants, and everything in the store was too small. I had to go to the big and tall store, and it wasn't for my height! I decided right then I wasn't going to shop there, and I had to do something! I researched home exercise programs, and decided that P90 would be the best thing for me.
What is the greatest challenge you faced before beginning the program? How did the program and Beachbody help you overcome that challenge?
I had done a no-carb diet about 12 years ago, and lost a lot of weight. I just couldn't maintain living like that, so I started gaining weight. Within nine months, I'd gained it all back and kept on gaining more. I was worried a new lifestyle would be too hard and impossible to maintain. Tony Horton has made me want to exercise and live more healthy. I realized that I don't want to do it to just look better, but to feel healthy and be able to enjoy life with my family without being a fat blob!
What in particular did you like about the program you chose?
There were modifications to start. I hadn't exercised in several years, so that helped me. I also like how Tony pushes you without making you feel guilty!
Describe the results you achieved with your Beachbody program. Which achievements are you proud of?
I am so proud of the amount of weight I lost. 45 pounds in 90 days is a lot! I think it's so cool to have gone from a size 44-inch waist (maybe even 46) to comfortably wearing a 36!
How has your life changed since completing your Beachbody program?
I feel better all around, and people notice how much better I look. It's so awesome to be able to see my toes again!
You can change your life, too. Take the Beachbody Challenge for the tools you need to Decide, Commit, and Succeed! Complete any Beachbody program, and enter your results for a free gift and a chance to win cash and prizes.