Thomas Lost 66 Pounds, Lowered His Cholesterol, and Won $1,500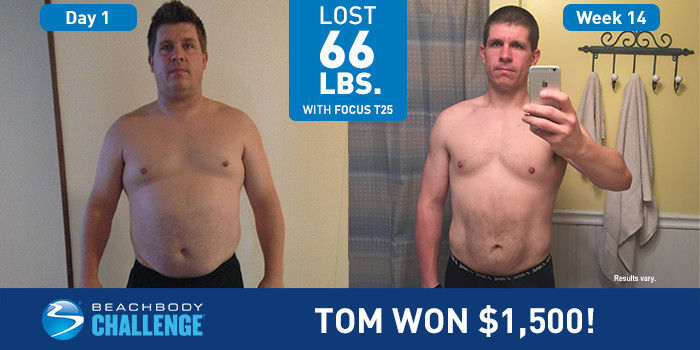 Thomas Amodeo, age 34 from Amherst, NY, lost 66 lbs. in 14 weeks with FOCUS T25 and Shakeology. He entered his results into the Beachbody Challenge and won $1,500!
Thomas is an Independent Beachbody Coach.
Tell us about your life before you started the program. How did you feel about yourself and your body?
I took four medications at 29 years old for cholesterol and blood pressure just to keep me healthy. I was an athlete who never had to be accountable or show discipline. That lifestyle continued post-athletics and the family culture was to love with food, like most people. I had a wife who supported and loved me unconditionally. However, I was going down a bad path — smoking socially and eating whatever I wanted, when I wanted. I was a picky eater, and used that as a crutch to eat unhealthy. I found out recently that this frustrated the people in my life who didn't want to see me this way. I hated the way I looked and tried other short-term/quick-fix programs, but failed every time. I saw a picture of myself from a recent trip, and knew a change needed to be made. But I had been at this crossroads before. So, I was the fat, funny guy. What about the people who only knew me as that? How would they react?
What inspired you to change your life and begin your transformation journey?
A friend reached out to me and expressed his real concerns for me and my health. We talked, and I was finally honest with myself and my situation. I was on medication for four years, and I am only 33 years old. I am a father, husband, and provider. I had seen the commercials for programs like P90X and INSANITY, but how was I to find the time? How could I sacrifice the little time I had at night as a family man to be "selfish" and work out? That was my "click" moment. Everything made sense. Death/sickness felt imminent, and I needed to change. I needed to think differently. I needed to stop making excuses and "get it done!" I drew up a plan and it made sense. If I dedicate time every day, I will be there physically and mentally with my family and actively participate. Before, I would lay on the couch and just exist. This was a poor example for them. I didn't want to die, but I found statistics that I was headed for an early death. So, I did the scariest thing I could think of: ask for help!
What is the greatest challenge you faced before beginning the program? How did the program and Beachbody help you overcome that challenge?
Asking for help and being accountable was the hardest. I had a group of friends that I sent a text to, and it was a shocker for them. I was brutally honest about the fact that I needed help and explained to them that the person they know isn't necessarily who I really am inside. It was a version of myself that catered to everyone else's vices. Something shocking happened. All of these hand-selected friends were so receptive and happy I came forward to make this change. All of them wanted to help and were determined to help, despite all of them being from different areas in the U.S. So the diet was underway, but I didn't know how I was going to work out with two working parents. One of my friends on that group text turned out to be my Beachbody Coach, Jon Kurtz. His support for my health and time constraints guided me into Beachbody programs. It was exactly what I was looking for — a program I could wake up to and work out. More importantly, it was something that would help me through the workout. The fear of the unknown was gone.
What in particular did you like about the program you chose?
I needed a program to get me in and out. I wasn't afraid to work out, but I never knew how to work out. I would waste time in a gym. The instruction through the TV was sometimes like he was in my living room. He knew when I was getting tired, and knew how to provide support. I didn't need equipment to begin. I just needed focus and the willingness to buy in.
Describe the results you achieved with your Beachbody program. Which achievements are you proud of?
I am no longer on medication! This has overshadowed how I feel physically as well. The physical transformation is incredible when I look in the mirror. My doctor found, based on bloodwork, blood pressure monitoring, and weight, that I no longer needed to be on medication. I am a healthy 33-year-old, husband, father, and provider now. I feel great, and others constantly comment on how good I look. I have become the person I had always been hiding. People accept me for who I am, and I don't need to hide that part of myself. I now have freedom to be authentic. My doctor has told my parents that he uses me and my story as an example that anyone can lose the weight and end the trend of obesity. You are the catalyst in your story. No one else.
How has your life changed since completing your Beachbody program?
I went from wondering how people lost weight to the person people are asking advice now — after just one program! This is my lifestyle now. I drink Shakeology every day and will continue on with this, because I have never felt so good in my life. The journey has just begun. The community at Beachbody has made this easy, and I am a new person. I know this sounds cliché, but I am proud of what this program has given me: a new chance at a fuller life.
How did participating in a Challenge Group help you reach your goals? How did your group support you and keep you accountable?
Accountability and support! The most important part was that the communication from others about their own struggles and triumphs made it more real. The people in the group weren't paid actors. They were doctors, clerks, and IT guys like me. Supporting with love will triumph over anything.
How did your Team Beachbody Coach support you on your journey?
Availability and supporting me through so many questions I had concerning diet changes and lifestyle. From how he dealt with mastering a move to recipes for Shakeology, he was an open book and receptive to my constant and invasive questions. He is the reason for my success.
Howdid a Beachbody supplement, nutritional product, or program (such as Shakeology or Beachbody Ultimate Reset) support your transformation? What are the greatest benefits you gained? Did you see benefits to your energy, sleep, mood/mental clarity, or digestion/regularity?
Shakeology is an amazing product. I get to have a chocolate shake every day, and not a protein shake that tastes chalky and gross. Shakeology is a legitimately great-tasting, sweet tooth-filling shake. Everything evolved with the program. As I got stronger, I wanted more out of myself. Jon told me about E&E, which was mentioned in the high-paced videos. That was another game-changer for me. I felt great and now was getting even more out of my workouts.
How did a Beachbody supplement, nutritional product, or program affect any existing health conditions you have?
I am no longer on medication! It just feels so good to say that. My cholesterol was lowered tenfold into healthy numbers. There is no question that Shakeology helped me kick-start my day. When you start off your day knowing you're putting something so healthy into your system, you make better decisions for the rest of your day. Shakeology is my catalyst.
Did you achieve any other measurable improvements with a Beachbody supplement, nutritional product, or program (e.g. blood pressure, blood sugar, triglycerides, etc.)?
My triglycerides, even on medication, were borderline. I no longer need the medication to maintain a low, healthy number. The online club membership system made planning easy. So with Shakeology and the meal planner, I was able to find success fast. It was everything it was promoted to be for me.
You can change your life, too. Take the Beachbody Challenge for the tools you need to Decide, Commit, and Succeed! Complete any Beachbody program, and enter your results for a free gift and a chance to win cash and prizes.

*Results vary depending on starting point, goals, and effort.