"I Feel Stronger and More Confident"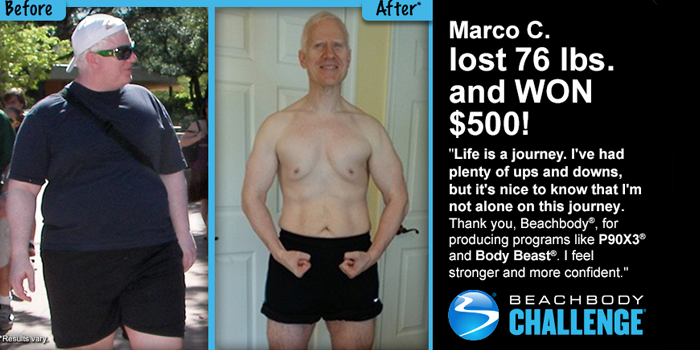 †Results vary depending on starting point and effort. Marco is an independent Beachbody Coach.
Meet Marco C. He participated in The Beachbody Challenge and won the $500 Daily Prize for February 13th!

Tell us about your life before you started the program. How did you feel about yourself and your body?
I've been actively using P90X3, running, and biking since the beginning of 2014. I spent most of this past year losing weight (over 90 lbs), then I decided it was time to try Body Beast. This program really motivated me to the next level. I pushed through the moves and built up my confidence.

What inspired you to change your life and begin your transformation journey?
I had gone from 316 to 195 in 2012, and then went all the way back to 268 by the end of 2013. I decided it was time to get back on track, and I was inspired by P90X3 and Body Beast. I wanted to try Body Beast, but I felt I needed to get most of the weight off first.
What is the greatest challenge you faced before beginning the program? How did the program and Beachbody® help you overcome that challenge?
I was starting to lose motivation about resistance training. I wanted to build some confidence in myself as well and get to another level of fitness. Body Beast has really helped to inspire me to push further and do "whatever it takes."
What in particular did you like about the program you chose?
Sagi is a fantastic trainer. I love working out with him and his buddies. They are encouraging and funny. I feel motivated to do my best, and whatever it takes, to push through the workout. I would love to see more Body Beast workouts.

Describe the results you achieved with your Beachbody program. Which achievements are you proud of?
I feel stronger and more confident from completing my Body Beast LEAN program. I was able to put on some muscle while keeping my waistline the same.
How has your life changed since completing your Beachbody program?
Life is a journey. I've had plenty of ups and downs, but it's nice to know that I'm not alone on this journey. Thank you, Beachbody, for producing programs like P90X3 and Body Beast.
How did your Team Beachbody® Coach support you on your journey?
Whenever I reach out to my Coach for advice, she is always available to help me understand the benefits of different Beachbody programs, and she continues to press forward with challenging Beach Body programs.
How did a Beachbody Supplement or Nutritional Product or Program (such as Shakeology® or Beachbody Ultimate Reset®) support your transformation? What are the greatest benefits you gained? Did you see benefits to your energy, sleep, mood/mental clarity, digestion/regularity?
Shakeology has really helped me to stay on track with my weight. It helps to keep me full and satisfied. I also used the Body Beast supplements during the 90 day program (Base Shake, Fuel Shot, Super Suma and Max Creatine). They have given me a boost of energy and recovery after a tough Body Beast routine.2
You can change your life, too. Take the Beachbody Challenge for the tools you need to Decide, Commit, and Succeed! Complete any Beachbody program, and enter your results for a free gift and a chance to win cash and prizes.

2These statements have not been evaluated by the Food and Drug Administration. This product is not intended to diagnose, treat, cure, or prevent any disease.