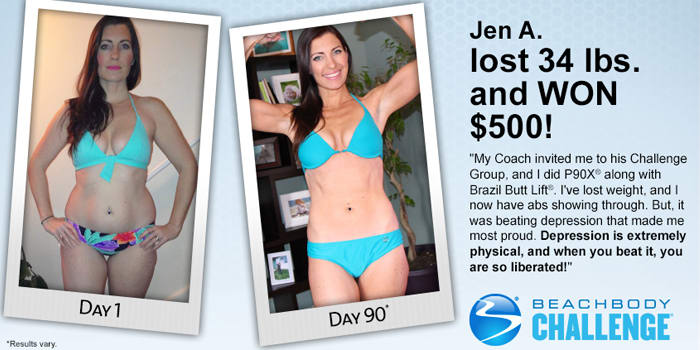 †Results vary depending on starting point and effort.
Meet Jen A.! She participated in The Beachbody Challenge and won the $500 Daily Prize for December 1st!
Tell us about your life before you started the program. How did you feel about yourself and your body?
I was sick! So sick with migraine headaches and body pain. I literally developed high blood pressure at age 30! I was sad as well and became very anti- social and insecure. I have over 80 bikinis, and I missed the confidence. I felt like hiding, and I was diagnosed with anxiety depression as well. I had anxiety about how sick I felt, and it became a viscous cycle to be honest. I wasn't extremely overweight, but I was extremely unhealthy and had lost a great deal of muscle as well.
What inspired you to change your life and begin your transformation journey?
My Beachbody Coach was so consistent in checking in on our group and constantly providing product knowledge along with very necessary emotional support. He invited me to his group, and I did P90X along with Brazil Butt Lift. Waking up to a Challenge Group ensured that I would push play! I refused to miss a day no matter what. I have two babies, I run a full time 7-5 day home with five kids, I work at a retirement hospital on weekends, and I still committed to making the time to train my body back to where it deserves to be! As a mother, your body is now shared with your kids. They rely on you late at night and early in the morning. Challenge is no longer a choice.
What is the greatest challenge you faced before beginning the program? How did the program and Beachbody® help you overcome that challenge?
My biggest challenge was actually overcoming the uncomfortable feeling of working out while out of shape. Until this year, I had always been in great condition. So, accepting that I needed a structured and consistent training program was a challenge for me. I could no longer just power walk to lose the weight. I was tired and had lost "trust" in my body. I didn't believe that exercise would actually provide me with the chemicals that my body needed to fight depression! Eating clean was fun for me as Beachbody makes it so easy and delicious!
Describe the results you achieved with your Beachbody program. Which achievements are you proud of?
I feel energetic. I obviously look like I've lost weight, and I now have abs showing through. But, it was beating the feelings of depression and sickness that make me feel most proud. I loved that I was still capable of sticking through something very challenging and succeeding every day. With this program, honestly, every workout feels like an achievement, and I believe that's what kept me going.
How has your life changed since completing your Beachbody program?
I am happier. I have a great deal of energy, and I actually find myself planning events with friends and family rather than avoiding them. I miss work less as I am healthier now. Depression is extremely physical, and when you beat it, you are so liberated! Aside from my emotional wellbeing, I can swim 20 laps no problem, hike in the mountains and go to ANY fitness class with the girls when invited. I feel no more fear. I was actually afraid for my health, and that feeling is gone now! My husband compliments my body several times daily, and he says I look better now than when I was 25. He is motivated to stay for now as well and that is the best gift you can give your spouse: positive encouragement and motivation.
You can change your life, too. Take the Beachbody Challenge, for the ultimate motivation to get fit! Select any Beachbody program and once you complete it, share your results for your chance to win cash and prizes.