"Every Day I Saw Results, And Every Day I Wanted To Come Back For More"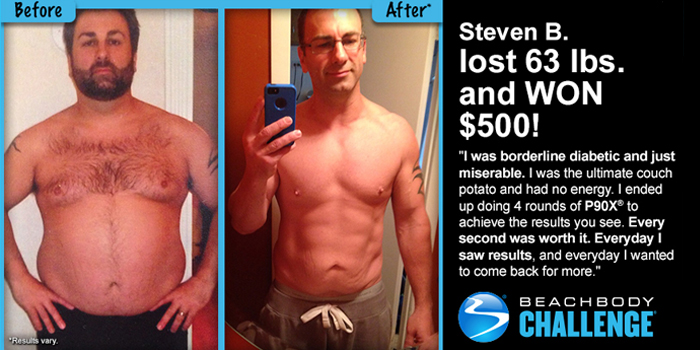 Meet Steven B. He participated in The Beachbody Challenge and won the $500 Daily Prize for February 9th!
Tell us about your life before you started the program. How did you feel about yourself and your body?
I was borderline diabetic and just miserable. I was the ultimate couch potato and had no energy to chase around my 1 year old son. Being a couch potato ultimately saved me; watching the infomercial at least.

What inspired you to change your life and begin your transformation journey?
I saw the P90X infomercial 20 times before I decided to purchase the program. With the birth of my second child I knew I needed to do something if I wanted to have a long life with them.

What is the greatest challenge you faced before beginning the program? How did the program and Beachbody® help you overcome that challenge?
Sticking with anything. I was great at starting, wasting money, and ultimately giving up. I vowed to give this 90 days and the program kept me interested. Everyday I saw results, everyday I wanted to come back for more. I ended up doing 4 rounds of P90X to achieve the results you see, and every second was worth it

What in particular did you like about the program you chose?
It was different from anything I had ever tried. It was crazy to think that "old me" could do that. Now its common for me to do these types of workouts.

Describe the results you achieved with your Beachbody program. Which achievements are you proud of?
After getting in to shape I have run 2 Spartan obstacle races. Inspired my whole company to participate in a Warrior Dash, and now I even coach my sons soccer team. This is the healthy lifestyle I have always dreamed of.
How has your life changed since completing your Beachbody program?
I am now a Coach and determined to pay it forward to others.
You can change your life, too. Take the Beachbody Challenge for the tools you need to Decide, Commit, and Succeed! Complete any Beachbody program, and enter your results for a free gift and a chance to win cash and prizes.