"I Have Dropped from 360 Pounds to 235 Pounds in Just Eleven Months"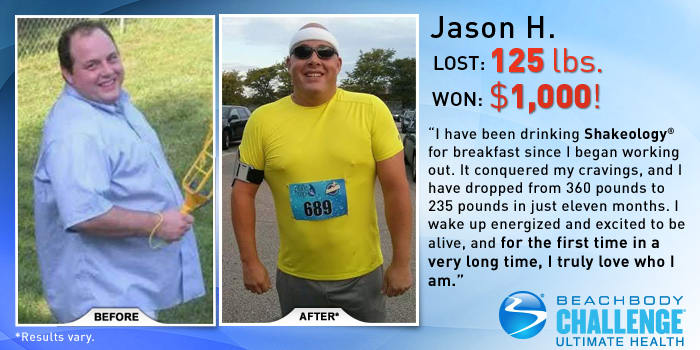 †Results vary depending on starting point and effort. Jason is an independent Beachbody Coach.
Meet Jason H., age 34 from New Albany, IN. He entered The Beachbody Challenge in October 2014 and won an Ultimate Health Transformation prize of $1,000!
Tell us about your life before you started the program. How did you feel about yourself and your body?
I was completely miserable before I began my program. I was in an unhealthy marriage and did absolutely no exercise. I had become the biggest I ever had been in my life when I toppled the scale at 360 lbs. I was not able to do much without becoming short of breath, and I constantly was dripping with sweat no matter how minimal a task was. I was a hunter, and my hunting buddies would always be concerned that I was going to drop over while we walked in the woods. I ate a horrible diet consisting of whatever I wanted to eat. I ate fast food constantly, and when I would cook at home, it was completely unhealthy. I also was drinking two to three two liters of soda per day. I looked in the mirror and saw someone I did not recognize. I hated my body and would not even take my shirt off to go swimming. I truly hated who I had become.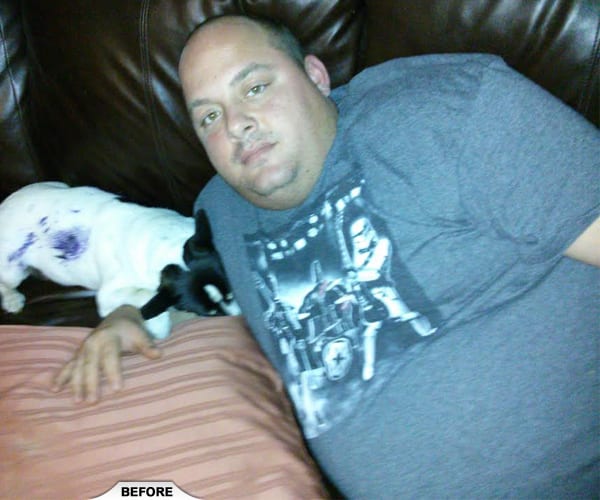 What inspired you to change your life and begin your transformation journey?
My then-wife and I separated and had filed for divorce. I was 360 pounds and knew that if I did not make any changes, I would let depression and an unhealthy lifestyle drive me towards at least a heart attack before I turned 35 years old. I have ten nieces and nephews, and I wanted to see them grow up. I wanted to challenge myself to change my life and get healthy. As the journey started, I began to find out how much I had lost who I was through my unhealthy marriage and unhealthy lifestyle.
What is the greatest challenge you faced before beginning the program? How did the program and Beachbody® help you overcome that challenge?
The greatest challenge I encountered was changing my diet and proving to myself that I was capable of changing. I had tried several nutritional plans, meal replacements, and various protein shakes, and never found anything that worked. Then I picked up a Strawberry Shakeology sample pack from a guy at my gym and gave it a try. I liked the taste and decided to buy more. I have been using Shakeology as my breakfast since I have been working out, and it conquered my cravings and felt like it boosted my energy for the workouts I had planned for the day.2 I have gone from someone I did not recognize to someone I did not know I was capable of being. I went from being a slug on the couch to running three times a week, with my first half-marathon coming up on November 1, 2014. The Shakeology products have been a great tool in my journey to a healthy lifestyle because it took all the guesswork out of the nutritional puzzle I was trying to solve on my own.
What in particular did you like about the program you chose?
I loved the satisfied feeling that Shakeology gives me after I drink my daily shake for breakfast. The taste and variety of flavors was a plus, much better than the plain chocolate or vanilla most other meal replacement shakes use. I loved experimenting and tweaking the recipes like adding a banana or some peanut butter for extra nutrients or protein.
Describe the results you achieved with your Beachbody program. Which achievements are you proud of?
I went from not being able to even walk for more than a few minutes to training to run for my first half-marathon in less than a year. I have gone from a size 48 waist to a size 36, which I have not been able to wear since I was 16 years old. I was wearing XXXL shirts, and some of those even were too small, and now I am wearing size L shirts. I was a star athlete in high school, and even at my peak physical condition back then, I was never in this good of shape. I am able to run with my fiance and do races together with her, which is so awesome and so special to both of us. I have dropped from 360 pounds to 235 pounds in just eleven months.
How has your life changed since completing your Beachbody program?
My life has turned around completely 180 degrees. I love who I see in the mirror. I have found things out about myself and my efforts I did not know I was capable of doing. I met and fell in love with a wonderful woman, whom I met in the gym. I run races and will be training for a full marathon next year. I wake up energized and excited to be alive, and for the first time in a very long time, I truly love who I am.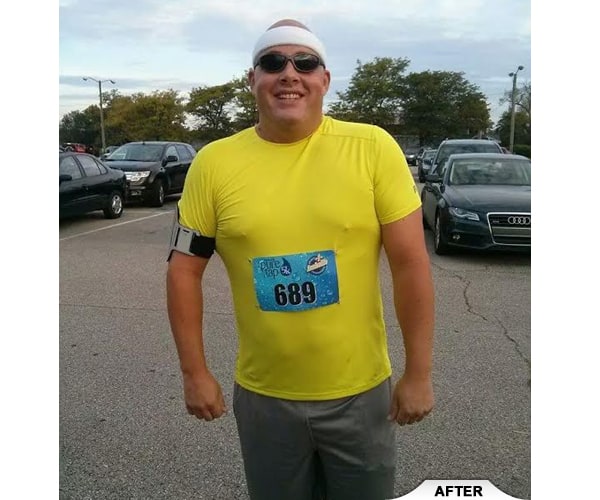 How did your Team Beachbody® Coach support you on your journey?
Courtney introduced me to different recipes I could use for Shakeology shakes, and she offered constant words of encouragement as well as noting my progress was visible and how much better I looked.
2These statements have not been evaluated by the Food and Drug Administration. This product is not intended to diagnose, treat, cure, or prevent any disease.
You can change your life too. Take the Beachbody Challenge for the tools you need to Decide, Commit, and Succeed. Complete any Beachbody program, and enter your results for a free shirt and a chance to win cash & prizes.