Country Heat Results: Miranda Lost 19 Pounds in 30 Days!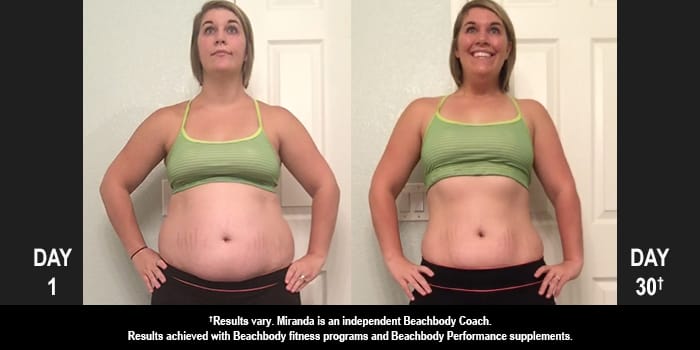 Miranda Mendoza lost 19 lbs. in 30 days with Country Heat, Shakeology, and the Beachbody Performance supplements. She entered her results into the Beachbody Challenge, and won the $500 Daily Prize for November 11th!
Tell us about your life before you started the program. How did you feel about yourself and your body?
Before I started Country Heat, I was almost 200 pounds. I was miserable, winded after climbing stairs, and my confidence was very low. I went to the doctor before starting County Heat and was told I had high cholesterol. I'm only 25, so this was huge for me. I knew I needed to do something, and I couldn't keep putting my health after everything else. I couldn't take it any longer to have such low energy, and I also needed to take control of my relationship with food.
What inspired you to change your life and begin your transformation journey?
My Coach Jennifer motivated me to start Country Heat, even though I thought the program looked silly. I said, "There is no way I'm going to get results from a country dance workout." To my surprise, it has changed my life and has become my favorite program! I thought I needed to deprive myself of food and do a high-intensity cardio workout to lose weight. I was so wrong!
What is the greatest challenge you faced before beginning the program? How did the program and Beachbody help you overcome that challenge?
My biggest challenge before beginning the program was my binge eating. I am normally a yo-yo dieter. I do great for a week or two then literally go on a binge for two to three weeks eating anything and everything. This program and the meal plan made it ever so easy for me not to deprive myself of the foods I love! I couldn't believe I got to eat as much food as I did. I went to bed every night feeling full and satisfied with all of my healthy food choices throughout the day. I love that I can still eat all of the foods that I love and get amazing results.
What in particular did you like about the program you chose?
I loved everything about it, from the music to the meal plan! I loved that I didn't even feel like I was working out. I looked forward to my workout every single day. Finding a program that you love is key to finding results. I've started so many programs before and could never finish. This is my soulmate program!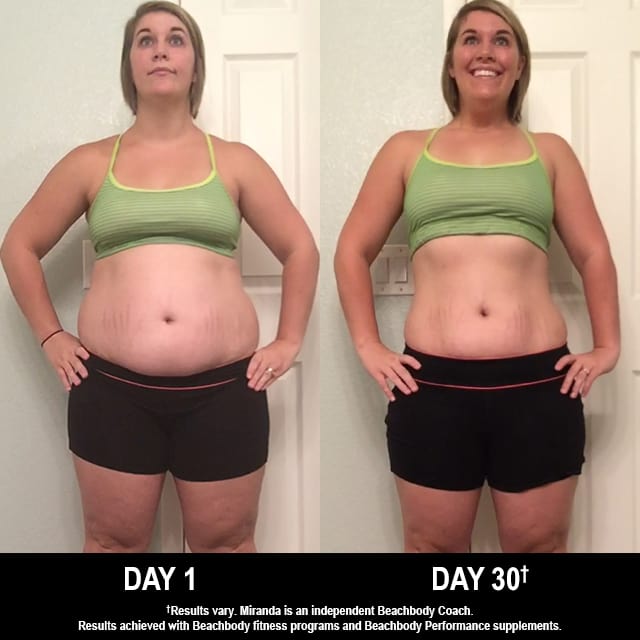 Describe the results you achieved with your Beachbody program. Which achievements are you proud of?
I'm proud of the fact that I didn't ever give up! I'm proud that I worked out with my kids and didn't make that my excuse. Life is always busy but I'm proud that I finally made myself a priority. I'm so proud of the fact that I was so consistent and lost 19 pounds. I never thought that was possible, especially dancing. I'm also proud that my husband jumped on board with me and started using Beachbody On Demand every morning before work. It definitely makes it easier when your spouse does it with you!
How has your life changed since completing your Beachbody program?
I have so much more energy and self-confidence since finishing Country Heat. I'm fitting into old clothes; I have energy to play with my kids; and I have such a more positive outlook about everything!
How did participating in a Challenge Group help you reach your goals? How did your group support you and keep you accountable?
I loved checking in to my Challenge Group every day and seeing others going through the same struggles I was going through. It definitely makes things easier knowing you're not alone.
How did your Team Beachbody Coach support you on your journey?
My Coach checked up on me daily and always encouraged me along the way.
How did a Beachbody supplement, nutritional product, or program (such as Shakeology or Beachbody Ultimate Reset) support your transformation? What are the greatest benefits you gained? Did you see benefits to your energy, sleep, mood/mental clarity, or digestion/regularity?
I used Shakeology, and I could see a difference in my weight loss and digestion. I also definitely had so much more energy. I also had a lot less cravings because it felt like a treat every day!2
You can change your life, too. Take the Beachbody Challenge for the tools you need to Decide, Commit, and Succeed! Complete any Beachbody program, and enter your results for a free gift and a chance to win cash and prizes. What program are you committing to next?

†Results vary depending on starting point and effort.
2These statements have not been evaluated by the Food and Drug Administration. This product is not intended to diagnose, treat, cure, or prevent any disease.