CIZE Results: Katie Danced Off Her "Mommy Body" In 30 Days!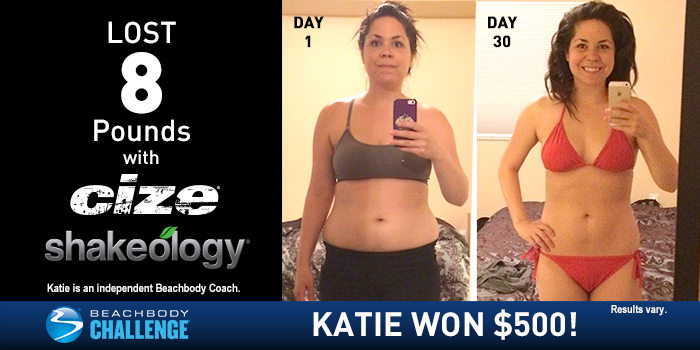 Katie Amberson lost eight lbs. in 30 days with CIZE and Shakeology. She entered her CIZE results into the Beachbody Challenge, and won the $500 Daily Prize for April 20th!
Tell us about your life before you started the program. How did you feel about yourself and your body?
I felt embarrassed and ashamed of my body. After my third baby, I felt uncomfortable in my own skin. I had no energy and hated getting dressed. I put everyone's needs before my own, and thought I was doomed to have a "mommy body" for the rest of my life.
What inspired you to change your life and begin your transformation journey?
I wanted my body back! My husband was leaving for work for the summer, so I wanted something to focus on for me. Something I could set out to accomplish and to lose the baby weight for the last time. I was tired of seeing the scale go up and down, and wanted to put an end to the emotional roller coaster that goes with that.
What is the greatest challenge you faced before beginning the program? How did the program and Beachbody help you overcome that challenge?
CIZE helped me get out of my head! I needed to let loose and have fun! It also broke up the monotony that I sometimes faced with regular exercise.
What in particular did you like about the program you chose?
I loved the simplicity. Everything was laid out for me with workouts and my nutrition. I loved how Shaun T broke down every move, so I wasn't totally lost trying to keep up.
Describe the results you achieved with your Beachbody program. Which achievements are you proud of?
I went down two pant sizes, and went way past my pre-pregnancy weight! I never gave up, and discovered a part of myself that I haven't seen in many years. I don't mean just the woman I saw in the mirror physically, but there was a confidence in me that I haven't had in a long time!
How has your life changed since completing your Beachbody program?
I've become a Coach, so I can help others find their inner overcomer. I am also still going after goals for more weight loss and fitness!
How did your Team Beachbody Coach support you on your journey?
She helped me in so many ways! Her motivation and encouragement were contagious! I felt her cheering me on each day! Practically, she helped me adjust my nutrition when I wasn't seeing the results that I was looking for. She advised me on my calorie bracket while nursing, and helped guide me to find what was perfect for me.
How did a Beachbody supplement, nutritional product, or program (such as Shakeology or Beachbody Ultimate Reset) support your transformation? What are the greatest benefits you gained? Did you see benefits to your energy, sleep, mood/mental clarity, ordigestion/regularity?
Shakeology fueled me! It boosted my energy, and I felt so refreshed and good on the inside! My mind felt clear, and I could tackle the day without feeling the midday slump.
You can change your life, too. Take the Beachbody Challenge for the tools you need to Decide, Commit, and Succeed! Complete any Beachbody program, and enter your results for a free gift and a chance to win cash and prizes.

Results vary depending on starting point, goals, and effort.