CIZE Results: Karen Lost 17.5 Pounds With Shaun T!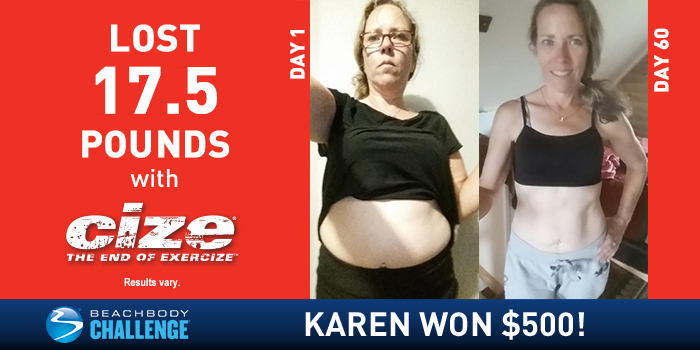 Karen Romecki lost 17.5 lbs. in 60 days with CIZE. She entered her results into the Beachbody Challenge, and won the $500 Daily Prize for January 23rd! Karen is an independent Beachbody Coach.
Tell us about your life before you started the program. How did you feel about yourself and your body?
I was feeling sluggish and overweight. I needed to take control of my life. I was unhappy with myself. I was eating poorly way too often and not making good choices.
What inspired you to change your life and begin your transformation journey?
I have done Beachbody workouts in the past, and know they work. I knew I just needed to start one of the programs to get control of my eating and weight.
What is the greatest challenge you faced before beginning the program? How did the program and Beachbody help you overcome that challenge?
Eating right has always been a challenge for me. There was always too much junk food available when I was hungry, so I constantly made bad choices. People at work always wanted to eat out. I first did 21 Day Fix EXTREME and lost 10 pounds in the 21 days. I fell off the wagon, and gained five pounds back. Right around the end of June, I saw pictures of me … oh my! I needed to start back up; enter CIZE. What an amazing program — still utilizing containers and dancing the pounds and inches away. I can't tell you how this has made me feel. I am so blessed to have my Beachbody Coach and the support of our online family.
What in particular did you like about the program you chose?
I enjoyed CIZE, because I wasn't doing conventional exercise. It was fun, worked up a sweat, and time flew by.
Describe the results you achieved with your Beachbody program. Which achievements are you proud of?
I have lost weight and inches, and built up my self-confidence. I have changed my outlook on life, and try to spread what I have learned to others looking for a change.
How has your life changed since completing your Beachbody program?
I feel better than I have in my life thanks to the program and Shakeology. I used to be a doubter, but Shakeology is now a daily part of my life … what a Godsend!
How did participating in a Challenge Group help you reach your goals? How did your group support you and keep you accountable?
All of the team members in my Challenge Group were inspiring. They kept me motivated and gave insight on their own journey, which helps in knowing you are not alone.
How did your Team Beachbody Coach support you on your journey?
Natalie is so amazing and always lets you know it is okay to stumble — just get back at it and don't beat yourself up.
How did a Beachbody supplement, nutritional product, or program (such as Shakeology or Beachbody Ultimate Reset) support your transformation? What are the greatest benefits you gained? Did you see benefits to your energy, sleep, mood/mental clarity, or digestion/regularity?
Shakeology has changed my life. Cravings for crappy food are gone. I feel amazing and energized when I have my shake in the morning.
How did a Beachbody supplement, nutritional product, or program affect any existing health conditions you have?
Activit gives me energy and ensures I am getting what I need for my daily routine.
Did you achieve any other measurable improvements with a Beachbody supplement, nutritional product, or program (e.g. blood pressure, blood sugar, triglycerides, etc.)?
I have lost inches and pounds, which makes me feel awesome.
You can change your life, too. Take the Beachbody Challenge for the tools you need to Decide, Commit, and Succeed! Complete any Beachbody program, and enter your results for a free gift and a chance to win cash and prizes.

*Results vary depending on starting point, goals, and effort.