CIZE Results: Jenny Lost 44 Pounds and Won $500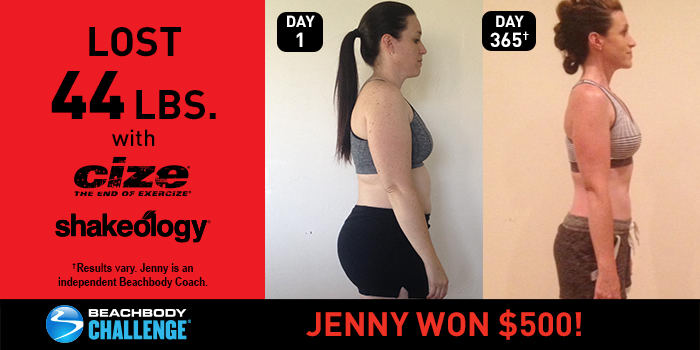 Jenny Snyder lost 44 lbs. in 365 days with CIZE and Shakeology. She entered her results into the Beachbody Challenge, and won the $500 Daily Prize for September 10th!
Tell us about your life before you started the program. How did you feel about yourself and your body?
I thought I was happy. I thought I had control of my life. Not until I started this journey did I realize how unhappy I was. I felt sluggish and let things happen to me.
What inspired you to change your life and begin your transformation journey?
Where do I even begin?! First, I'll start with where — or with who — this all began. My little sister (and Beachbody Coach) Crystal Frazier Groce is where it all began. Thanks to the universe powers that be (AKA everything happens for a reason), she got me back on the health and fitness path. I've always been the healthy and fit one in the family until life got a little crazy — and I mean crazy. The extra pounds found me. Months and even years of not living the life I had imagined kept me from being me physically. I had never reached the numbers on the scale I was seeing. In comes Crystal — and my daily CIZE workout partner Shaun T 🙂 I now have a love for that man like no other! Then, choosing to eat healthy, putting the work and time in to actually eat healthy and exercise, is what got the momentum going. Fast forward to today. Never in my life have I been happier, healthier all around (mentally, emotionally, spiritually, you name it), and more ready to face and do anything!
What is the greatest challenge you faced before beginning the program? How did the program and Beachbody help you overcome that challenge?
To keep at it. That this is a journey and not a two-week quick fix. Shaun T's fun videos, sass, and know-how kept me dancing and laughing my way through it all! I had no idea how happy and confident I really had the potential to be after this incredible and unforgettable journey!
What in particular did you like about the program you chose?
I loved CIZE! Shaun T was a damn fireball! Every workout always made my day better, because I was not only getting a load off, but Shaun kept me entertained and sassy!
Describe the results you achieved with your Beachbody program. Which achievements are you proud of?
I thought my ending weight would be my biggest achievement. Not so much! Although I am super happy with my weight results, my overall me (inside and out) has been my ultimate I'm-so-proud-of-myself result.
How has your life changed since completing your Beachbody program?
There's not enough time in the day or words to explain this life change of mine! Indescribable for sure!
How did participating in a Challenge Group help you reach your goals? How did your group support you and keep you accountable?
Not an official one through the Beachbody website, but my Coach Crystal Frazier Groce always had awesome, motivational, always-checking-in-on-us, helpful groups with great insights and ideas.
How did your Team Beachbody Coach support you on your journey?
She did it all! I don't know how she found time in her day to do everything she did — the texts, the calls, the posts — it was great! She was, and is, so great!
How did a Beachbody supplement, nutritional product, or program (such as Shakeology or Beachbody Ultimate Reset) support your transformation? What are the greatest benefits you gained? Did you see benefits to your energy, sleep, mood/mental clarity, or digestion/regularity?
Shakeology was my go-to every day. It was also sometimes my meal-on-the-go, when I didn't have time or the right food to eat a healthy meal, or when I just wanted my body to feel clean.
You can change your life, too. Take the Beachbody Challenge for the tools you need to Decide, Commit, and Succeed! Complete any Beachbody program, and enter your results for a free gift and a chance to win cash and prizes. What program are you committing to next?

†Results vary depending on starting point and effort.