CIZE Results: Fiona Danced Off 9 Pounds in 30 Days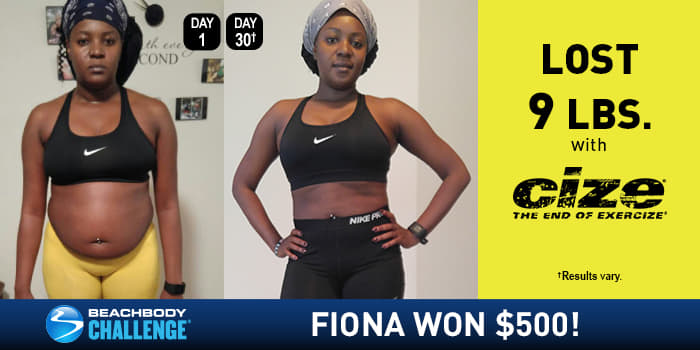 Fiona Ongori lost 9 lbs. in 30 days with CIZE. She entered her results into the Beachbody Challenge, and won the $500 Daily Prize for September 24th!
Tell us about your life before you started the program. How did you feel about yourself and your body?
I had reached my heaviest weight of 210. I had to do something and do it fast! I finished doing INSANITY, became lazy, and gained the weight back, but I wanted to go to the next step. This is when I decided to go for CIZE, and boy was this crazy! Shaun T is my man! God knows I love to hate him, but hate that I love him!
What inspired you to change your life and begin your transformation journey?
Looking at the commercials and seeing the girls with flat stomachs just made me push harder!
What is the greatest challenge you faced before beginning the program? How did the program and Beachbody help you overcome that challenge?
Being that heavy, I tried to do INSANITY as I always did in the past, but it was too much for my knees. Getting up and working out! Shaun T made it interesting to do and made me look forward to working out.
What in particular did you like about the program you chose?
It was effective, and I saw the sweat drip! I love the dancing and had so much fun! I've always enjoyed dancing and loved how I could do a routine to the songs. Shaun T is a great coach! He knows how to love every workout and look forward to the next day. He makes you forget that you were working out.
Describe the results you achieved with your Beachbody program. Which achievements are you proud of?
My stomach, arms, and legs look great. My whole body feels better.
How has your life changed since completing your Beachbody program?
Everyone comes to me for workout advice, and I tell them one word: Beachbody!
You can change your life, too. Take the Beachbody Challenge for the tools you need to Decide, Commit, and Succeed! Complete any Beachbody program, and enter your results for a free gift and a chance to win cash and prizes. What program are you committing to next?

†Results vary depending on starting point and effort.