Transformation Tuesday: Derek Lost 10 Pounds With CIZE!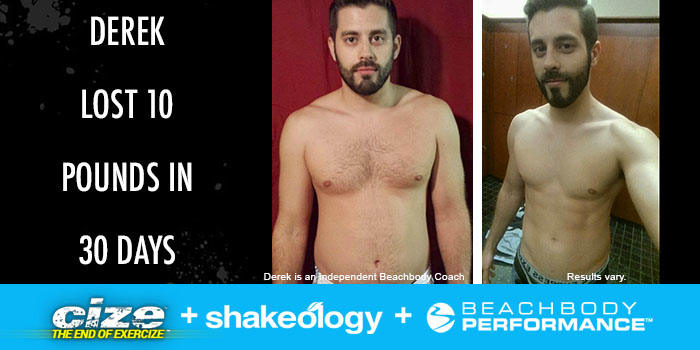 Derek was looking to start a new Shaun T program. He knew that CIZE was something different, but he didn't expect such great results by using dance as a workout. He lost 10 pounds in just one round of CIZE! Read about his awesome experience in his own words below:
"Before I started CIZE, I didn't know how to dance. Ever since I finished INSANITY, Shaun T has been my idol and role model. With having no past experience with dance, I was skeptical and had self-doubt, but I wanted to try a program that was new and different. CIZE seemed like it could give me all of that and more.
I felt that I was physically average before starting CIZE, but I didn't know any dance routines. I liked that with CIZE, I could dance and have fun without doing rigorous exercises or straining my body. I felt so good after the first few workouts. Even as the workouts progressed and got harder, I felt like I could dance for forever.
CIZE is a program for anyone who wants to see results without having to use weights or go to the gym. Whether you can dance or not, you'll have a blast during every single routine. My favorite routine was "Go For It;" It challenged me to another level. With CIZE, I learned to dance in just 30 days – before, I couldn't even do a single move!
I feel great about being in my own skin after completing CIZE, and I can't thank Shaun T enough for teaching me healthier habits. I can go anywhere now, hear the music, and be confident to show off my new dance skills!"
---
You can change your life, too. Take the Beachbody Challenge for the tools you need to Decide, Commit, and Succeed! Complete any Beachbody program, and enter your results for a free gift and a chance to win cash and prizes.