CIZE Results: Britani Lost 12.5 Pounds!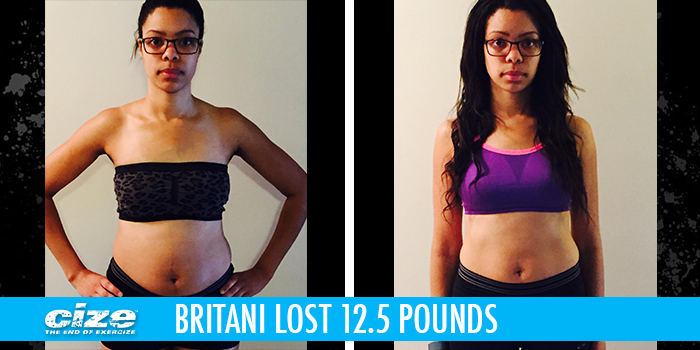 Britani J. had just had a baby, and wanted to feel like herself again. She found Shaun T's newest Beachbody program, CIZE, and got amazing results! She danced 12.5 pounds off of her body in 35 days, and had fun doing it!
For me, starting CIZE wasn't about losing weight. Even though I had just had a baby 7 months prior, it was less about the weight loss and more about feeling like myself again, getting back to being me, feeling healthy, and liking what I saw in the mirror. I had health conditions related to my pregnancy. I was severely anemic and had been hospitalized for exhaustion and low blood pressure. I was always tired and didn't have the energy to spend quality time with my family.
Before starting CIZE, I thought: I can't dance! I still can't dance, but I have had so much fun completing the routines. And it has felt really rewarding to be able to master those moves and at least appear that they flow effortlessly! CIZE is fun! Shaun T really makes you feel like he is there in the room working out right along with you. He explains the moves really clearly and his personality is just – I keep saying fun, but really it's the best word.
You sweat, work your butt off, and it's not easy, but it is definitely lots of fun! Shaun T virtually kicked my butt. I was surprised by how much I sweat from dancing. His personality makes these programs so fun! I only know that home fitness programs work because of Shaun T. I sweat, I yell at him, but mostly, I laugh and really enjoy myself. The time passes by so quickly, even with the dreaded countdown clock there in the bottom left corner!
Shakeology has been amazing. It kept me energized, focused, and in good spirits. I never felt like I couldn't do it, not because it wasn't challenging but because, to me, Shakeology partnered with any program is just a recipe for success.  And I enjoyed streaming CIZE through Beachbody On Demand. I was able to work out wherever I was, including when I went to Florida for vacation and traveled to 3 different cities in 5 days.
I never thought I would say this when I started out, but my favorite routine actually ended up being Livin in the 8's – the last routine. It was the longest and most complex, so it was a challenge getting through it all the way and perfecting that routine. I enjoyed CIZE so much that once I finished the final routine, I wanted to start over again, so I did!
---
You can change your life, too. Take the Beachbody Challenge for the tools you need to Decide, Commit, and Succeed! Complete any Beachbody program, and enter your results for a free gift and a chance to win cash and prizes.