Cheesy Cauliflower Nachos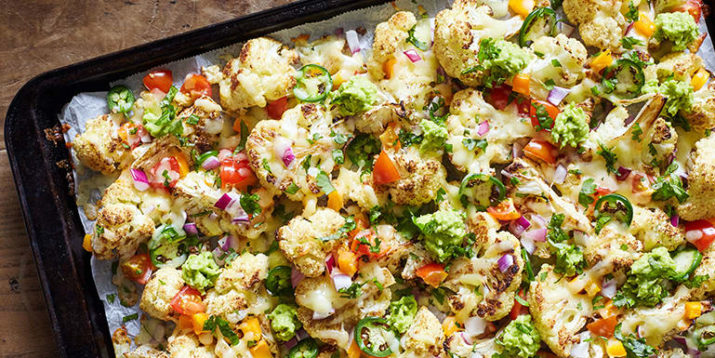 Nachos make me weak in the knees. The thought of melty cheese, zesty salsa, and creamy guacamole — frankly, it doesn't get much better than that.
This Cheesy Cauliflower Nachos recipe is a great way to indulge in your nacho cravings, without heaps of unnecessary salt and fat.
Cauliflower, a good source of vitamin C, vitamin K, and folate, is one of those magical vegetables that redefines how we think about "junk food."
For me, it started with buffalo cauliflower, then came cauliflower rice and cauliflower bread, and now I've moved onto cauliflower nachos.
Is there anything this cruciferous vegetable can't do?
This recipe starts by roasting cauliflower in the oven to get them golden brown.
Make sure to spread the cauliflower florets out as much as possible so they can toast up nicely.
The cumin, sea salt, chili powder, and garlic powder give an extra boost to an already delicious dish.
And don't forget the oil. It's the key to getting your vegetables to roast evenly in the oven — and it really helps bring out their flavor.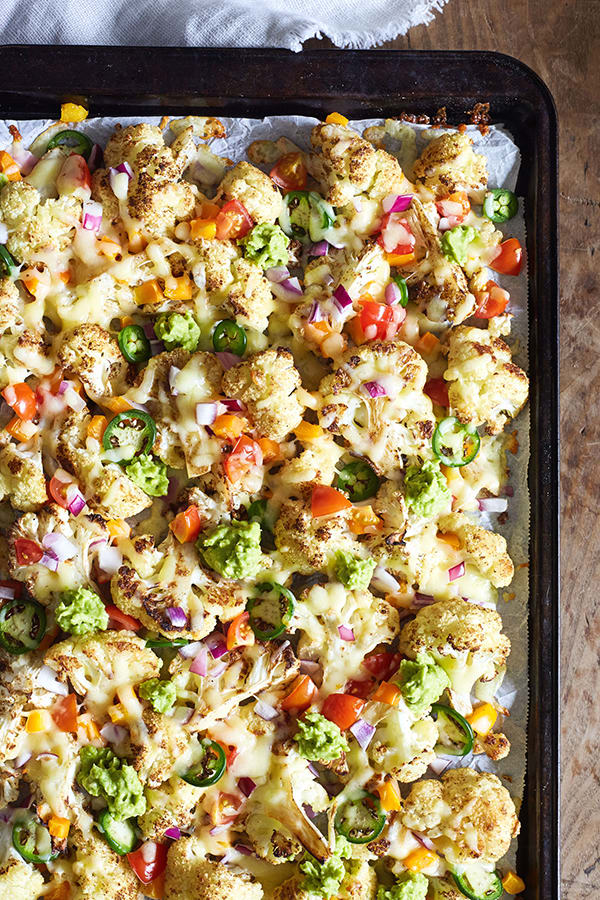 When it comes to adding healthy toppings, you can feel free to get as creative as you want.
The recipe here is a tried-and-true combination that I love: melted Monterey jack cheese, crisp and colorful veggies, and plenty of creamy avocado.
You could also add shredded chicken, pinto beans, sliced black olives, or fresh salsa.
Miss the flavor and crunch of tortilla chips? Crumble a few of these baked tortilla chips on top just before serving.
If serving this when entertaining, I recommend roasting the cauliflower in advance. Then, all you need to do is sprinkle on the cheese and vegetable toppings.
A quick trip to the oven will melt the cheese, then you're ready to spread out the avocado and serve.
Be prepared for this dish to disappear within minutes!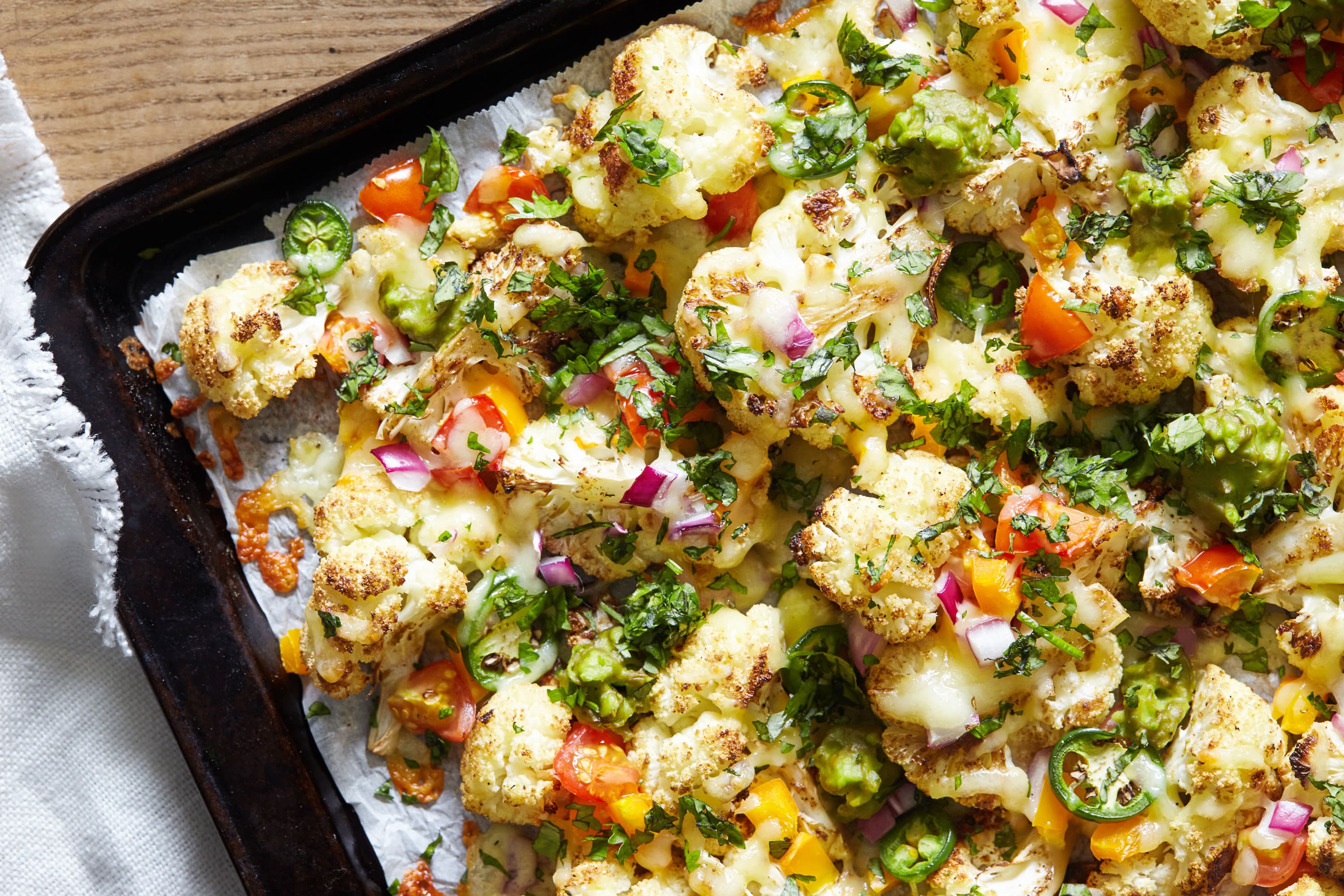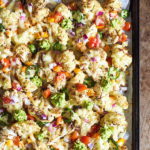 Cheesy Cauliflower Nachos
These Cheesy Cauliflower Nachos are a great way to get your nacho fix without derailing your healthy eating!
Prep Time 20 mins
Cook Time 33 mins
Total Time 43 mins
Servings 4 servings
Calories 157 kcal
Ingredients
1 medium head cauliflower cut into florets
2 tsp. olive oil
½ tsp. ground cumin
¼ tsp. sea salt or Himalayan salt
¼ tsp. chili powder
¼ tsp. garlic powder
½ cup shredded Monterey jack or pepperjack cheese
¼ cup chopped tomato
¼ cup chopped red onion
¼ cup chopped orange bell pepper
1 medium jalapeño seeds and veins removed (optional), sliced (can add a second if desired)
½ cup mashed avocado
2 Tbsp. finely chopped cilantro
Instructions
Preheat oven to 425º F.

Place cauliflower on baking sheet. Drizzle with oil. Sprinkle with cumin, salt, chili powder, and garlic powder; toss gently to blend. Spread evenly on baking sheet.

Bake for 30 to 35 minutes, or until tender-crisp and golden.

Top evenly with cheese. Bake for 3 to 5 minutes, or until cheese is melted.

Top evenly with tomato, onion, bell pepper, jalapeños, avocado, and cilantro; serve immediately.
Nutrition Facts
Cheesy Cauliflower Nachos
Amount Per Serving (1 serving)
Calories 157 Calories from Fat 99
% Daily Value*
Fat 11g17%
Saturated Fat 3g19%
Cholesterol 15mg5%
Sodium 409mg18%
Carbohydrates 11g4%
Fiber 5g21%
Sugar 4g4%
Protein 7g14%
* Percent Daily Values are based on a 2000 calorie diet.
Container Equivalents
1 Green
1 Blue
½ tsp.
2B Mindset Plate It!
Makes a great veggie side as part of lunch or dinner. Also makes a great snack(tional).
Photographs by Anguel Dimov and Brianne B of Natural Girl Modern World