FIXATE Carrot Cake Baked Oatmeal Muffins
Skip the sugary, heavy store-bought muffins and make these delicious, healthy Carrot Cake Baked Oatmeal Muffins instead!
This recipe appears in the FIXATE Vol. 2 Cookbook by Autumn Calabrese and her brother, Chef Bobby Calabrese.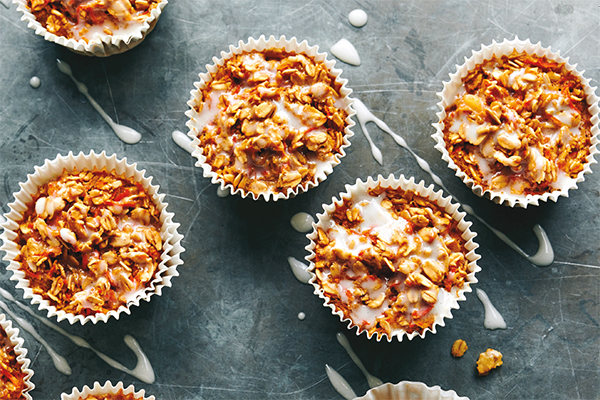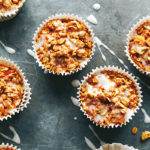 Carrot Cake Baked Oatmeal Muffins
These Carrot Cake Oatmeal Muffins are a delicious part of a nutritious breakfast!
Prep Time 15 mins
Cook Time 30 mins
Total Time 45 mins
Servings 12 servings, approx. 1 muffin cup each
Calories 105 kcal
Ingredients
2 cups dry rolled oats
1 tsp. baking powder, gluten-free
½ tsp. ground cinnamon
¼ tsp. ground ginger
¼ tsp. ground nutmeg
¼ tsp. sea salt (or Himalayan salt)
1 cup unsweetened coconut milk beverage
2 large eggs, lightly beaten
¼ cup pure maple syrup
1 tsp. pure vanilla extract
¾ cup grated carrots (approx. 1¼ medium)
¼ cup crushed pineapple, in 100% pineapple juice, drained
3 Tbsp. light sour cream
3 Tbsp. powdered sugar
Instructions
Prepare 12 muffin cups by lining with muffin papers. Set aside

Combine oats, baking powder, cinnamon, ginger, nutmeg, and salt in a medium bowl; mix well. Set aside.

Combine coconut milk, eggs, maple syrup, extract, carrots, and pineapple in a medium bowl; mix well.

Fold coconut milk mixture into oat mixture; mix well.

Divide batter evenly into prepared muffin cups.

Bake for 30 minutes, rotating pan after 15 minutes.

While oatmeal cups are baking, make icing. Combine sour cream and powdered sugar in a small bowl; mix well. Set aside.

Let oatmeal cups cool in pan until you can handle them. Remove to a cooling rack.

Drizzle each oatmeal cup with approximately 1 tsp. icing before serving; serve warm.
Recipe Notes
As soon as oatmeal cups are cool, place in an airtight container and store in the refrigerator for 1 day. If storing longer, place in the freezer for up to 3 months.
Nutrition Facts
Carrot Cake Baked Oatmeal Muffins
Amount Per Serving (1 serving)
Calories 105 Calories from Fat 18
% Daily Value*
Fat 2g3%
Saturated Fat 1g6%
Cholesterol 32mg11%
Sodium 73mg3%
Carbohydrates 18g6%
Fiber 2g8%
Sugar 8g9%
Protein 3g6%
* Percent Daily Values are based on a 2000 calorie diet.
Container Equivalents
1 Yellow
If you have questions about the portions, please click here to post a question in our forums so our experts can help. Please include a link to the recipe.