"I Can Finally Feel Proud of Myself for Seeing Something Through"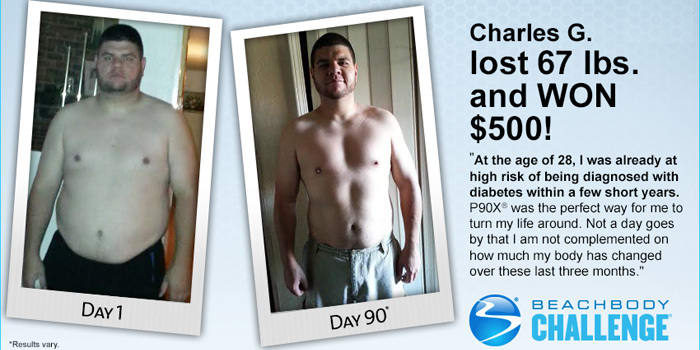 Meet Charles G.! He participated in The Beachbody Challenge and won the $500 Daily Prize for November 21st!
Tell us about your life before you started the program. How did you feel about yourself and your body?
When I started P90X I weighed 308 lbs. Last winter I weighed 315, the heaviest that I've ever been in my life. I've always been overweight, but this past winter was the lowest point in my life. High blood pressure and diabetes run in my family. At the age of 28, I was already at high risk of being diagnosed with diabetes within a few short years. I would spend my life every day eating whatever I wanted, whenever I wanted. When I did eat, it would be at McDonald's or late night trips to Jack in the Box. I hated looking at my reflection in the mirror every day.There are so many activities that I would love to do, but I was never going to be able to do any of them if my back was killing me every day just from casually walking for more than a few hours a day.
What inspired you to change your life and begin your transformation journey?
My inspiration was simple. I was just tired of being overweight and unable to do all of the things that I wished I could. I'm a single man with no children. I've decided that if I'm 35, not married, and without children then I am going to adopt. Even if I have children then I want to adopt. I need to be the best father that I can be. That will only be possible if I'm fit and healthy. I don't want to be the parent who's unable to join their kids on the playground. I want to be able to not only keep up with them, but also push them to lead an active lifestyle as well. I owe it to them.
What is the greatest challenge you faced before beginning the program? How did the program and Beachbody® help you overcome that challenge?
My greatest challenge was seeing something through and succeeding. My entire life, I've failed at everything that I've set out to do. It was time that I earned something for myself the hard way so that I could be proud of myself for once. Tony Horton and P90X was the perfect way for me to turn my life around. "Just do your best, and forget the rest." Tony's motto pushes me to levels I never would've imagined without P90X. I have finished my first round of P90X, and I just started my second round. I can finally feel proud of myself for seeing something through. None of this would have been possible without Beachbody behind it all. Everyone truly cares about the rest of us. It's not just a company to make money off of the world. Beachbody's goal is to change it for the better. It truly is the most genuine company in the world.
Describe the results you achieved with your Beachbody program. Which achievements are you proud of?
I was so excited with my results after my first round of P90X. Just three months ago I was wearing a size 3XL shirt, and now I'm wearing a size large. I used to wear 46 size pants. Now, I wear a size 40, and even those are beginning to fit loose on me. The achievement that I'm most proud of is my endurance during my work outs. There was a time when I had to pause the dvd numerous times every day in order to catch my breath. Now, not only am I able to keep up, but I am also getting closer and closer to being able to keep up with Tony.
How has your life changed since completing your Beachbody program?
Not a day goes by that I am not complemented on how much my body has changed over these last three months. It feels so good that people can notice all of the hard work that I've put in every single day. Regarding my day to day activities, I have more energy than I can ever remember having. I haven't been this weight since I was in middle school.
How did a Beachbody Supplement or Nutritional Product or Program (such as Shakeology® or Beachbody Ultimate Reset®) support your transformation? What are the greatest benefits you gained? Did you see benefits to your energy, sleep, mood/mental clarity, digestion/regularity?
Shakeology is the best thing since the wheel. Every…single…thing that Beachbody claims with Shakeology is true, and I can personally attest to that. The greatest benefit for me was that it helped with my sweet cravings and gave me energy to start my day. So many people complain about the cost, but I compared my budget from before Shakeology. I save over $70 a month on groceries with it.
You can change your life, too. Take the Beachbody Challenge, for the ultimate motivation to get fit! Select any Beachbody program and once you complete it, share your results for your chance to win cash and prizes.