Beachbody Results: Brian Lost 153 Pounds in One Year and Won $1000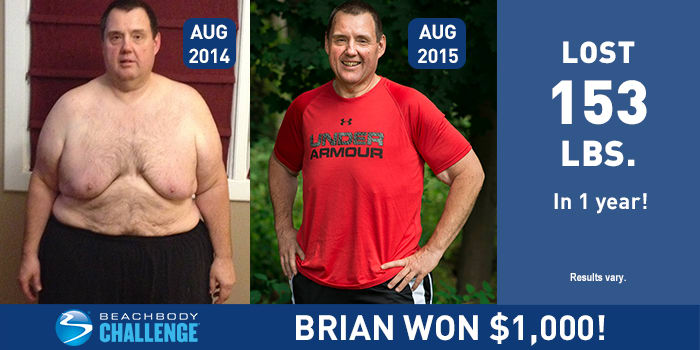 †Results vary depending on starting point and effort. Brian is an independent Beachbody Coach.
Brian Beam, age 47 from High Bridge, NJ, lost 153 lbs in one year with a hybrid of Beachbody Programs, such as P90, P90X3, and BOD, and he won $1,000 in the The Beachbody Challenge!
Tell us about your life before you started the program. How did you feel about yourself and your body?
I was living a very restricted life. Things healthy-sized people do without thinking were difficult or impossible for me. I could not go to the movies or a sporting events, because I could not fit in the seat. Things like graduation ceremonies caused great anxiety for me for fear I would not be able to find a seat I could fit in or walk up bleachers/stairs if necessary. I had bought a motorcycle several years back. It was no longer comfortable to ride it. We owned beautiful kayaks and bicycles that I could no longer enjoy. I was also not present with my family, because I was always exhausted. When I started this journey I had already lost 44 lbs by walking. I then learned about Beachbody programs and started P90. I was feeling like I could not do any DVD program, but I tried. I just keep pushing play and before I knew it I started to feel pretty good about myself and I was on my way. I then graduated from that and most recently I completed P90X3. I can not believe what I now can do compared to the beginning of my journey.
What inspired you to change your life and begin your transformation journey?
My health was the issue. I was 450 lbs and had trouble getting through the work day. I was really scared and needed to change something right now. I wanted to be here for my family. I had spent years trying to lose weight. I would lose as much as a 100lbs and then gain it back plus some. Last August I was at work, and my knees and legs hurt so bad I didn't know how I would get through the day. I thought at that moment "if you don't turn this around you will likely die a young man." Let's be honest 450 lbs at 46 years old isn't exactly the recipe for longevity.
What is the greatest challenge you faced before beginning the program? How did the program and Beachbody® help you overcome that challenge?
My biggest issue was structure in my program and Beachbody took care of that for me. When I started my journey the only exercise I could tolerate was walking. I walked for a couple of months just adding a few more steps each day. Doing that and keeping track of what I ate on My Fitness Pal I was able to lose around 45 lbs. In October of 2014 I started P90. I lost 50 lbs doing one round of P90. Later I repeated the C round of P90 and lost 15 more pounds that month. From there I graduated to P90X3 and lost 44.8 lbs doing a complete round of P90X3. Mixed in there have been a few weeks that I was just trying some things out with On Demand. I would say that since P90 got all this started for me and gave me the confidence that I could do this I consider that my "Primary Program."
What in particular did you like about the program you chose?
The programs give me the structure that I never have had before. Just push play for the workout and you're good to go. The ability to try new programs with On Demand offers me the variety I need to keep from getting bored. There is so much inspiration and motivation in my Challenge Group. These programs have changed my life.

Describe the results you achieved with your Beachbody program. Which achievements are you proud of?
I have lost 192 lbs in one year (153 lbs since starting my first Beachbody program). While I have 53 lbs until I reach my goal I have had many victories. Being able to see a Yankee game with my daughter, sit on the beach with my wife and play on the floor with my grandkids are all small celebrations. My goal is to get to 200 lbs. With Beachbody and TD Nation I have no doubt I will be able to achieve that. Losing 192 lbs has changed everything for me.
How has your life changed since completing your Beachbody program?
I already this summer have taken my bike out. My wife and I went kayaking for the first time in many years. I went to the beach for the first time in 30 years. I had three children graduate from college this year and was able to walk to a seat high up in the stadium and sit comfortably to watch them walk. I recently went to see a game at Yankee stadium and sat very comfortably. I now am able to live an unrestricted life with no boundaries. My weight is no longer a factor in my decision making process. I have tried to lose weight many times in my life. For the first time with Beachbody's help I know I will reach my goals.
How did participating in a Challenge Group help you reach your goals? How did your group support you and keep you accountable?
I am a part of TD Nation. It is an amazing group of like minded people. I believe it's the best fitness group anywhere.
How did your Team Beachbody® Coach support you on your journey?
Weekly check ins as well as building a friendship that has meant a lot to me.
How did a Beachbody Supplement or Nutritional Product or Program (such as Shakeology® or Beachbody Ultimate Reset®) support your transformation? What are the greatest benefits you gained? Did you see benefits to your energy, sleep, mood/mental clarity, digestion/regularity?
Shakeology has been a great product for me. The biggest thing I see is it reduces my cravings and increased energy. I can't imagine not using Shakeology.2
You can change your life, too. Take the Beachbody Challenge for the tools you need to Decide, Commit, and Succeed! Complete any Beachbody program, and enter your results for a free gift and a chance to win cash and prizes.

2These statements have not been evaluated by the Food and Drug Administration. This product is not intended to diagnose, treat, cure, or prevent any disease.