"My Body Has Been Transformed in Such a Short Period of Time!"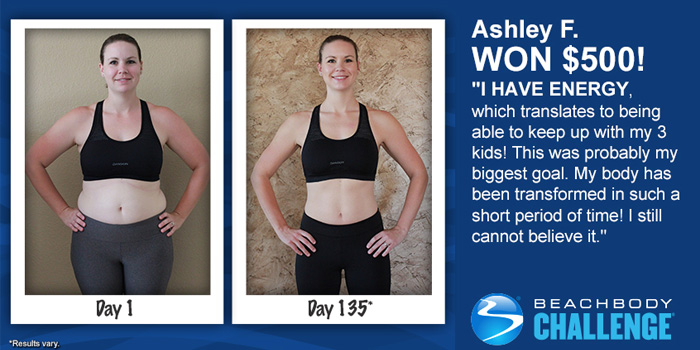 †Results vary depending on starting point and effort. Ashley is an independent Beachbody Coach.
Meet Ashley F. She participated in The Beachbody Challenge® and won the $500 Daily Prize for January 31st!
Tell us about your life before you started the program. How did you feel about yourself and your body?
Before I started the Beachbody programs, I was a VERY tired mommy to a 4-year-old, 3-year-old, and 7-month-old. I didn't bounce back after my 3rd pregnancy like I had the first 2 times. I had zero energy. I was eating as though I was still growing a baby in my belly. I kept expecting the weight to just magically fall off….and it wasn't. I was feeling quite guilty for continuing to carry around the baby weight. I was not able to play with my 2 older children like I promised them I could after I had the baby. I was letting myself down and my family down. I refused to buy larger clothes….I had a closet full…I just needed to lose the weight. I borrowed clothes from friends, and I was devastated when the larger sizes actually fit me. I NEEDED a change.
What inspired you to change your life and begin your transformation journey?
I had used Beachbody products in the past (P90X, TurboFire, Shakeology) and loved them. I knew that I had to REALLY commit if I wanted to do this right. Once I decided to get back on the workout wagon, I realized my diet needed a lot more change than my physical activity (which was also in serious need). I was in desperate need of a diet overhaul to get me moving like I wanted to be. I could also see it affecting my children. I didn't want to continue feeding them garbage. I want them to grow up knowing how to feed their bodies what they need. I wanted to be the example for them. The inspiration. I decided to take the plunge and COMMIT fully to a change.
What is the greatest challenge you faced before beginning the program? How did the program and Beachbody® help you overcome that challenge?
My greatest challenge prior to beginning the program was my diet. I wanted to eat all day….every day. I was eating sweets every afternoon. I had no control over my portions or the food choices I was making. My family was eating out far too often, and it needed to stop (not only for our physical health, but also financially!). The PiYo meal plan was a BLESSING. It was so perfect for me. I was able to learn what foods to eat, how much to eat as a serving, and how to properly balance the food groups. I have been able to get my family on the right path nutritionally and it feels GOOD!
What in particular did you like about the program you chose?
The first program that I did was PiYo. The nutrition guide was definitely my favorite, because I needed it so badly, but I really loved the PiYo workouts as well. Chalene is amazing (who wouldn't love her?!). The escalation of the workouts from easy to tough was timed perfectly for me. I was able to grow with the program, and I loved that. PiYo was a workout that I was happy to get up and do in the mornings to start my day. So refreshing, yet still a challenge. The second program that I completed was Focus T25. It was a complete change from PiYo. High energy, fast-paced. I needed to work on my cardio and endurance, so T25 was a perfect fit! My favorite thing about T25 was that it was a short time commitment (25 minutes), but it was WORK. I never felt like I didn't work hard enough even though it was only 25 minutes.
Describe the results you achieved with your Beachbody program. Which achievements are you proud of?
My nutrition has done a complete 180. I am eating healthy, making good choices with proper portion control. I went from a couch schlub to someone who could do entire workouts without modifications of any kind (even pushups on my toes!). I lost so many inches! I had no idea that I had that many inches to lose!! My body has been transformed in such a short period of time! I still cannot believe it.
How has your life changed since completing your Beachbody program?
I HAVE ENERGY. This was probably my biggest goal. I was tired of being tired….and now I am not tired at all! I am drinking Shakeology daily and eating right. My family is eating right. I am stronger, more flexible, have higher endurance….which translates to being able to keep up with my 3 kids! I am confident. That may be something I haven't ever been. I am confident in my strength and ability to achieve my goals. I set out to be a good example for my children and my family and I think I am achieving that. I am ready to share it with the world and inspire others to make the change too.
How did participating in a Challenge Group help you reach your goals? How did your group support you and keep you accountable?
My challenge group provided me with the added accountability that I needed. I got great tips from my coach and great recipes from many of the girls in the group. It was an amazing group of supportive women, and I am thankful for them.
How did Shakeology® or Beachbody Ultimate Reset® support your transformation? 
I LOVE Shakeology. It is a great way to get my days started. I have 3 little ones….who has time for breakfast?! I was able to have energy in the mornings to keep up with them. I have been sleeping better and no longer have digestive issues. With T25, I began taking the Energy & Endurance formula for that added boost during my workouts. I was initially skeptical, but I fell in love with it!2
You can change your life too. Take the Beachbody Challenge for the tools you need to Decide, Commit, and Succeed. Complete any Beachbody program, and enter your results for a free shirt and a chance to win cash & prizes.
2These statements have not been evaluated by the Food and Drug Administration. This product is not intended to diagnose, treat, cure, or prevent any disease.