Body Beast Results: Zane Lost 57 Pounds in 90 Days!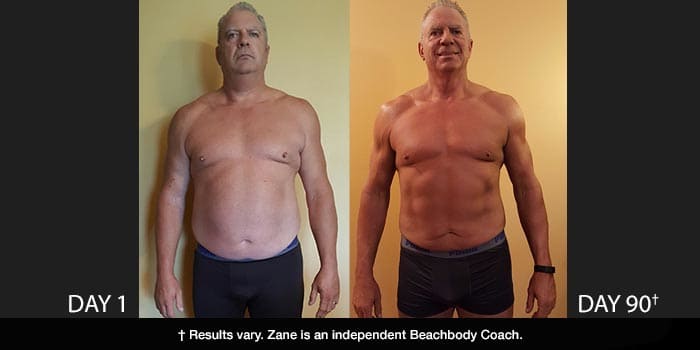 Zane Allsup, age 54, lost 57 lbs in 90 days with Body Beast. He entered his results into Beachbody Challenge and won $1,000!
Tell us about your life before you started the program. How did you feel about yourself and your body?
Life was great for the most part. I am very blessed to have a loving family and great friends. As far as the way I felt about myself, I have never been one to feel as if I looked very good until 9 years ago I did a transformation contest and made some drastic changes. I got in shape and felt so good. Then after some life changing events, I lost what I had worked so hard to achieve, I gained all of the weight back and found myself back in the same old rut. I was tired and didn't feel like I was sexy to my wife anymore, and always tried to cover up my fat.
What inspired you to change your life and begin your transformation journey?
After going to the cardiovascular doctor in early July, I found myself at 327 lbs and a blood pressure of 140/90+. I had poor circulation in my legs and didn't have any or many more options to improve my condition. When I got home from the doctor and thought about what would happen if I didn't make the necessary changes in my life to reduce my weight and improve my circulation, I said enough is enough! I sitting in my chair watching TV late one night (July 11th or 12th) I saw the Body Beast infomercial and told my wife, "Now that's what I want to do"! She said without hesitation, "then do it!". I picked up the phone and proceeded to order the program.
What is the greatest challenge you faced before beginning the program? How did the program and Beachbody® help you overcome that challenge?
My biggest challenge is having cravings that I couldn't or didn't want to control. I ate pretty much whatever I wanted to eat and didn't think about what an impact I was having on my body. Any as it turns out, what an impact that I was having on my family around me. Truly the support system of my Coach and Shakeology, along with the structured workouts of Sagi's program, were all amazing! I knew it was not going to be an easy row to hoe, but I knew if I wanted to achieve my goals, it was going to take hard work and dedication. Drinking my Shakeology was amazing to eliminate my cravings and give my body the nutrition it needed to sustain my health and wellness until my next meal.2 Thank you Beachbody and Amanda DeFrain for your support during my journey! P.S. More to come…
What in particular did you like about the program you chose?
The program was very structured and focus on helping me meet my goals! The dynamitic set training works, and keeps you on your toes. I had a few challenges doing some of the exercises due to a physical impairment, but was able to substitute some other exercises that worked the same body part.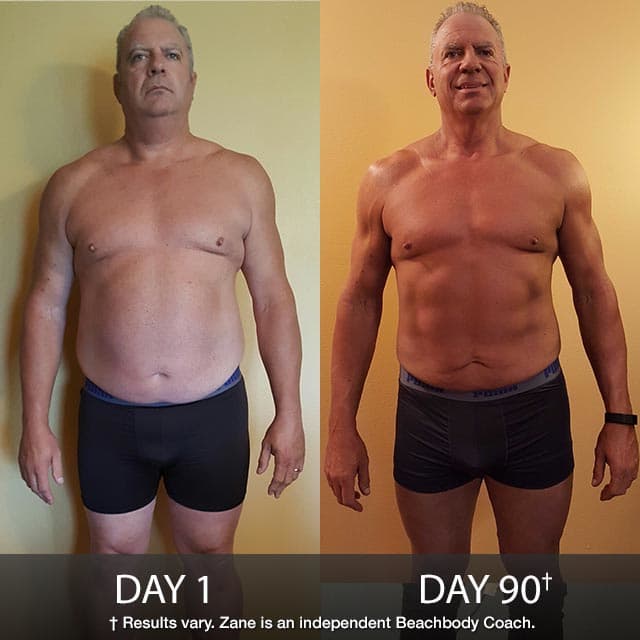 Describe the results you achieved with your Beachbody program. Which achievements are you proud of?
My overall fitness is what I am most proud of right now. I am still working on my muscle tone and bulk so that will come with time. By doing this programs and keeping my heart rate up and burning those extra calories, allowed me to see results quickly and keep me motivated to do the next workout.
How has your life changed since completing your Beachbody program?
Life is changing everyday! I now have more confidence to do things like go to the pool and not be embarrassed of how I look. I have way more energy and I have the ability to do the physical activity that I like doing. It has also made me more confident in my relationship and what to get more physical… if you know what I mean. Loving life!
How did participating in a Challenge Group help you reach your goals? How did your group support you and keep you accountable?
The Challenge Group gave me the support I needed to stay focused by submitting my workouts and Shakeology daily. This also gave me a sense of accomplishment when I saw others like and comment on my progress. I wish that we had more challenges that used the mobile app to log workouts and keep track with your progress.
How did your Team Beachbody® Coach support you on your journey?
Amanda is AMAZING! She stayed in touch with me almost daily and if she didn't contact me directly, she was posting things on Facebook and starting a clean eating group that helped me learn more about foods and how your body processed certain things! Her support was very instrumental in keeping me on track because I found that I was trying to impress her and keep her updated on my progress. She kept the pressure on and praised me on my accomplishments. She is the BOMB!
How did a Beachbody Supplement or Nutritional Product or Program (such as Shakeology® or Beachbody Ultimate Reset®) support your transformation? What are the greatest benefits you gained? Did you see benefits to your energy, sleep, mood/mental clarity, digestion/regularity?
Shakeology was the main one I used throughout my journey, although I did purchase the Activit… Shakeology gave my body the nutrients it needed to sustain me between meals and eliminated the cravings. This allowed me to stop snacking on empty calories and maintain a good program.2 I am now focused on reducing my body fat. I have come along way… from 30% down to 13% according to me electronic scales… but my belly fat/lose skin around my mid section has got to go. While doing some additional research, I've found that eliminating/reducing fat in your diet helps your body to use the fat it has stored in your body, so my next goal is to eliminate the lose skin around my belly.
You can change your life, too. Take the Beachbody Challenge for the tools you need to Decide, Commit, and Succeed! Complete any Beachbody program, and enter your results for a free gift and a chance to win cash and prizes. What program are you committing to next?

†Results vary depending on starting point, goals, and effort.
2These statements have not been evaluated by the Food and Drug Administration. This product is not intended to diagnose, treat, cure, or prevent any disease.