Body Beast Results: This Mom Lost 20 Pounds and Won $500!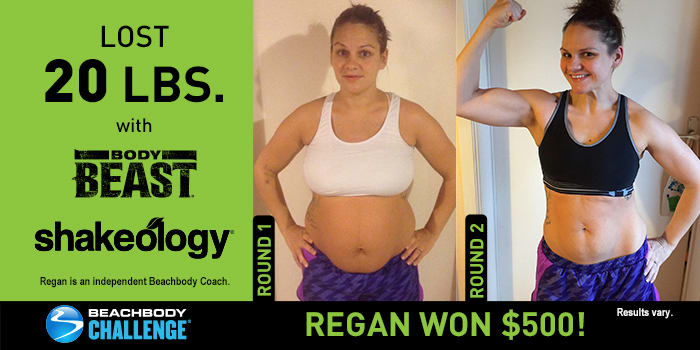 Regan Davis lost 20 lbs. in two rounds of Body Beast. She entered her results into the Beachbody Challenge, and won the $500 Daily Prize for June 29th!
Tell us about your life before you started the program. How did you feel about yourself and your body?
I wasn't happy with the way I looked. I was never confident in public. I started the program two weeks after giving birth to my second son.§ I had gained a lot of weight during pregnancy, and did not want to keep the "baby weight" on. I would exercise daily, but ate whatever I wanted, whenever I wanted. The pounds just stayed on. Once I committed to Shakeology and a strict workout program, I saw results! I finished one round of Body Beast and lost eight pounds, and I decided I needed to start again. I did a second round of Body Beast, and I am now at my pre-pregnancy weight!
What inspired you to change your life and begin your transformation journey?
I wanted to be healthy for my family. We travel a lot, and I need to be strong enough to carry the baby and my bags for a long distance.
What is the greatest challenge you faced before beginning the program? How did the program and Beachbody help you overcome that challenge?
Body Beast was hard! And with a newborn, I was tired! It took a lot to dedicate 90 days to this challenge, but I am happy with the results.
What in particular did you like about the program you chose?
I can see muscle definition! It taught me the right way to lift and gave me a schedule to follow. It made me feel strong. I gained so much confidence when I finished the program.
Describe the results you achieved with your Beachbody program. Which achievements are you proud of?
I lost weight and gained muscle! I'm strong now! When I hit the weights, I can lift more than I imagined I would be able to! I am so proud I was able to commit and finish the challenge.
How has your life changed since completing your Beachbody program?
I'm confident and strong! I took first place for females on a bench press competition! That's something I never would have accomplished without Body Beast helping me grow muscles.
How did participating in a Challenge Group help you reach your goals? How did your group support you and keep you accountable?
I felt obligated to post, even when I did not want to. That forced me to get the workout in, so I had something to post about my day.
How did your Team Beachbody Coach support you on your journey?
We talked almost every day, and it kept me motivated.
How did a Beachbody supplement, nutritional product, or program (such as Shakeology or Beachbody Ultimate Reset) support your transformation? What are the greatest benefits you gained? Did you see benefits to your energy, sleep, mood/mental clarity, or digestion/regularity?
Shakeology helped keep me regular and gave me more energy in the morning.†
You can change your life, too. Take the Beachbody Challenge for the tools you need to Decide, Commit, and Succeed! Complete any Beachbody program, and enter your results for a free gift and a chance to win cash and prizes.

Results vary depending on starting point, goals, and effort.
§Always consult with your physician before commencing any fitness program or nutritional product if you are pregnant or postpartum.
†These statements have not been evaluated by the Food and Drug Administration. This product is not intended to diagnose, treat, cure, or prevent any disease.