Body Beast Results: Laura Lost 8.8 Pounds and Won $500!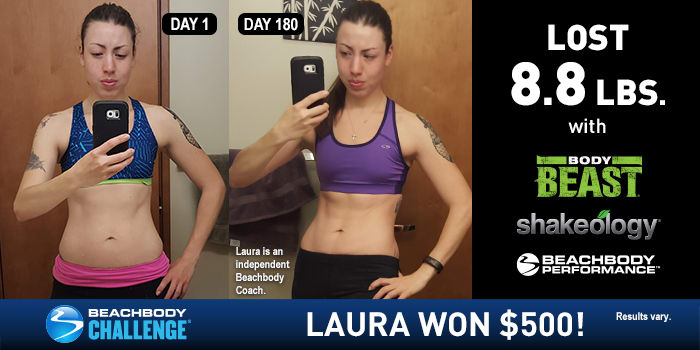 Laura Diaz lost 8.8 lbs. in 180 days with Body Beast, Shakeology, and the Beachbody Performance supplements. She entered her results into the Beachbody Challenge, and won the $500 Daily Prize for May 30th!
Tell us about your life before you started the program. How did you feel about yourself and your body?
I was always afraid of the concept of building/bulking because I had been overweight the majority of my life. I equated an increase in the scale back to when I was overweight. When I started Body Beast I had just completed a military move to South Korea with my daughter and cat. I was under a lot of stress and I lost my transformations from 21 Day Fix EXTREME. I was still motivated to exercise and figured it was time for something new to recharge. I realized after finishing Body Beast, that I had a new love for lifting and building muscle.
What inspired you to change your life and begin your transformation journey?
I wanted to not be afraid of eating more and building muscle. Body Beast was something outside of my comfort zone and I did not want to regret not at least trying. I began researching lifting for women and even joined a Facebook group dedicated to just women who lift. I had found a place where I could not only relate to the women with the same scale and food fear, but also had a place to turn to when I began my journey into the world of lifting.
What is the greatest challenge you faced before beginning the program? How did the program and Beachbody help you overcome that challenge?
My greatest challenge was overcoming the mental piece. I have to eat more in order to build muscle, as opposed to the deficit that I was used to, and that was a hard concept to swallow. I eventually developed a whole new love for food. I have trusted Beachbody programs since I began my journey back in 2013.
What in particular did you like about the program you chose?
Sagi is such an inspiration. I have read about him and follow him on Facebook and he is just an all around amazing person who truly wants us all to succeed and recognizes that many look to him as that role model. I loved everything! Sagi, "throwing" weights, and did somebody say "bulking"? Who would have thought I would enjoy eating more. Give me the carbs!
Describe the results you achieved with your Beachbody program. Which achievements are you proud of?
My primary goal was to change my mindset from thinking skinny was fit. I have seen so many women with muscles who were absolutely fit and I wanted to see fit in a whole new light with added muscle. By the end of the program, I was able to lift more than I used to. My legs have definition and I lost the stomach fluff! Not to mention, my arms look great and I look forward to continue building on my muscle groups. I feel great. I am continuously testing my limits because I know I can do more. I am listening to my body as I continue to progress in my journey and I cannot wait to get my Body Beast back on.
How has your life changed since completing your Beachbody program?
My eating habits have forever changed. Before, I became accustomed to eating at a deficit in order to lose the last bit of stubborn baby weight I had held on to for two years. Eating at a build and seeing the same changes as before, regardless of the scale is such a great feeling. It is about eating the right foods and portions to get where you want to be. Not to mention, the world of lifting and nutrition has motivated me to begin a second Master's degree in Sports Health Sciences with a concentration in Health and Wellness. I'm super excited to continue with Beachbody programs and nutrition guides! It is a never ending journey. I find that I hit so many setbacks along the way (i.e. getting sick, military exercises, physical injuries, etc…), but I will persevere, recover, and continue my journey.
How did participating in a Challenge Group help you reach your goals? How did your group support you and keep you accountable?
I was not in a Challenge Group; however, I was in a Facebook group solely for women and lifting with the focus on Hammer and Chisel, and I can say that reading their Success Stories, concerns, and the recipe swaps helped to keep me motivated. I'm very self-motivated, but having the support network was nice as concerns do come up.
How did a Beachbody supplement, nutritional product, or program (such as Shakeology or Beachbody Ultimate Reset) support your transformation? What are the greatest benefits you gained? Did you see benefits to your energy, sleep, mood/mental clarity, or digestion/regularity?
Shakeology has continued to supplement my diet and provide that energy and fullness I need to get through the day.
You can change your life, too. Take the Beachbody Challenge for the tools you need to Decide, Commit, and Succeed! Complete any Beachbody program, and enter your results for a free gift and a chance to win cash and prizes.

Results vary depending on starting point, goals, and effort.