Body Beast Results: Jason Lost 12 Pounds in 90 Days and Won $500!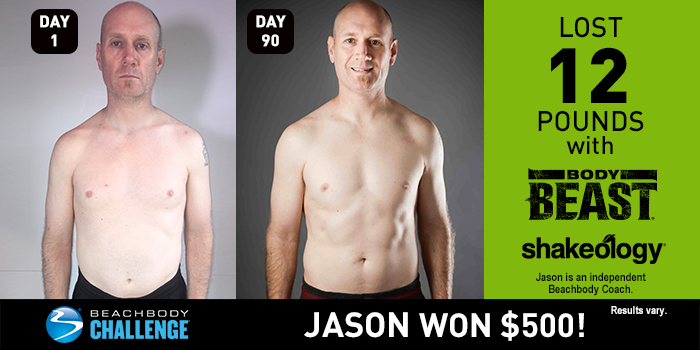 Jason Lounds lost 12 lbs. in 90 days with Body Beast and Shakeology. He entered his results into the Beachbody Challenge, and won the $500 Daily Prize for April 17th!
Tell us about your life before you started the program. How did you feel about yourself and your body?
Before I started my Beachbody program, I was working hard to shed weight. When I say working hard, I mean drinking green smoothies for lunch every day and maintaining a very low calorie diet. This worked okay. I lost 10 pounds in five months, but found myself lacking energy and losing muscle. I work three jobs for much of the year, and was completely burning out! I wanted desperately to work out and find my strength again, but felt trapped and helpless in my schedule. I had tried going to a local gym before work in the mornings, but would find myself spending 60–90 minutes three times a week in the wee hours of the morning, exhausted. I had no plan and no guidance. I was wondering around working the same muscle groups I always did, doing the same exercises I always did, and getting nowhere fast. I decided that this was a waste of time and that my sleep was worth more than the time wasted driving around and wondering around the gym. I was completely frustrated with the direction my fitness was going.
What inspired you to change your life and begin your transformation journey?
My wife was studying to become a personal trainer when she discovered the Team Beachbody opportunity. She had already started her personal transformation, and I was very envious of her excitement, drive, energy, and success. When she started the 21 Day Fix EXTREME program and started getting Shakeology at the house, I got excited. I saw her starting and finishing workouts in just 30 minutes, and her results started speeding up. I told her what I wanted to accomplish, and she helped me find the Body Beast program. I finally saw a way that I could get my workout in at home in a reasonable amount of time and imagined what it would be like to really have a personal transformation story. I desired to have energy to play with my kids, coach my son's soccer team, work harder around the house, and be a better and more supportive husband. I wanted to feel confident in my skin and get out of the depressed funk that I had found myself in. I saw Beachbody as the tool to make it happen for me.
What is the greatest challenge you faced before beginning the program? How did the program and Beachbody help you overcome that challenge?
As I mentioned before, I was drowning in my work schedule. I didn't believe that I could find the time in the day to work out. I was exhausted and believed that going to the gym was a waste of my time. I was depressed and had very low self-esteem in regard to my body, even though I had lost some weight. I had lost muscle, had no energy, and was still overweight. The Body Beast program helped me with all of this. Using the program, I was able to see exactly how I could fit 45 minutes into my day to work out at home. I gained all of the travel time back into my schedule and cancelled my gym membership. Every minute of the time I set aside for working out was used for working out. Not a moment was wasted and the workouts were incredibly intense. Within the first 30 days, I lost 10 pounds and really started to believe in the program, seeing the transformation taking place before my very eyes. I found my abs again and have started to get definition in my chest. I feel great.
What in particular did you like about the program you chose?
I liked the fact that the program was targeted at men and muscle building. I wanted a chiseled physique, but I needed to add muscle as I had become so soft everywhere. I went out and got some used dumbbells, and set up an area for using them. I liked that the program gave me power to own the workouts, make them mine, and personalize them as I needed to, especially in the beginning when it all felt so foreign to me. I grew with the program. As I gained strength, I felt empowered to make the changes I could and needed to. The program really worked and that's what I liked the most.
Describe the results you achieved with your Beachbody program. Which achievements are you proud of?
I lost 12 pounds on this program. I know this seems like it might not be such a good thing at first. I was, after all, working to gain muscle. But I see the transformation, and I feel so much stronger after completing this program. I shredded so much fat around my waist and gained two inches of muscle in my chest. I still have a ways to go and will repeat the program in order to compound my results, but I feel great about what I accomplished. I also had to go out and buy a few new pairs of pants as I lost over two inches around my waist.
How has your life changed since completing your Beachbody program?
I am more confident now. I feel good talking about what I'm doing and sharing the fact that I'm working hard and following my Beachbody program. I feel that I am a part of the Beachbody community, and through the Challenge Groups that I have attended, I have a huge support system. My wife is my Coach and my partner in Team Beachbody, and we now help hold each other accountable. I no longer see her as leaving me behind as she strives for her fitness goals. I am very aware of what it takes now to be healthy and fit, and am intentionally determined daily to make the choices necessary to live this life I've been given. I have Shakeology daily, and feel the difference it has made in my energy levels. I am only just beginning this journey. I am taking back my life and my health. I have goals and the path to follow to achieve them. With this comes hope and happiness.
How did participating in a Challenge Group help you reach your goals? How did your group support you and keep you accountable?
The Challenge Groups worked great to keep me motivated. They helped me feel a part of a community of people all working toward the same goals that I was and facing many of the same challenges that I was. As I saw people in the group working hard and changing their lifestyles to reach their goals, I was empowered to do the same.
How did your Team Beachbody Coach support you on your journey?
My wife, Keila, is my Coach. She is an amazing person and was made to work with and help people. Beachbody coaching is perfect for her. She worked hard to keep me going. She started my program with me so that we could work out together, following the same program. She consistently shared Success Stories with me while encouraging me and complimenting me as the weight came off and the strength and muscle increased. She showed me that she believed in me and cared sincerely about my success and health.
How did a Beachbody supplement, nutritional product, or program (such as Shakeology or Beachbody Ultimate Reset) support your transformation? What are the greatest benefits you gained? Did you see benefits to your energy, sleep, mood/mental clarity, or digestion/regularity?
I only used Shakeology during my program, and it is wonderful. I loved the way it made me feel after my workouts, restoring my energy and helping with my recovery. I absolutely noticed the difference when I didn't have Shakeology within the first hour of my workout (which only happened a couple times) and when I did. Shakeology worked wonders to help eliminate my need for sweets and processed foods, and helped me maintain even energy levels throughout the day.
You can change your life, too. Take the Beachbody Challenge for the tools you need to Decide, Commit, and Succeed! Complete any Beachbody program, and enter your results for a free gift and a chance to win cash and prizes.

Results vary depending on starting point, goals, and effort.