Transformation Tuesday: Stephane Lost 82 Pounds with Body Beast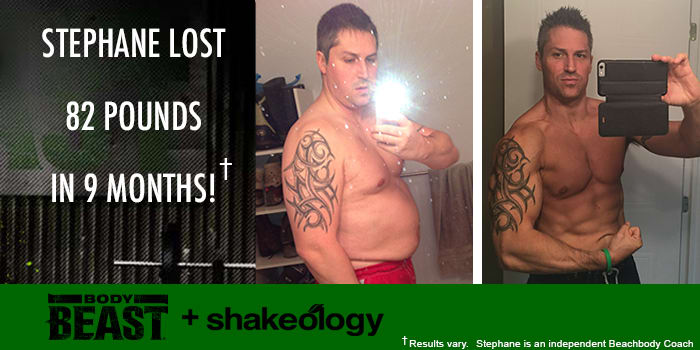 Stephane lost 82 pounds after committing to three rounds of BODY BEAST! After a divorce, he found himself a single father with a "dad bod." He needed something to boost his confidence level and get him back in the dating game. Body Beast was his answer! Here's his story in his own words.
"I got divorced and was suddenly a single dad and out of shape. I was a lost man, I had no energy, zero confidence, and always felt tired. I couldn't do any physical activities without being out of breath. Playing with my daughter and doing house chores were becoming hard tasks. Emotionally, I wasn't at my best. I wasn't in love with myself, I didn't care for myself, and I simply lived every day without actually living my life. I wanted to feel good again, I wanted to look good, and I wanted to be healthy.
I was in good shape in my 20s. I used to go to the gym every day, but I found it time consuming and expensive. My intention was to bulk up and work out in the comfort of my own home, so when I stumbled upon the Body Beast infomercial I knew that it was meant for me. It was a muscle building program with proven results.
In addition, I wanted to get back into the dating scene after my divorce. I knew that I would attract what I projected — someone with confidence and good energy. Your body is a reflection of who you are. If you don't take care of yourself, how can you take care of someone else? I knew I had to invest in myself, and that is exactly what I did with Body Beast.
I loved that I could do the program from home! The workouts are 30 to 50 minutes long, Sagi is motivating, and you get in and get out fast. It's as simple as that! I liked the idea of dynamic set training. The progressive sets gave me that muscle burn that most guys like to work for. The initial lighter weight exercises warmed up my muscles, then I tore it up with the heavier sets! The short rest periods are also ideal for achieving muscle failure and that helps to ensure the overall workout program doesn't last too long. It's designed perfectly!
I never thought I'd get to where I am today! I put on muscle mass, I got lean, I now have a six-pack, and I have muscular arms and legs. Physically, I feel and look sexy! I'll take off my shirt anywhere in front of anyone and show how hard work pays off. Emotionally, I'm confident, energized, alert, my mind is crystal clear, and I'm on point! I also have been successful with getting back in the dating game.
Overall, after completing Body Beast, I got a physical transformation, an emotional transformation, I discovered a life-purpose, I'm happy to get up every morning, and I'm just excited to live! I'm now active and influence my circle of friends to live life to its fullest as well. The best is yet to come!"
†Results vary based on starting point and effort.
---
You can change your life, too. Take the Beachbody Challenge for the tools you need to Decide, Commit, and Succeed! Complete any Beachbody program, and enter your results for a free gift and a chance to win cash and prizes. What program are you committing to next?