Everything You Ever Wanted to Know About Blueberries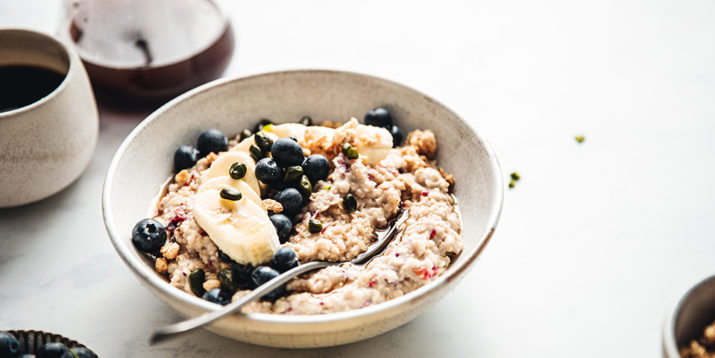 Blueberries may be tiny, but they pack quite the nutritional punch.
Juicy, sweet, and tart, blueberries are a good source of fiber and packed with flavor. Fresh or frozen, they're super easy to add to your daily routine.
Read on to find out why these small but mighty berries are included on lists like the best good mood foods.
Plus, discover the blueberry nutrition benefits you can reap from eating them on the regular, and get expert-approved ways to include more blueberries in your diet.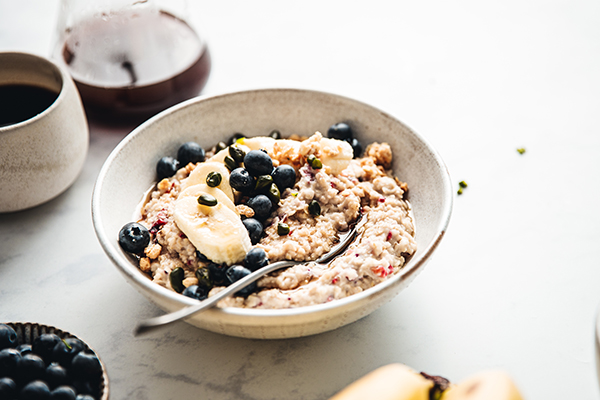 Blueberry Nutrition Facts
1 cup of blueberries provides:
84 calories
21 g carbs
1 g protein
0.5 g fat
4 g fiber
16% of men's daily recommended intake for vitamin C (and 19% of women's), which is important for supporting normal skin health and immune function.
32% of women's daily recommended intake for vitamin K (and 24% of men's), which may benefit bone health and is essential for normal blood clotting.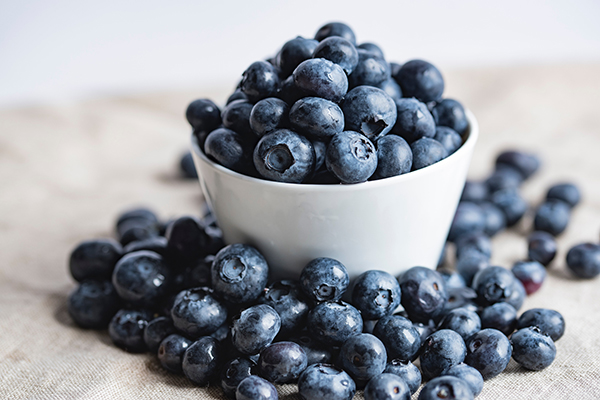 3 Health-Supporting Benefits of Blueberries
1. Provide antioxidant properties
Blueberries provide plant compounds like anthocyanins, quercetin, and myricetin, which all have antioxidant properties and other health benefits.
In fact, compared to other fruits, blueberries have one of the highest antioxidant activity levels. Antioxidants help neutralize free radicals in your body.
2. May support brain function
Blueberries may also help support normal brain function! They contain antioxidant vitamins that may play a role in supporting healthy brain function as we age.
A large, six-year study of older adults found that consuming blueberries and strawberries supported age-related cognitive function.
3. May support health as we age
A 2020 research study done at Cornell University shows promising results that blueberry consumption may support muscle cell growth.
How to Incorporate Blueberries in Your Diet
Want to eat more blueberries?
While there's no magic number to aim for each day, Jamie Mok, M.S., R.D., R.Y.T., a dietitian nutritionist and yoga teacher based in Santa Monica, California, says that "eating blueberries regularly is certainly encouraged from a nutrition standpoint."
A good portion is about ¼ cup to 1 cup, "depending on how you're using them, says Krista Maguire, R.D., C.S.S.D., senior nutrition manager at BODi.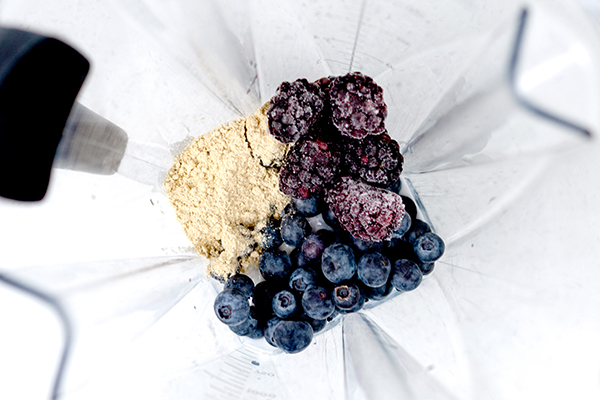 Here are 11 of our favorite ways to incorporate blueberries (and all that blueberry nutrition) into your snacks or meals:
1. Snack on them plain — fresh or frozen!
2. Blend some into a Limitless Blueberry Blackberry Shakeology smoothie.
3. Add them to your morning oatmeal or cereal.
4. Toss into yogurt or chia pudding.
5. Add to your favorite muffins, waffles, or pancakes
6. Throw fresh blueberries onto a salad.
7. Blend thawed frozen blueberries into salad dressing.
8. Pair still-frozen berries with vanilla Greek yogurt for a sweet treat.
9. Use them in desserts like these Blueberry Chocolate Truffle Balls.
10. Whip up baked oatmeal cups with blueberries for easy breakfasts.
11. Cut them in half or quarters for your tiny toddler or serve whole for the bigger kids, says Maguire. "It's never too early to start introducing healthful foods to your little ones," she says.
Is It Possible to Eat Too Many Blueberries?
While it would be pretty tough to eat too many blueberries, it is always possible to overdo it.
"The benefits mentioned can also be drawbacks depending on the person," explains Maguire.
"For example, excessive fiber may cause digestive issues for some, so be sure to eat blueberries in moderation, especially if a high-fiber diet is new to you. Also, because of their high vitamin K content, those who are taking blood thinners or have blood clotting issues will want to keep a line of communication with their doctor about their typical diet," she explains.
Looking for more expert nutrition information? Head over to BODNutrition.com and learn how to eat healthy for the long term with the help of our two nutrition programs, 2B Mindset and Portion Fix.