How to Choose the Best Yoga Mat for Your Practice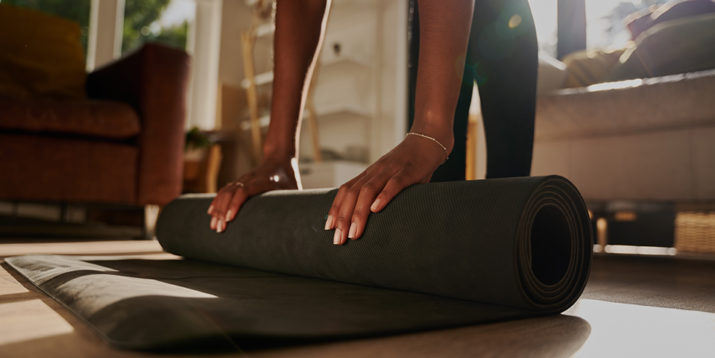 Rolling out your yoga mat can help get you in the right mindset for your practice, but it also has plenty of practical benefits.
The right mat can help you keep your grip in a pose even if you're sweaty, offer cushioning if you're jumping forward or back, and give you a clean space for your yoga practice.
Here are five of the best yoga mats on the market, along with tips to help you find the right mat for your practice.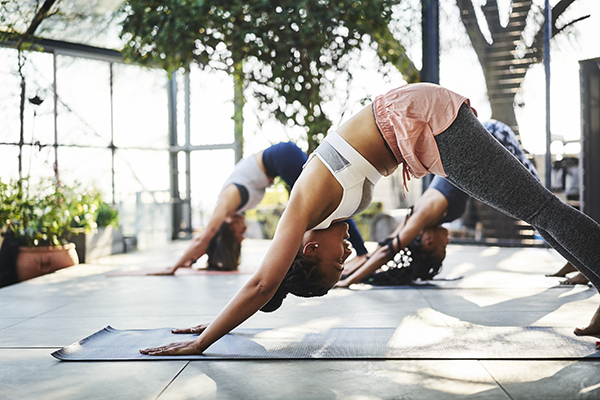 This yoga mat is an essential part of any floor workout. Thanks to 1.5 cm of cushioning, you can use it for yoga or a variety of other workouts where you want a little extra padding for your body.
It measures 24″ x 40″ and is light and compact so it can go wherever you go and stores easily.
Get it here.
If you're looking for a non-latex option, try a yoga rug.
This colorful cotton rug instantly brightens up your yoga space — plus it's sturdy, super-absorbent, and can easily be folded up to use as a meditation pad.
Get it here.
Need more room to move? Made with an absorbent microfiber top layer and natural rubber base, this 59-inch round yoga mat can pull double duty as an exercise mat for cardio or strength training workouts.
Get it here.
This lightweight, grippy Gaiam mat folds into a compact rectangle — perfect if you've got limited storage space at home or want to pack your mat in your travel bag.
Get it here.
It's a bit of a splurge, but this extra-thick mat provides plenty of comfy cushioning for Pilates, restorative yoga, and cross-training.
Get it here.
What to Look for in a Yoga Mat or Yoga Rug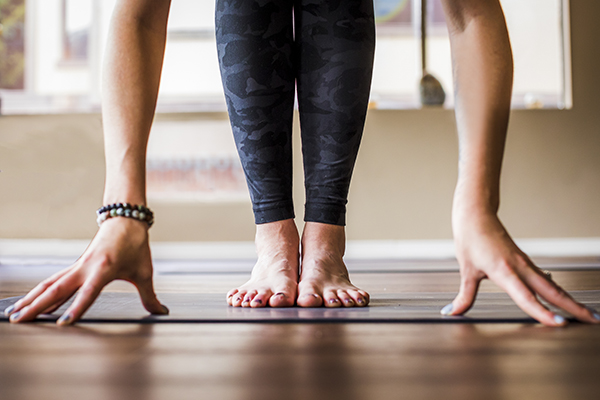 With seemingly endless options to choose from, trying to find the best yoga mat can be anything but zen.
Here are a few key factors to help you decide which mat or rug is right for you.
Thickness
Yoga mats are available in different thicknesses, typically ranging from 2mm to 12mm. The most popular thickness is 6mm (around ¼ inch).
This provides a good balance of cushioning and durability.
Lightweight mats are ideal for travel, but they provide less cushioning for your wrists and knees.
You'll also see faster wear and tear if you practice regularly.
If your joints need extra cushioning, 12mm mats can be a good pick. They're a popular choice for Pilates or plyo work, but you may find them too "squishy" for balance poses.
Material
While the standard rubber yoga mats may be the first that comes to mind, you may want to consider a yoga rug instead — especially if you enjoy practicing yoga outdoors.
Yoga rugs don't provide as much cushioning as a yoga mat, and the fabric may slide around if used on a hardwood floor. (You can keep it in place by layering it over a standard rubber yoga mat.)
But if you practice outdoors often — or if you prefer a faster flow or hot yoga — a yoga rug can be more absorbent and less slippery when you're sweaty.
Better yet, many yoga rugs can be machine washed without losing their shape and color.
Grip
Grip is always a factor, especially if you tend to get sweaty during yoga.
Some yoga mats are made from materials like polyvinyl chloride, which can feel slippery when they're new.
One way to reduce the risk of slipping is to get a mat made from a non-slip substance like natural rubber or use a woven yoga rug or blanket.
Size and Shape
Most yoga mats are between 68 and 71 inches, but if you're tall and trying to get into Warrior poses, you may want to opt for a longer mat.
Rectangular yoga mats are the norm, but if you use your mat for other workouts as well — like HIIT, barre, or Pilates — a round mat may offer more versatility.
These mats give you the same cushioning and grip, but you're not restricted to that narrow space.
Affordability
Some mats can run over $100, and a few designer options from luxury brands can set you back as much as $500.
Fortunately, the best yoga mat isn't necessarily the most expensive.
No matter what your budget is, just look for a mat with a slip-resistant grip and the right amount of cushioning for your preferred style of yoga.
Easy Cleaning
Yoga mats aren't difficult to clean. You can buy yoga mat cleaning sprays — many with pleasant-smelling essential oils.
But the majority of mats can be cleaned by simply combining a few drops of dish soap and warm water and gently scrubbing, rinsing, then air drying.
Looking for more fitness expert tips? Head over to BODi and find out how BODi's at-home workouts, nutrition programs, and online community work together to help you reach your health and fitness goals.