Morning Meltdown 100: 100 Workouts, 100 Hairstyles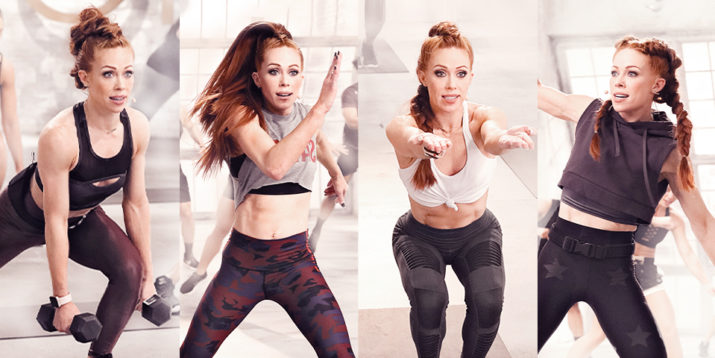 If you're getting ready to commit to Morning Meltdown 100, get ready for a serious case of hair envy.
(Already crushed the program? Then you know what I'm talking about.)
In this program, Super Trainer Jericho McMatthews is the definition of a triple threat: killer workouts, bomb outfits, and fierce hairstyles.
Jericho worked closely with stylist Kelly Thorpe to create workout hairstyles that were practical and reflective of Jericho's personality and style.
Morning Meltdown 100 workouts range from HIIT to active recovery, so a hairstyle that worked for one type of training might not work for another.
We spoke with Kelly to get her tips on how to achieve the best workout hairstyle, her hair do's & don'ts, and more.
And check out Kelly's IG account at @kellythorpemakeup to see more of her styling skills.
Pro tip: Morning Meltdown 100 is now available in the Beachbody On Demand member library!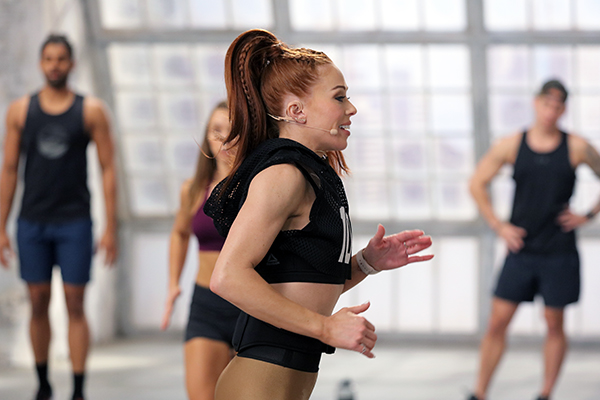 How did you and Jericho come up with her workout hairstyles for Morning Meltdown 100?
"Brainstorming together and Pinterest! One hundred workouts required quite a lot of different styles so we had a lot of fun collaborating and seeing what would work.
The main things we took into consideration were how her hair would flow with each style of exercise so it's not in the way of the movements, making sure the braid or ponytail doesn't move her mic while she's teaching, and making sure it's solidly secured.
I have some bobby-pin secrets that keep her hair in place forever! ;)"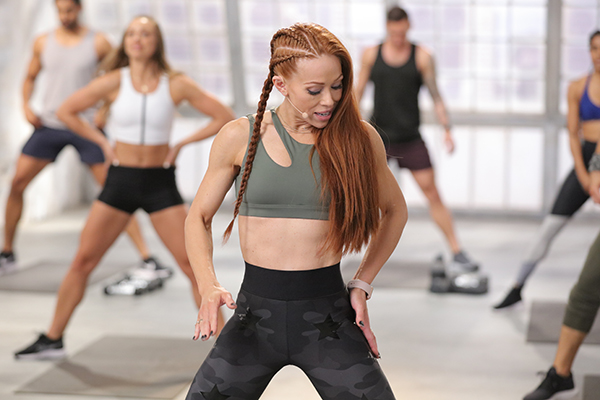 What are your top 3 do's/don'ts for workout hairstyles? 
"DO take into consideration what kind of exercises you plan on doing.
Core workouts on the ground don't lend themselves well to a messy bun faux hawk (a favorite of Jericho's and mine!) or having your hair flip in your face if you're doing downward facing dog.
DON'T use measly, weak hair ties. Strong, cardio-proof hair ties will give you more confidence to work out to your fullest potential.
If you can't get your tie to loop around your hair at least three times, you might need to double up or find a new brand.
DO wear a style that makes you feel confident. Do you feel better in some cute Dutch braids instead of just a low pony? Take the extra take to make yourself feel fabulous — it will show in your workout.
DON'T be afraid of product! Perfectly clean hair can easily slip out of braids and ponytails, which can be distracting during your workout.
Pomades, spray waxes, and clays give hair texture and grip (and some added sexy volume!) so your do stays in place while you get your workout on. Whether we're doing a simple ponytail or an intricate braid, I always use hair products to keep Jericho's workout hairstyles in place.
DO keep in mind how you style and secure your braids. How much fast movement and head turning will you be doing during your workout?
A heavy hair tie at the end of a thick braid can act like a knot on the end a rope, which does not feel good making contact with eyeballs!
Instead, try a thin clear elastic to secure a classic braid or go with some French braids to keep your hair more secured to your scalp.
DON'T feel like you have to wash your hair after every workout. Just like adding product to hair gives it more texture and manageability, day-old hair has more natural oils that will help give you volume and better ability to style your locks.
Just a little towel off and a good hit of dry shampoo and you'll have great hair again for tomorrow's workout."
What Are Your Favorite Hairstyling Tips and Tricks?
"Hair product before you style! Waxes, spray clays, and pomades before you style give your hair better texture and grip before you start sculpting a cool do.
If I have no other legacy to leave behind, this would be the one and only: Do NOT open bobby pins.
Bobby pins grab just the right amount of hair on their own — when you open them beforehand, they pull in too much hair and can lose their strength and grip.
Instead, from a 90-degree angle, grab a little bit of the surrounding hair to 'fold over' the area you're securing and just push the pin directly into the style.
The surrounding hair helps secure the hairstyle and the bobby pins will grab just the right amount of hair so it will stay for hours."
Workout Hairstyle Ideas
And yes, we get it — no one has a professional hairstylist on speed-dial for pre-workout styling, but a little visual inspiration can help you come up with the best hairstyle for you.
Check out some of the gorgeous workout hairstyles Kelly created with Jericho:
1. Braid Hairstyle
You'll see a lot of amazing braid hairstyles in Morning Meltdown 100, but a simple braid "faux hawk" is great for stretching and workouts where you want to keep your lovely locks away from your face: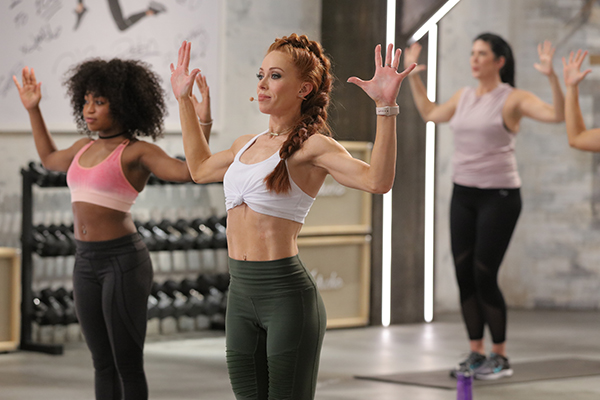 2. Braid/Bun Hairstyle
This hybrid braid/bun updo is ideal for strength workouts. You don't want your hair tangled up or in the way when you're lifting weights, so pulling it up and away is a great way to keep all your hairs securely in place.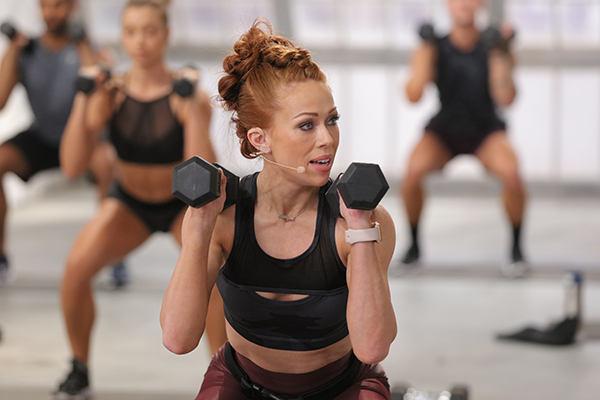 3. High Bun Hairstyle
No time for braids? Then a high bun is a no-brainer. If your workout includes floor work, this high bun keeps your hair out of the way (stylishly, of course) and prevents the awkward "I can't lay flat because my ponytail is in the way" situation.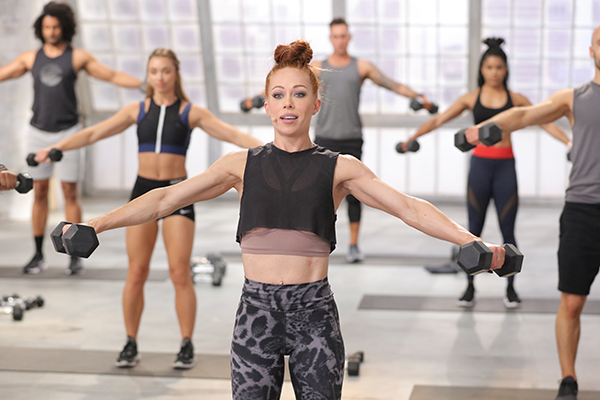 Workout Hairstyle Essentials
Having the right tools to create your ideal hairstyle is key. Here's a list of basics you'll want to have before (and after) your workout:
strong hair ties
bobby pins
workout headband (thick & thin)
styling products like pomade or spray wax
dry shampoo
leave-in conditioner
With a little workout hairstyle inspo from Jericho and some basic hair-care tips, you can create your own work of (hair) art that will hold up while you're crushing your workout — and the rest of your day.