The Best Smoothie Blenders for Any Budget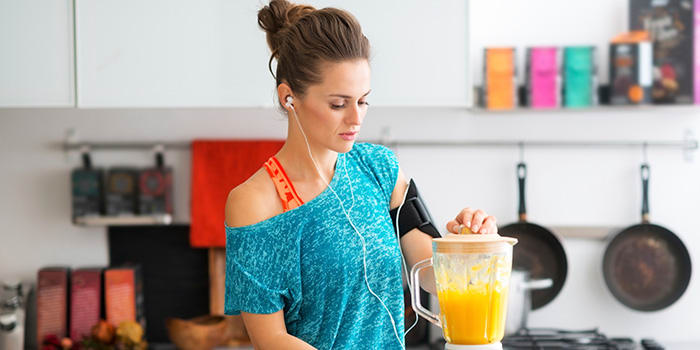 When it comes to making smoothies, nothing zaps my enthusiasm for a healthy shake like a stray chunk of ice or clump of powder. So Beachbody asked me to put numerous ones to the test to see which was the best smoothie blender when it came to value, appearance, and of course, performance.
When testing the blenders, it was key to use the same recipe to see which transformed the ingredients into a perfectly creamy shake. As an informal "tiebreaker" between the top-performing blenders, I followed up with a super-thick version that used no yogurt and only had half the coconut water. Also, while not every blender I tested was billed as being able to stand in for a food processor, I threw a handful of raw veggies in each to see how well it fared.
The Recipe:
• 1 banana
• 1 cup flavored Greek yogurt
• ½ cup coconut water
• 12 oz. ice (whole cubes)
• 1 handful of spinach leaves
• 1 scoop Shakeology
Here are the five best smoothie blenders:
Best for Tight Budgets:
Hamilton Beach Smoothie Start (MSRP: $39.99)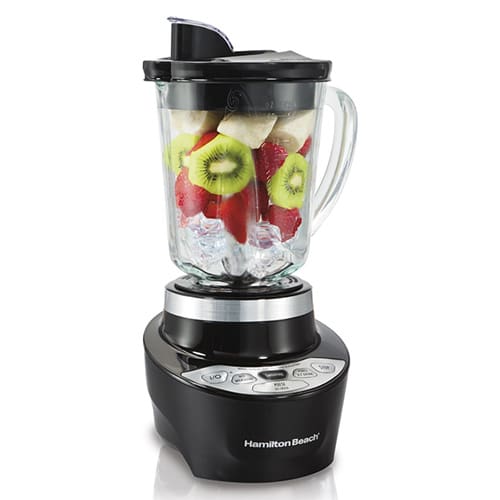 WHAT'S IN THE BOX: The Smoothie Start has a glass pitcher and a small base with functions for milkshakes, purees, and smoothies, along with a manual pulse setting. The blade assembly is removable for washing.
FIRST IMPRESSION: It looks like…well, it looks like a blender. It doesn't moonlight as a coffee grinder or come with any bonus accessories, but the glass pitcher and simple design keep it from looking cheap. It features a one-touch smoothie setting, which is useful.
SMOOTHIE SPEED: One-touch, 45-second blending cycle
PULVERIZING PERFORMANCE: The smoothie setting pulses for a few seconds to toss the ingredients, then ramps up to full speed. Its motor revs like a chainsaw in a horror movie, and a little Shakeology powder was left on the sides of the pitcher, but overall the final result was an evenly blended smoothie. Throwing whole veggies in the Smoothie Start was less successful; an air pocket formed almost immediately around the blades, pushing the veggies safely to the sides of the pitcher – needless to say, not ideal for blending. But when I pre-chopped the veggies by hand and added a little liquid, it worked well for pureeing, so it could work well in a pinch to finish up soup recipes if you don't have an immersion blender.
BONUS POINTS: The 40-ounce glass jar, lid, and blade assembly are all dishwasher-safe. The lid has a built-in spout, which helps when you're pouring a thick drink into a small glass.
THE VERDICT: It's not a blender-juicer-extractor-processor-soup-pot-do-everything-device, but it's also a fraction of the price of the luxury models. If you're just looking to make a daily smoothie, this barebones model will do a respectable job without breaking the bank.
Best for Small Spaces:
Bella Rocket Extract Pro Plus (MSRP: $119.99* (but see below))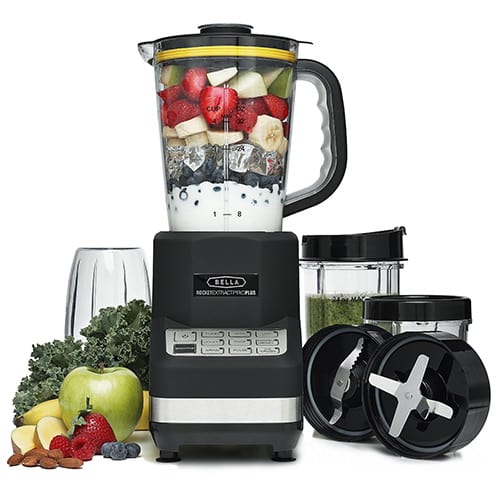 WHAT'S IN THE BOX: The Rocket Extract Pro Plus includes a 32-ounce, BPA-free plastic pitcher; an extraction blade and a separate grinding blade; and an assortment of travel cups and lids. The touchpad has settings for pureeing, grinding, blending, chopping, and more; the instruction manual has info on which mode works for which tasks. The cups, lids, and blades are interchangeable, so you can blend in the cup, screw on a lid, and go.
FIRST IMPRESSION: It's small, so despite all the attachments, it's pretty easy to store. Suction-cup feet keep the base in place. For the retail price, it feels a little lightweight — but we've seen it available for much less, at which point it becomes a pretty sweet bargain.
SMOOTHIE SPEED: 45 seconds in the main pitcher; 35 seconds in the travel cups
PULVERIZING PERFORMANCE: In the main pitcher, our smoothie blended evenly but left a lot of powder coating the pitcher's insides. The travel cup performed much better, with only a teeny bit of powder left behind after blending. Chopping raw veggies was hit and miss — some were diced perfectly, some were left untouched. But it had no problem pureeing pre-diced veggies into a creamy soup.
BONUS POINTS: The separate grinding blade for dry ingredients will keep seeds, nuts, and coffee beans from wearing down the main blade.
THE VERDICT: The Rocket Extract Pro Plus performed the best when I used the travel cups – and considering it's pretty easy to find for half the listed MSRP, it does a solid job of making a single-serving smoothie, for a fraction of the price of other travel blenders. And despite the patchy food-processing performance, it's still better than chopping by hand.
The Specialist:
NutriBullet Pro 900 Series (MSRP: $129.99)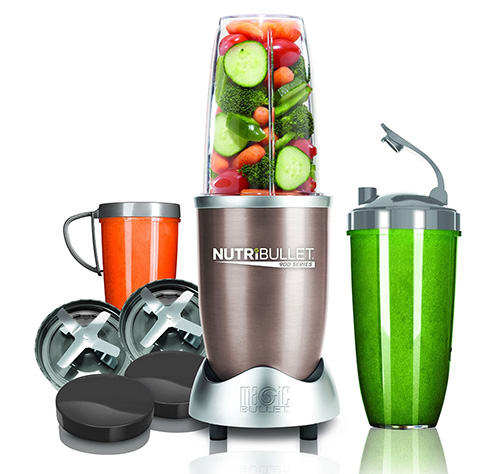 WHAT'S IN THE BOX: The NutriBullet Pro 900 consists of a power base, two extractor blades, four cups in varying sizes, a variety of lids, and a user guide loaded with recipes. All the lids, blades, and cups are compatible with one another, so you can fill any size cup with ingredients, attach a blade assembly, blend, pick a lid, and go.
FIRST IMPRESSION: The design is sleek and simple, and the "bullet" shape doesn't take up much real estate on the kitchen counter. To blend, just push down and twist as there are no buttons or dials.
SMOOTHIE SPEED: About 45 seconds, including two "stops" to shake the jar.
PULVERIZING PERFORMANCE: I had to stop and shake up the ingredients twice to get everything to mix, but the end result was an evenly-blended smoothie. The blending jar doubles as a travel cup, which is convenient. NutriBullet's claim to fame is the ability to liquefy just about anything, so chopping is a no-go; because the blender only has one speed — intense — my attempt to dice veggies turned them almost instantly into baby food. Stick with smoothies, juices, pureeing vegetables for soup, or making homemade baby food.
BONUS POINTS: The extra blade assembly means you can enjoy two shakes a day without having to hand-wash everything in between.
THE VERDICT: After being spoiled by the one-touch settings on the other blenders, the Nutri-Bullet's push-and-twist mechanism felt a little too hands-on. But the slim design and bonus blades make the NutriBullet 900 a convenient option, and it's powerful enough to turn anything into powder – so you can crush flax seeds into a smoothie, make almond flour for pancakes, or grind herbs into a homemade dry rub.
Most Versatile:
Cuisinart Velocity Ultra Trio (MSRP: $149.99)
WHAT'S IN THE BOX: The Velocity Ultra Trio includes a 56-ounce, BPA-free plastic pitcher; a food processor with a chopping blade and reversible slicing/shredding disc; and two 16-ounce travel pitchers.
FIRST IMPRESSION: The base is sturdy, and the touchpad is simple and straightforward. The sheer number of attachments is a bit overwhelming at first, but the instruction booklet has a helpful chart showing which attachment, blade, and speed will give you the best results for whatever you're making.
SMOOTHIE SPEED: Less than 20 seconds in the main jar; 35 seconds in the travel cups
PULVERIZING PERFORMANCE: This blender is fast. Within seconds, I had a creamy green smoothie with no detectable chunks of spinach. The smoothie setting varies speeds to mix things up evenly. Blending ice in the travel cup is irritatingly loud – the powerful blades really clatter the ice cubes around – and there were a few bits of spinach lurking at the bottom, but the consistency was pretty close to perfect.
BONUS POINTS: The food processor did a bang-up job dicing veggies into microscopic pieces for soup. The travel cups are cupholder-sized and will save you the trouble of washing a huge pitcher when you only need a single serving.
THE VERDICT: While it's pricier than a barebones blender, the Velocity Ultra Trio does several jobs really well – it's not only an impressive food processor and powerful all-purpose blender, but also works well as a travel-size smoothie-maker.
Best When You're Ready to Splurge:
Jamba Professional Blender (MSRP: $399.99)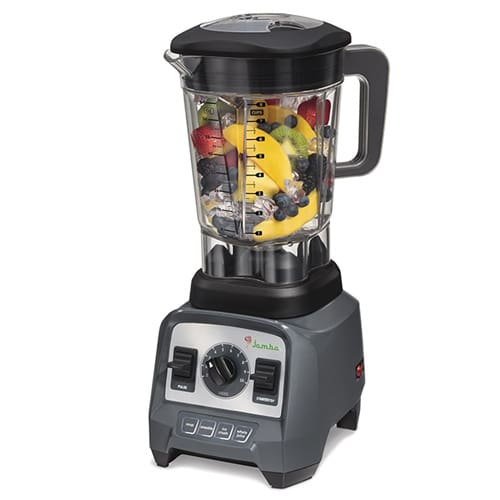 WHAT'S IN THE BOX: The Jamba blender includes a low-profile, BPA-free, 64-ounce jar (made out of Tritan, a super-durable plastic) and a tamper for thick mixtures. The simple controls include a pulse switch, a speed dial, and settings for soup, smoothies, ice crush, and whole juice.
FIRST IMPRESSION: Everything about the Jamba is pleasing to the touch, from the user-friendly switches to the soft, rubbery base. However, the main pitcher isn't dishwasher safe, so you'll need to hand-wash it.
SMOOTHIE SPEED: One-touch, 45-second blending cycle
PULVERIZING PERFORMANCE: Jamba has been in the smoothie game for awhile, so I wasn't surprised that the smoothie setting whipped up icy perfection in less than 40 seconds — even when we made a small batch of a super-thick mix. Given that there's no food processor attachment – all chopping is done in the main pitcher – I was surprised by how evenly it diced up a mix of carrots and celery in about 15 seconds (without turning any of it into mush).
BONUS POINTS: The soup setting actually heats as it purees, which is pretty awesome.
THE VERDICT: It does the work of a few appliances, and does it all well, without needing any extra attachments or accessories. Veggies were evenly chopped, and smoothies were creamy from the first sip to the last. It even edged out the super-deluxe Wolf (up next) slightly when blending thick beverages. It's pricey, but it's a few hundred dollars cheaper than its closest rival – and still does a top-of-the-line job, making it my favorite of the bunch.
Best for Ballers:
Wolf Gourmet High Performance Blender (MSRP: $799)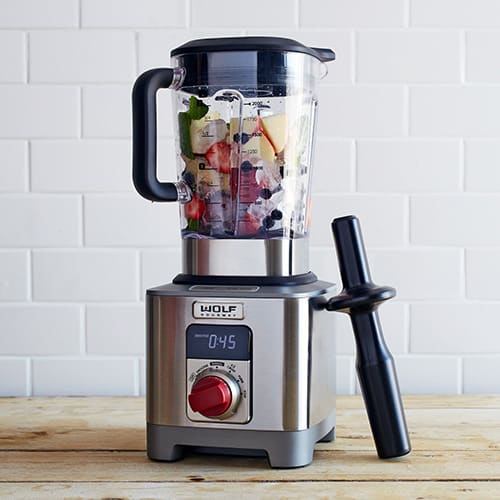 WHAT'S IN THE BOX: This high-end blender includes a 64-ounce, BPA-free, shatterproof Tritan pitcher; a stainless base; and a tamper for thick mixtures. It includes automatic settings for making whole juice, blending smoothies, crushing ice, and heating pureed soup. (Yes, in other words, all the things the Jamba one has, but with a stainless base.)
FIRST IMPRESSION: The heavy base feels high-end, and the red knob is to foodies what red soles are to shoe lovers. At first, I expected more bells and whistles for the price tag; but I quickly realized the 2.4-hp motor can handle anything you throw in there, so there's no need for extra attachments. (My inner clutterphobe approves.) Just be aware the pitcher isn't dishwasher safe.
SMOOTHIE SPEED: One-touch, 45-second blending cycle
PULVERIZING PERFORMANCE: The pre-set smoothie cycle tosses the ingredients around for a few seconds, then ramps up to jet-engine speeds and produces a smoothie that tasted like it was blended with fresh snow. Seriously. One catch: Thicker mixtures left a few icy chunks behind, so if you skimp on the liquids, you may need to blend a little longer after the smoothie cycle ends.
BONUS POINTS: The manual blending mode lets you start slow and gradually ramp up using the knob, giving you precise control no matter what you're mixing. And, like the Jamba, it heats soup as it purees.
THE VERDICT: If you're a gourmand at heart, or just overdue for a good splurge, this feels and functions like a luxury product should – the dials are smooth and precise, the LCD timer is useful, and it just looks badass on the counter.