The 8 Best Smoothie Blenders for 2023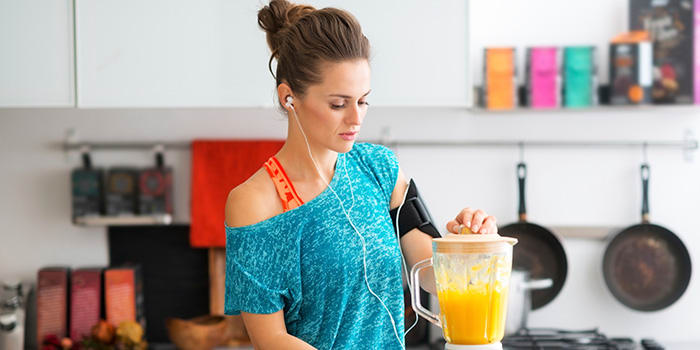 When it comes to making smoothies, nothing can zap your enjoyment like a stray chunk of ice or clump of powder.
So if you like to start your day with a breakfast smoothie or mix up a healthy protein shake after a workout, you'll want to treat yourself to the best smoothie blender.
We've rounded up eight of the best options on the market for this year.
1. Ninja BN701 Professional Plus Blender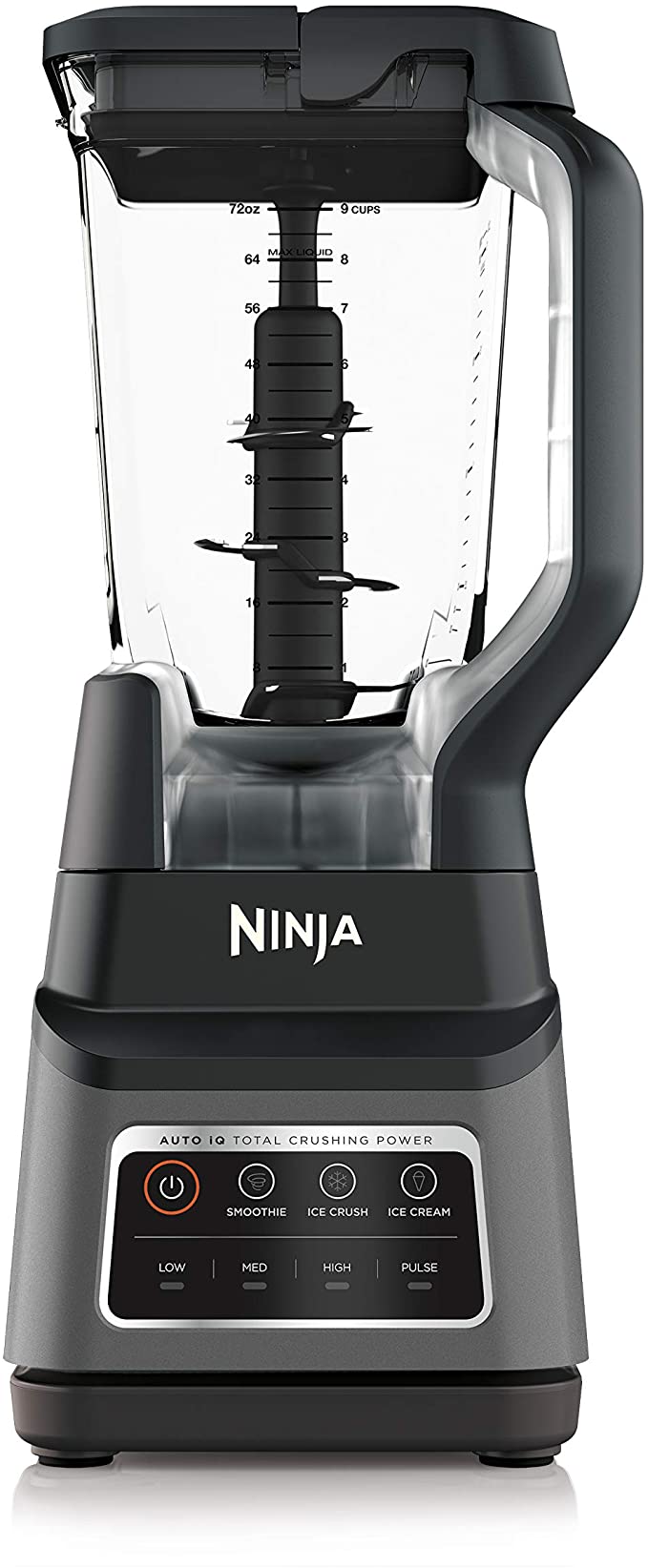 With a 1,400-watt motor base and six-blade assembly, this powerful blender pulverizes every last chunk of ice, frozen fruit, or veggies for a perfectly smooth shake in seconds.
Three preset programs use timed pulsing, blending, and pausing patterns so you can blend smoothies, frozen drinks, or ice cream with one touch.
And the BPA-free pitcher holds up to 64 ounces of liquid, so you can make a big batch to share with the whole fam.
The pitcher and blade are both dishwasher safe (on the top rack) for easy cleanup.
One downside: This blender isn't designed to blend hot drinks or soups. But for smoothies, shakes, and nice cream, it's one of the best blenders at an affordable price point.
Get it at Amazon.
2. Vitamix Professional Series 750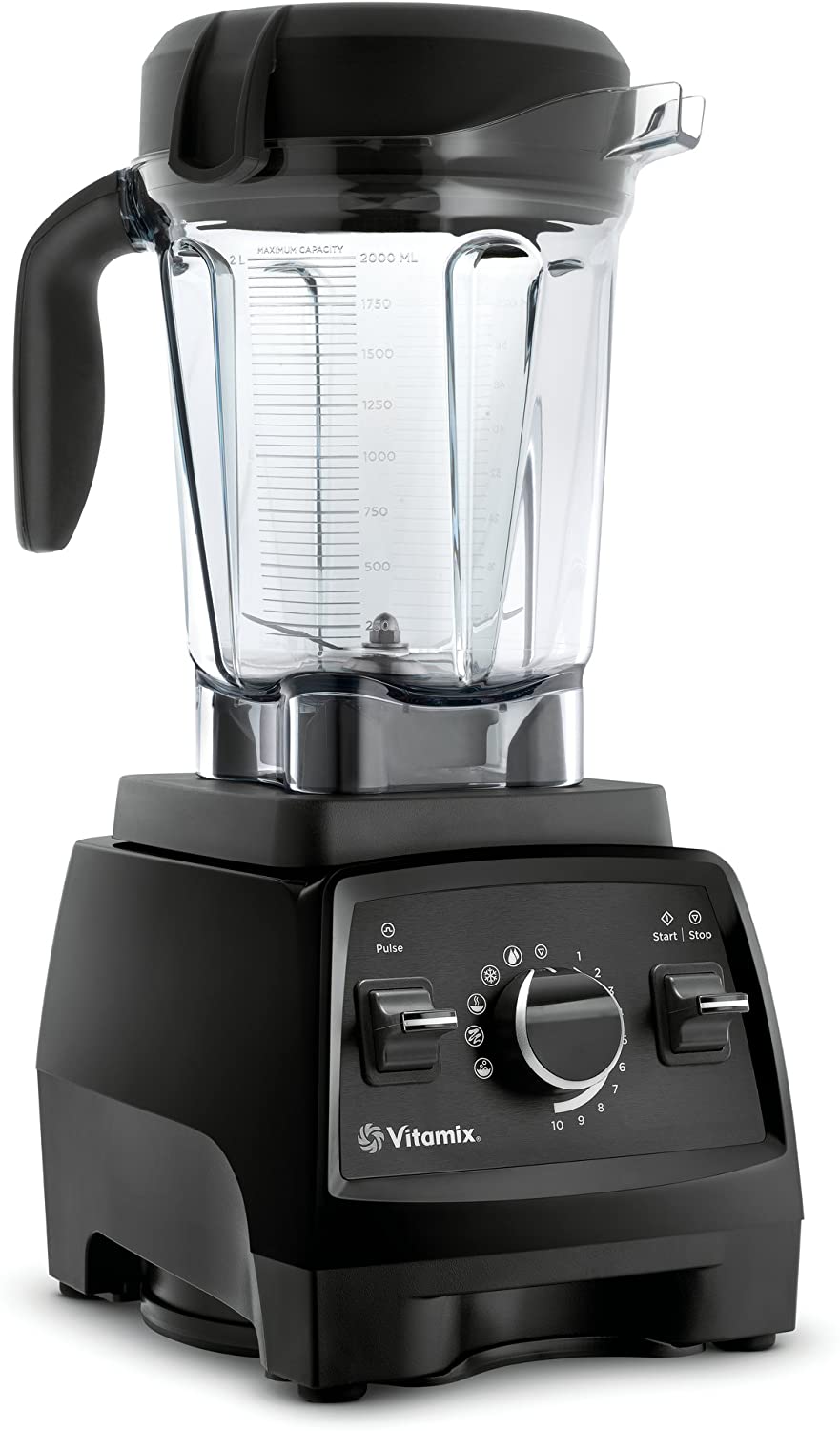 This one's a splurge, but it's built to last.
And the 1,200-watt motor can handle just about any kitchen challenge, whether you're making smoothies, juices, sorbets, ground coffee, hot soups, salad dressings, dips, or pureed baby food.
Get the perfect texture with manual speed and pulse controls, or choose from five program settings: Smoothies, Hot Soups, Frozen Desserts, Purees, and a super-convenient Self-Cleaning mode that churns up warm soapy water to quickly clean the container without disassembling it.
Get it at Amazon.
3. Nutribullet Pro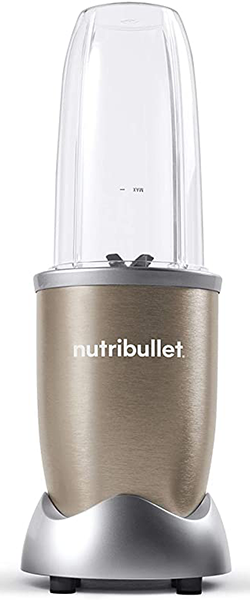 This small but mighty bullet blender has a 900-watt motor that can liquify just about anything you put in there in under 60 seconds. (Raw beet smoothie? No problem.)
Just load up the 32-ounce cup, attach the stainless-steel extractor blade, and twist to turn your fruits, veggies, and ice into a nutritious smoothie.
It's also powerful enough to turn anything into powder — so you can crush chia seeds into a smoothie, make almond flour for pancakes, or grind herbs into a homemade dry rub.
It's not designed for hot liquids, and the single speed is too intense for chopping veggies.
But it's one of the best blenders for making smoothies, juices, pureed vegetables for soup, or homemade baby food.
Plus the compact design won't take up much real estate on the kitchen counter.
Get it at Amazon.
4. KitchenAid KHBV53 Variable Speed Hand Blender

Short on storage space in your kitchen?
This handheld immersion blender fits easily in a drawer, and the 180-watt motor can hold its own surprisingly well against ice, frozen fruits, and raw veggies.
Just add your pre-chopped ingredients to the BPA-free jar, along with enough liquid to keep the blade submerged.
Use the variable speed trigger to achieve the perfect consistency — then sip your healthy shake straight out of the jar.
Get it at Amazon.
5. Breville Fresh and Furious Countertop Blender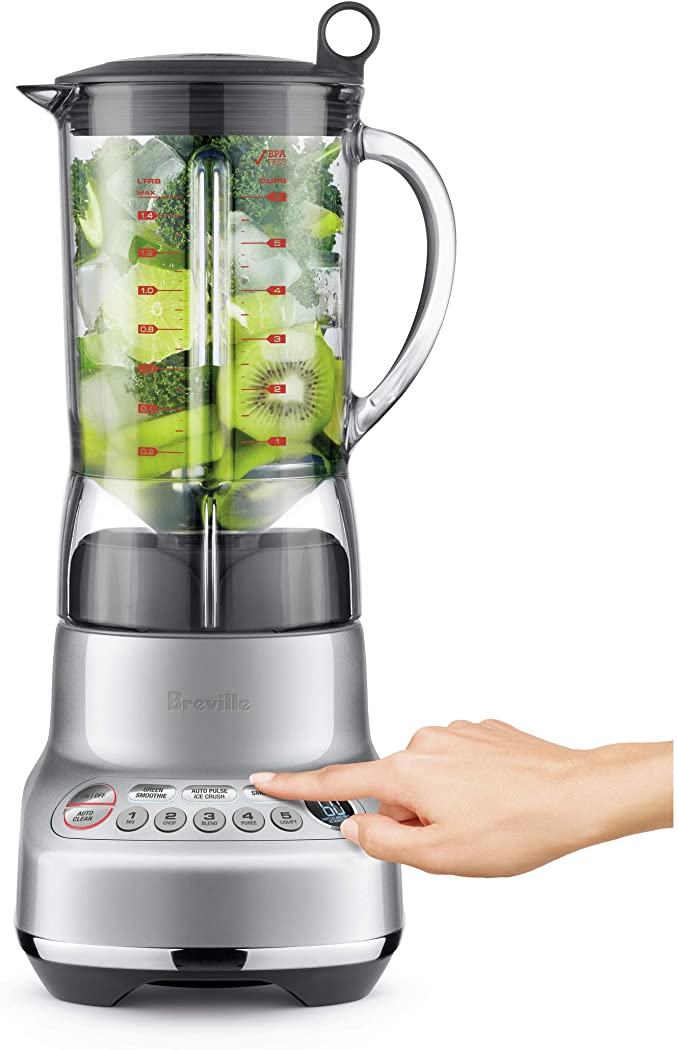 Looking for a blender that does all the thinking for you? This versatile option is like having a smoothie stand in your kitchen.
It features five speeds (mix, chop, blend, puree, or liquify) along with three preset programs (smoothie, green smoothie, and ice crush).
The 1,100-watt motor and surgical-grade blades ensure a clump-free smoothie, and the shatterproof Tritan jug is BPA-free and dishwasher safe.
Get it at Amazon.
6. Beast Blender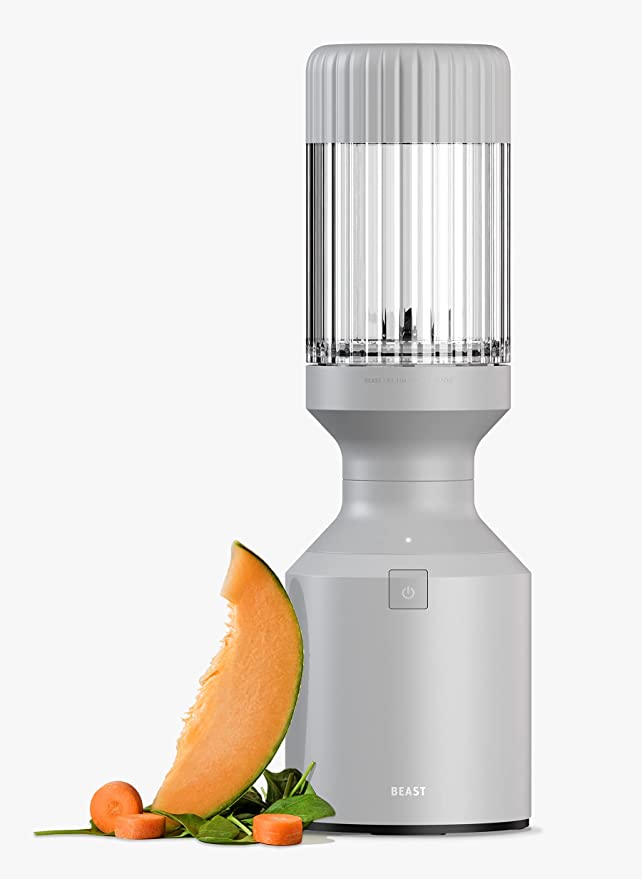 If a bulky blender just isn't vibing with your kitchen aesthetic, this is one of the best smoothie blenders for you.
Despite its name, the Beast is actually super-quiet — perfect if you need to mix up a smoothie before the rest of your household is awake.
The 12-rib vessel design helps to churn up your ingredients for more efficient ice-crushing, and the 1,000-watt motor quickly turns your ingredients into super-creamy shakes and smoothies.
Remove the blade assembly and screw on the included Drinking Lid and Carry Cap, and you've got a unique canteen-style vessel to take your smoothie to go.
Get it at Amazon.
7. Hamilton Beach Personal Blender

It may not be a blender-juicer-extractor-processor-soup-pot-do-everything-device, but this single-speed personal blender is also a fraction of the price of the luxury models.
If you're just looking to make a daily smoothie, this barebones model will get the job done.
Fill the 14-ounce jar with ingredients, and the 175-watt motor and stainless steel blades will crush ice and puree fruits and veggies for smooth and creamy shakes, marinades, and dressings.
The BPA-free blending jar doubles as a to-go cup — just pop on the travel lid and you're good to go.
Just be aware the blade assembly stays attached to the jar, so you may prefer to transfer your beverage to a blender bottle.
Get it at Amazon.
8. Wolf Gourmet Pro Performance Blender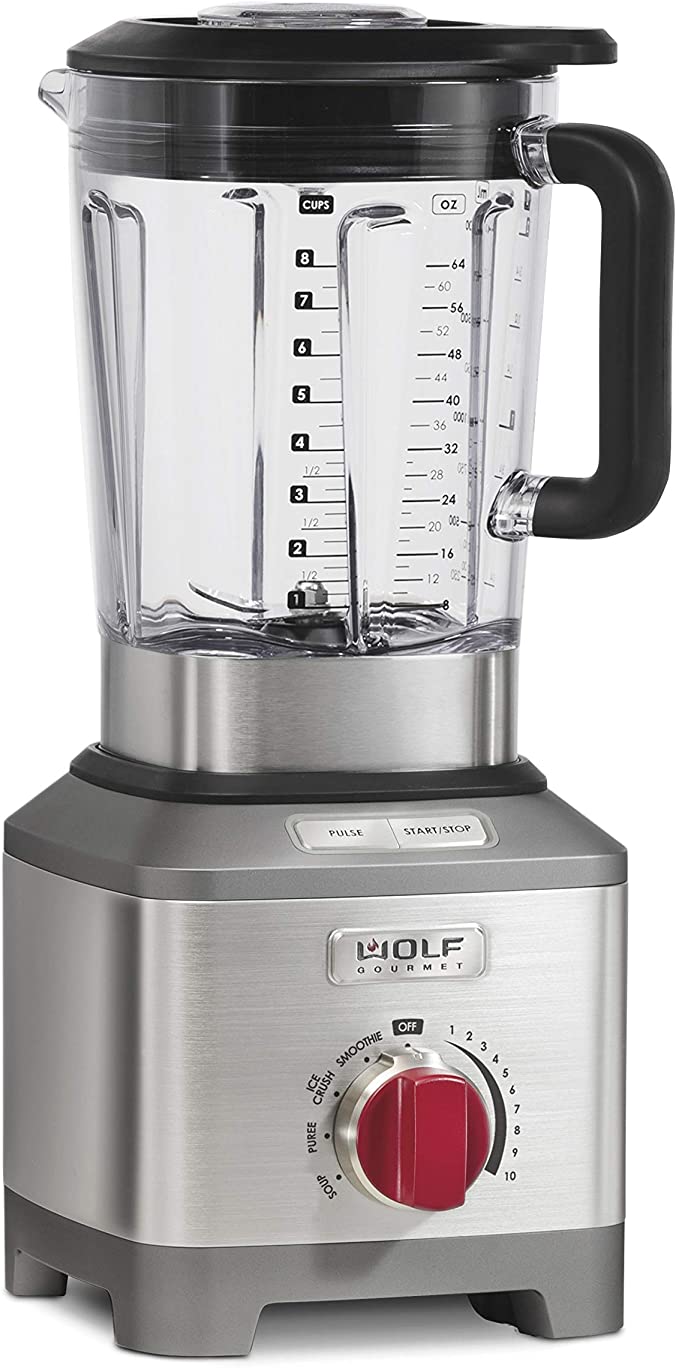 This high-end blender has the price tag to match.
But if smoothies and shakes are an integral part of your daily wellness routine — or you're just overdue for a good splurge — it feels and functions like a luxury product, with a sturdy base and powerful 1,500-watt motor.
The variable-speed manual blending mode lets you start slow and gradually ramp up using the knob, giving you precise control no matter what you're mixing.
Or choose the preset smoothie cycle, which tosses your ingredients before blending them to the perfect fresh-snow consistency.
Additional pre-programmed settings include soups, purees, and ice crushing.
The shatterproof, BPA-free Tritan pitcher holds 64 ounces, so you can batch-prep soup or share your smoothie recipe with the family.
Get it at Amazon.