Beachbody Results: Woodrow Lost Over 120 Pounds!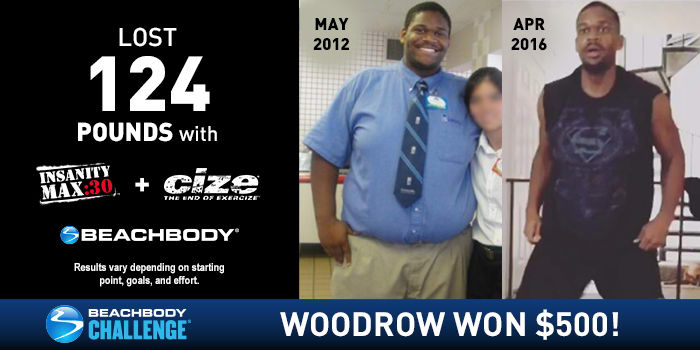 Woodrow Scandrick lost 124 lbs. with a variety of Beachbody fitness programs. He entered his results into The Beachbody Challenge, and won the $500 Daily Prize for June 22nd!
Tell us about your life before you started the program. How did you feel about yourself and your body?
Before I decided to focus on my health, partying was primary for me—binge drinking followed by eating the unhealthiest foods extremely late at night. I was the definition of "in my own way." I was depressed about my weight, and I used food to cope with the situation. I didn't realize how bad my emotional eating was until I stepped on a scale and it said 384 pounds.
What inspired you to change your life and begin your transformation journey?
I was turning 25 later that year, and the fact that I weighed almost 400 pounds terrified me. It made me face my mortality and realize that there was so much more outside of eating poorly and drinking every night. I wasn't very known for starting what I finished. I wanted to prove to family and friends that I had what it takes to change my life around.
What is the greatest challenge you faced before beginning the program? How did the program and Beachbody help you overcome that challenge?
My greatest challenge was believing that I could accomplish the goals I set out for myself. I was afraid to attempt certain moves because of my size. Continuing to press play each day eventually helped with my fears of success. Every day I worked harder than the day I did before. I swore to myself that I wouldn't quit. And I haven't yet.
What in particular did you like about the program you chose?
I've done multiple programs, but I found that CIZE and INSANITY MAX:30 were the best for me. CIZE because I've never had rhythm (lol). To be able to move and sweat while accomplishing something I never thought possible amazes me. MAX:30 makes me push myself. I've learned that I can always go one second longer.
Describe the results you achieved with your Beachbody program. Which achievements are you proud of?
For starters, I've lost well over 100 pounds, and I know I'll never go back. I'm proud of being able to do multiple power jumps (lol). I've grown to accept success and not beat myself up with food when I need to improve.
How has your life changed since completing your Beachbody program?
I'm more active, to say the least. Every morning is another opportunity to reach for my peak. I'm currently training for an endurance obstacle course race this fall. I'm certifying as a group fitness trainer, and I want be a driving force toward the end of obesity.
You can change your life, too. Take the Beachbody Challenge for the tools you need to Decide, Commit, and Succeed! Complete any Beachbody program, and enter your results for a free gift and a chance to win cash and prizes.

Results vary depending on starting point, goals, and effort.