Beachbody Results: This Working Mother-of-Three Lost 40 Pounds!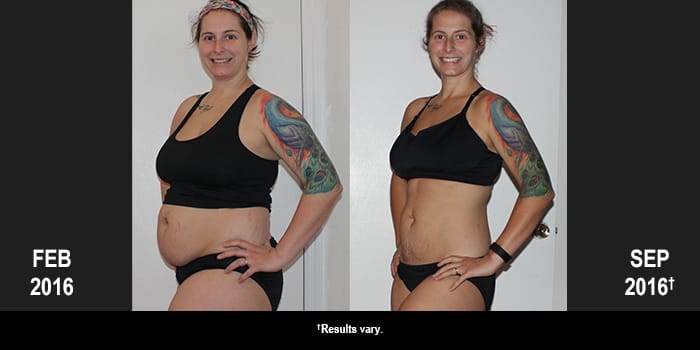 Cynthia Green lost 40 lbs. with INSANITY and 22 Minute Hard Corps. She entered her results into the Beachbody Challenge and won $1,500!
Tell us about your life before you started the program. How did you feel about yourself and your body?
I was six weeks postpartum after having my third baby.4 I was only 5 lbs. away from my pre-pregnancy weight, but that still put me at 185.5 lbs. at only 5'3″. I was so embarrassed of what I saw in the mirror. Over the prior five years, I had slowly been putting on weight and ignoring myself, as I learned to be a mother and care for my children. They were my first and only priority. But I had become a stranger to myself. I was ashamed to go out in public. I hated to get dressed. I would wear pants in the dead heat of summer, and it was very rare that I would wear a bathing suit, especially in public. I was becoming depressed. My blood pressure was elevated and my mood swings were terrible. I spent a lot of time inside and walking to the mailbox would make me short of breath. Life was just plain miserable.
What inspired you to change your life and begin your transformation journey?
I had met my now Coach, Jessica Scott, in a random Facebook group. I felt drawn to her energy. We became Facebook friends, and I was able to follow along with her journey and see just how positive and inspirational she was on a daily basis. It was absolutely inspiring to see how she made time for herself and how she was helping so many others change their lives. I decided during my pregnancy that I was joining her team and taking back my life once my baby was born. I was determined to be a better person for my family.
What is the greatest challenge you faced before beginning the program? How did the program and Beachbody help you overcome that challenge?
My greatest challenge was believing that I didn't have time. As a working mother of three, I simply thought it was impossible to work out. I didn't have time to go to a class or the gym. And I'd tried my hand at home workouts before, and never had any motivation to continue with that. I felt like it was selfish of me to want to take time for me, time away from the kids, the house, and my husband. In addition to my "I don't have time" excuse, I also had a severe and intense addiction to junk food and sugar. My daily intake of sugar had to be pushing 200 g or more. I was seriously addicted, and I remember thinking how it was going to be impossible to learn to eat healthy.
What in particular did you like about the program you chose?
I was drawn to INSANITY after I finished 22 Minute Hard Corps because of the idea of really challenging myself. I had heard from so many people how crazy the program was, and I felt determined to prove to myself that I could complete it. I knew it was tough, but I felt ready. It pushed me to my limits daily and taught me that I have more determination than I could have imagined. Before INSANITY, I chose the 22 Minute Hard Corps workout for obvious reasons; it was only 22 minutes! I thought, if I can't make 22 minutes for myself each day, then I was really just making up excuses. 22 Minute Hard Corps was amazing. It was perfect for me. I loved that it was only 22 minutes. I loved the extra ab routine. I loved the fast pace, because it always went by so fast. I love Tony Horton too. He is amazing at keeping me motivated!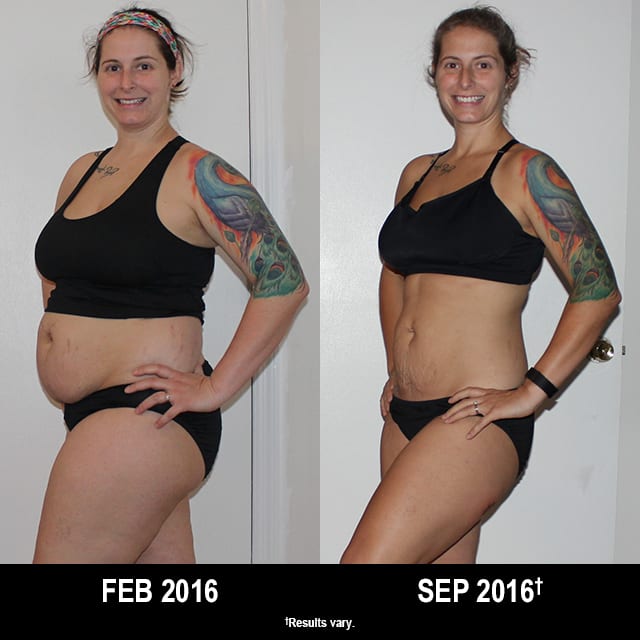 Describe the results you achieved with your Beachbody program. Which achievements are you proud of?
My physical results have been phenomenal, and everyone I know has complimented me on how amazing I look. But even after losing almost 40 lbs. and 25 inches, I am most proud of how my mindset has changed. The biggest and most astounding mental transformation is my new self-confidence. I don't know that I have ever felt so confident in my own skin. I love what I see in the mirror. Because of this, I am driven to continue working out each day and eating a healthy diet. I wake up craving my workout, and I don't particularly like my "rest" days. Also, I have gone from believing that I needed to be on medication for depression, to not feeling depressed at all. This program potentially saved me from having to take medication.
How has your life changed since completing your Beachbody program?
Life is better. I don't know a more accurate way to describe it. I feel like a new person inside and out. My body, my mind, my spirit, my emotions, and every aspect of me have been lifted. I have been taken from a place of despair, shame, and hopelessness, to a place of happiness, hope, and self-love. There is no better feeling than waking up ready to take on the day. I am able to keep up with my kids. I am no longer out of breath with everyday activities. My body doesn't ache when I've been working or on my feet for hours. And one of the greatest things is that I have been able to start playing softball again. I hadn't played in almost 10 years, because of my shame and disgust with how I felt and looked. But I went out there after being invited by a friend, and I was able to pick up where I left off. Beachbody has very literally given me back my life.
How did participating in a Challenge Group help you reach your goals? How did your group support you and keep you accountable?
The Challenge Group was my everyday go-to place for inspiration and motivation. The women in that group were there to witness my successes and my failures. They were uplifting, inspirational, and a fantastic resource. I don't know that I would have done as well as I did without that group.
How did your Team Beachbody Coach support you on your journey?
Jessica is the best. I don't think she has a negative bone in her body. For every small setback, she had something positive and uplifting to say to get me back on track. Anytime I needed her opinion, advice, etc., she was right there — quick to respond and so helpful.
How did a Beachbody supplement, nutritional product, or program (such as Shakeology or Beachbody Ultimate Reset) support your transformation? What are the greatest benefits you gained? Did you see benefits to your energy, sleep, mood/mental clarity, or digestion/regularity?
I used Shakeology. After five weeks, it was amazing to me how my cravings for sweets had diminished.2 I was able to go through the day without having cookies, candy, etc. These were everyday foods for me before, and I was no longer needing or wanting them.
You can change your life, too. Take the Beachbody Challenge for the tools you need to Decide, Commit, and Succeed! Complete any Beachbody program, and enter your results for a free gift and a chance to win cash and prizes. What program are you committing to next?

†Results vary depending on starting point and effort.
4Always consult with your physician before commencing any fitness program or nutritional product if you are pregnant or postpartum.
2These statements have not been evaluated by the Food and Drug Administration. This product is not intended to diagnose, treat, cure, or prevent any disease.