Beachbody Results: This Mom Lost 74 Pounds!
Jessica Walesa lost 74 lbs. with FOCUS T25, INSANITY MAX:30, The Master's Hammer and Chisel, and Shakeology. She entered her results into the Beachbody Challenge, and won the $500 Daily Prize for October 31st!
Tell us about your life before you started the program. How did you feel about yourself and your body?
I felt like I needed to do my best to get healthy for my son. I felt that if he fought through the impossibles of making it through, I knew I could as well. He never gave up so why should I?
What inspired you to change your life and begin your transformation journey?
I was six months pregnant and I ended up having severe preeclampsia.1 I had my son three months early. He was only 1 lb. 7 oz. I gained over 60 pounds of water weight and felt so uncomfortable. I ended up with severe postpartum depression.2 I knew I had to change, not only for me but for my son. He fought so hard to be here today, and I knew if he had the strength, I had it in myself. I started my journey back on September 2013. I ended up seeing FOCUS T25 on the TV and thought, "You know, 25 minutes a day could work with having to get to the NICU for most of my day." So I completed that program and fell in love with Shakeology. I then completed my second round of MAX:30 and now completed The Master's Hammer and Chisel. Shaun T changed my life! I am so confident and have more strength and endurance than before my son! I am 10 months in Coaching and love every aspect of helping others and myself! I am now down 74 pounds and over 65 inches overall on my body! I feel so confident and am now off blood pressure medication!3
What is the greatest challenge you faced before beginning the program? How did the program and Beachbody help you overcome that challenge?
My greatest challenge is knowing impossible is nothing! I am doing workouts I never could do even before I had my son. It has helped me overcome my fear of the unknown of what I am capable of doing. I never imagined being here today and doing these workouts as how I am now! I feel confident and am embracing my imperfections of what preeclampsia did to my body!1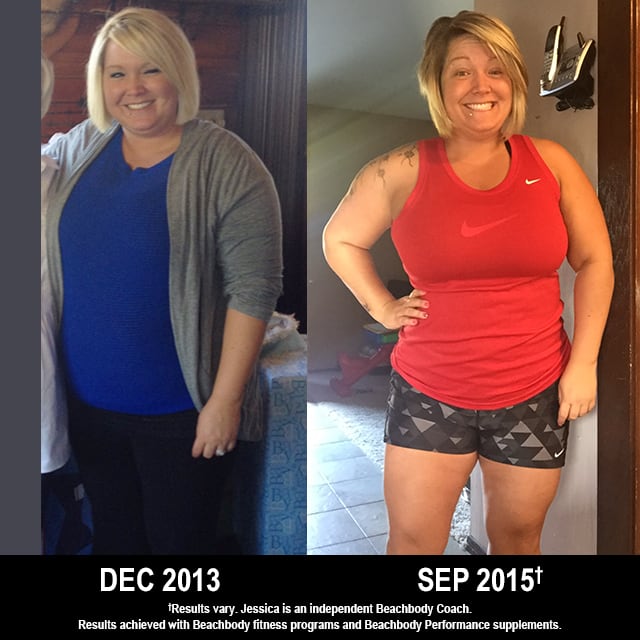 What in particular did you like about the program you chose?
I loved INSANITY MAX:30, and I feel it really tests your mind and body. I have learned that it's not all physical, it's also mental. It really has tested my limits. I am able to do one-handed burpees. It's progress, not perfection!
Describe the results you achieved with your Beachbody program. Which achievements are you proud of?
I feel leaner, confident, and on top of the world! I feel like it has tested me mentally and really has made me push through the 'I can'ts.' Shakeology, and the three programs I completed, made it possible to lose weight when I was told I may never for my condition! I learned not to give up and that slow and steady wins the race!
How has your life changed since completing your Beachbody program?
I feel overall self-worth and determination. I dropped 20 inches from Hammer and Chisel! I can do burpees like no other now! This has really helped me push to the extremes that I wasn't capable of before. I feel leaner and more toned throughout my whole body. I feel like I can keep up with my son. I can even run up our stairs and not be out of breath! The best part is I am down a pant size and shirt size!
How did participating in a Challenge Group help you reach your goals? How did your group support you and keep you accountable?
I didn't. I just kept myself accountable and motivated through being the best Coach I possibly could and showing the real me through this whole journey of my weight loss!
How did your Team Beachbody Coach support you on your journey?
She has always had encouraging words to say. She is always there and gives me the drive when I have none at times. Without her, I wouldn't be standing here with such confidence in myself!
You can change your life, too. Take the Beachbody Challenge for the tools you need to Decide, Commit, and Succeed! Complete any Beachbody program, and enter your results for a free gift and a chance to win cash and prizes. What program are you committing to next?

†Results vary depending on starting point and effort.
1Always consult with your physician about your unique medical needs before starting any fitness program or nutrition product.
2Always consult with your physician before commencing any fitness program or nutritional product if you are pregnant or postpartum.
3Consult your physician before discontinuing or altering any prescribed medication.