Beachbody Results: This Mom Lost 65 Pounds and Won $500!
Kelly Dayfield lost 65 lbs. with 21 Day Fix and 22 Minute Hard Corps. She entered her results into the Beachbody Challenge, and won the $500 Daily Prize for October 19th!
Tell us about your life before you started the program. How did you feel about yourself and your body?
I have had three babies, ages ranging from 4 years old to 10 months old, and my body is completely different than it was before kids! I have always enjoyed running, but it just wasn't making the weight come off. I was feeling defeated and like I was stuck with baby weight forever!
What inspired you to change your life and begin your transformation journey?
I wanted the energy to play with my kids. I wanted to fit into my clothes again and feel good about looking into the mirror! I also wanted to set a good example for my kids by eating healthy and exercising! There is an obesity problem in America and I don't want it in my house.
What is the greatest challenge you faced before beginning the program? How did the program and Beachbody help you overcome that challenge?
Finding the time to work out, but with BOD, I now have the time!
What in particular did you like about the program you chose?
21 Day Fix wasn't just a workout program; it was also about portions and what to eat! So easy! I didn't have to count any calories; just put my food in the container and go. Then, with 22 Minute Hard Corps, the time to work out was perfect and the containers were still used for that program!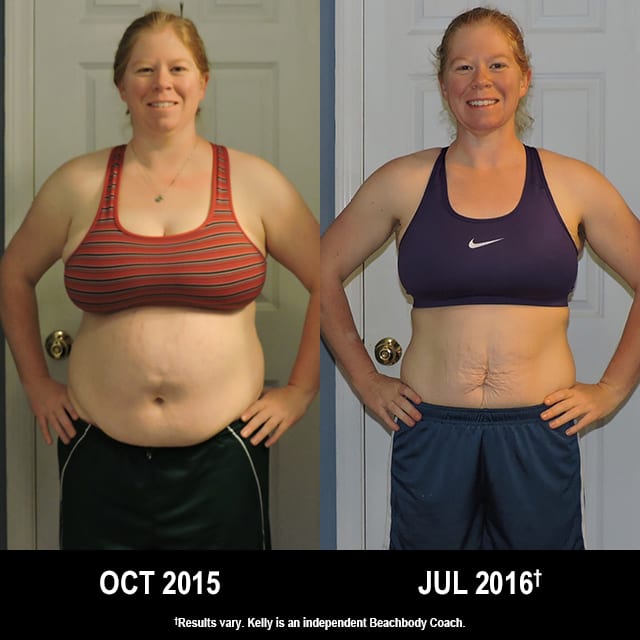 Describe the results you achieved with your Beachbody program. Which achievements are you proud of?
I am doing so many burpees in a row now!
How has your life changed since completing your Beachbody program?
I feel great and am now doing INSANITY for more results! I have more energy with Shakeology and my workouts. I have been given the tools to succeed!
How did your Team Beachbody Coach support you on your journey?
She is amazing! Her life is crazy like mine, but she is committed to her customers and she is all in!
You can change your life, too. Take the Beachbody Challenge for the tools you need to Decide, Commit, and Succeed! Complete any Beachbody program, and enter your results for a free gift and a chance to win cash and prizes. What program are you committing to next?

†Results vary depending on starting point and effort.