Beachbody Results: This Busy Mom Lost 94 Pounds!
Allison White, age 35, lost 94 lbs in just over a year with a variety of Beachbody fitness programs, Shakeology, and the Beachbody Performance supplements. She entered her results into Beachbody Challenge and won $1,500!
Tell us about your life before you started the program. How did you feel about yourself and your body?
I am busy mom of boys; my youngest are 2-years-old and 8-months-old. I am a full-time teacher, working from home for an online school. Before I found Beachbody I was sluggish, tired, and had no motivation to exercise at the end of the day after chasing around 2 small children all day. I was convinced I would never be in shape again because I thought fitness meant I had to go to a gym and be on a diet, restricting my food. My life before finding this program was very miserable. I did not have any drive and felt like I would always be out of shape. I have struggled with my weight my entire adult life. After losing both my parents in the same year (both unexpectedly) I was at the heaviest I had ever been. I was sad and felt terrible about myself. I had such low confidence that I would not look at myself in the mirror.
What inspired you to change your life and begin your transformation journey?
A friend from high school posted on her Facebook page that she was having a free group that was to cut the junk food and learn how to eat healthy. She invited me to join and I reluctantly accepted thinking that I would just do it to make her happy. I had no intention of doing anything differently at first. My friend is also a busy mother of three and she kept saying that you do not have to go to gym to workout or stop eating foods you love to lose weight, so I asked her more about what sort of workouts she did. She introduced me to 21 Day Fix, and I started the first round on June 7th. I started out at 226 pounds, very out of shape, with no drive to exercise, and 14.5 months later, my life has been totally changed. I am at 132 pounds and I am the healthiest I have ever been! This program is so easy to follow and the workouts are enjoyable but challenging. Beachbody has truly changed my life. I am a better mom, a better wife and a better person now.
What is the greatest challenge you faced before beginning the program? How did the program and Beachbody® help you overcome that challenge?
Finding time to workout with my 3 children and working from home with no one to help me with my children. Many Beachbody workouts are just 30 minutes a day and are easily doable from home. You can follow the workouts and do not need to go to gym or have your own trainer in order to lose weight and see results. Beachbody has taught me that you do not have to restrict your diet and eat foods you do not like in order to lose weight. The eating plan is completely doable and it is easy to use it to feed my whole family. The workouts are challenging and push me to my limit, but Autumn and Shaun T are motivating and make you want to do it. I wake up every day and look forward to working out because it makes me feel so much better about myself. After losing both my parents so unexpectedly I battled my unhappiness and at times did not want to get out of bed. This program has saved my life. I don't feel sad and I do not feel hopeless anymore. I feel great about myself.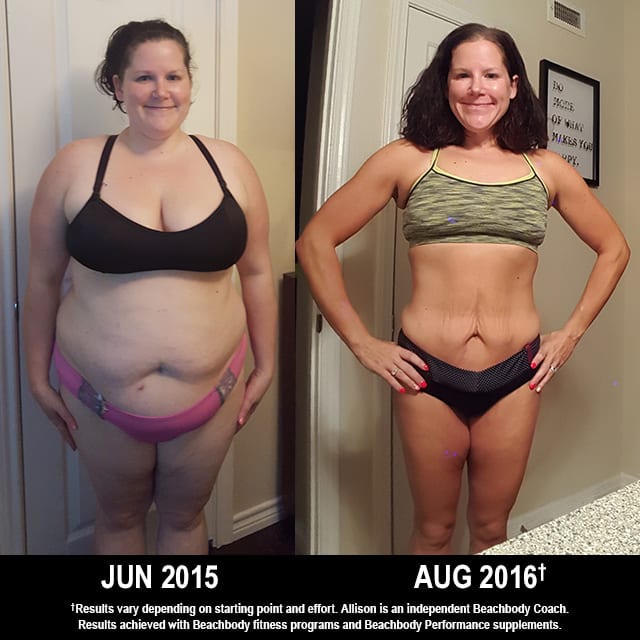 What in particular did you like about the program you chose?
I started with 21 Day Fix; I love the eating plan, and I love how easy it is to follow and still eat good foods that taste good too. I have done 3 full rounds of 21 Day Fix EXTREME and I love the workouts of this program. They are challenging and bring very quick results. I love that you just need free weights and a resistance band. You don't have to have anything fancy in order to get results. I love how motivating Autumn is. She is positive and always pushes me to complete the full minute even when I am feeling like I can't possibly do one more rep. I like that I am able to see changes so quickly. After just one week of 21 Day Fix I could see a slimmer waist and stronger toning in my arms. After 2 rounds of 21 Day Fix I needed a challenge so I did 21 Day Fix EXTREME and I was amazed at how quickly I progressed. To date, I have done 21 Day Fix, 21 Day Fix EXTREME, INSANITY MAX:30, The Master's Hammer and Chisel, 22 Minute Hard Corps, and Body Beast.
Describe the results you achieved with your Beachbody program. Which achievements are you proud of?
I have lost 94 pounds and 99 inches in just over a year. That is amazing. I am most proud of losing so much weight and also how much stronger I have gotten. When I started the workouts I was at 5 pound weights and now I am using 25 pound weights and I am able to make it through all 30 minutes without stopping. I have definition in my arms and back that I have never had before. After 3 c-sections I proudly wear a bikini because I have abs. Yes, I have abs. I am proud to be a healthy example to my children. Before I found Beachbody, I was unhappy and felt like I had no purpose. I am healthy mentally and physically. I can keep up with my children and I feel like a new person. I am proud that I took control of my life before it was too late.
How has your life changed since completing your Beachbody program?
My life is totally transformed after being on the 21 Day Fix program. I am a better wife, a better mother, and a better person now. I have so much energy and enjoy spending time with my children. Before this program, I was not able to run around with my little ones because I was out of shape and had no energy. I get out of bed in the morning now and look forward to starting my day with these workouts. I have a balance in my life now that has brought my family true happiness. Getting in shape is not just about looking good and having the body you always wanted. Getting in shape is also about making a better you. Fitness is a journey and each step is progress. I am the healthiest and the happiest that I have ever been. I am stronger mentally and physically and every day I am watching myself transform and it is amazing. This program has truly saved my life. Before starting my first round of 21 Day Fix I felt hopeless. Thanks Autumn, you saved me.
How did participating in a Challenge Group help you reach your goals? How did your group support you and keep you accountable?
Yes, I have been in a Challenge Group since starting. The ladies in my group have truly become like family. On the days when I don't want to wake up early to work out I think of my group and I think about how I would be letting them down, so I get my booty out of bed and push play. My group looks to me for inspiration and I don't want to let them down.
How did a Beachbody Supplement or Nutritional Product or Program (such as Shakeology® or Beachbody Ultimate Reset®) support your transformation? What are the greatest benefits you gained? Did you see benefits to your energy, sleep, mood/mental clarity, digestion/regularity?
Shakeology definitely helped me with my results. It gave me energy, improved my regularity, and also helped me lose more inches.2 I started with the 3-Day Refresh and this kick started my journey. I lost 5 pounds the first 3 days. I have taken the slimming formula as well and I have noticed an increase in inches lost since taking this supplement. With Shakeology, I definitely saw an improvement in sleep and my focus during the day. The greatest benefits I have taken away are my overall health being the best it has been. I wake up and feel refreshed and I go to sleep and sleep better at night.2
You can change your life, too. Take the Beachbody Challenge for the tools you need to Decide, Commit, and Succeed! Complete any Beachbody program, and enter your results for a free gift and a chance to win cash and prizes. What program are you committing to next?

†Results vary depending on starting point, goals, and effort.
2These statements have not been evaluated by the Food and Drug Administration. This product is not intended to diagnose, treat, cure, or prevent any disease.