Beachbody Results: Spencer Lost 36 Pounds and Won $1,500!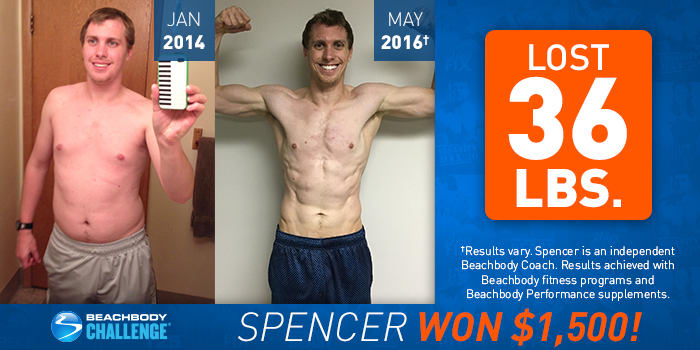 Spencer Jones lost 36 lbs. with P90X, P90X3, Body Beast, The Master's Hammer and Chisel, and 22 Minute Hard Corps. He entered his results into the The Beachbody Challenge®, and won $1,500!
Tell us about your life before you started the program. How did you feel about yourself and your body?
I didn't care for the way I felt. I had low energy most of the time, always wanted to nap, and just felt uncomfortable with my body. Plus, I didn't want to get older and have the aches and pains that many of my friends were starting to feel.
What inspired you to change your life and begin your transformation journey?
I have been wanting to work out for a while, and every time I started, I never stuck with it. This time, I decided it was going to be different. I teamed up with my brother-in-law, who is a very fit guy, and we started to do full-body workouts. Shortly after starting our workouts, we decided to do P90X and got ripped! Then, after P90X, I started P90X3. Even with a couple of weeks off and not eating as good as I should have been, I had some great results. After that, I did Body Beast and continued P90x3. Then, on January 4, 2016, I started The Master's Hammer and Chisel and achieved the definition I was hoping to get!
What is the greatest challenge you faced before beginning the program? How did the program and Beachbody help you overcome that challenge?
The 25- to 45-minute Hammer and Chisel workouts fit into my schedule perfectly, and the variety of trainers were great! Plus the eating plan was fantastic! The hardest part for me was portion control and knowing exactly what to eat. The portion system in Hammer and Chisel really helped me refine what I need to eat and has helped me be successful. I will continue this eating plan from now on!
What in particular did you like about the program you chose?
My favorite part of Hammer and Chisel is the variety of the workouts. I love having different trainers and workouts throughout the course. Plus, each one was different and engaged your muscles in a different way.
Describe the results you achieved with your Beachbody program. Which achievements are you proud of?
My goal was a tricky one, and that was to get more definition. I was okay with my weight and waist size, but wanted to finally get a six-pack and overall definition. Because of the nutrition and variety of workouts, I achieved my goal and am honestly in the best shape of my life!
How has your life changed since completing your Beachbody program?
I feel amazing! I have energy when I wake up and throughout the day. I have a positive attitude toward life and everything I do. But even more, now I want to help more people go after their goals and dreams. This program has given me even more confidence in myself to go after my goals of giving motivational speeches to kids and helping them know how they can reach their full potential!
How did participating in a Challenge Group help you reach your goals? How did your group support you and keep you accountable?
Our Challenge Group was spectacular at keeping me motivated on the days that were difficult. Plus, I got many healthy recipes from our group.
How did your Team Beachbody Coach support you on your journey?
Marty was there anytime I had a question. Whether about a certain workout or move, nutrition, or even how to work out when I was not at home.
How did a Beachbody supplement, nutritional product, or program (such as Shakeology or Beachbody Ultimate Reset) support your transformation? What are the greatest benefits you gained? Did you see benefits to your energy, sleep, mood/mental clarity, or digestion/regularity?
The biggest benefit was Shakeology in keeping me full and helping build muscle. This also helped with weight loss since I was eating less calories, and my digestion has improved quite a bit! Plus, Beachbody Performance Energize was an excellent pre-workout drink to help me push through my workout and give it my all and then some!
You can change your life, too. Take the Beachbody Challenge for the tools you need to Decide, Commit, and Succeed! Complete any Beachbody program, and enter your results for a free gift and a chance to win cash and prizes. What program are you committing to next?

†Results vary depending on starting point, goals, and effort.