Beachbody Results: Shelly Lost 80 Pounds and Won $500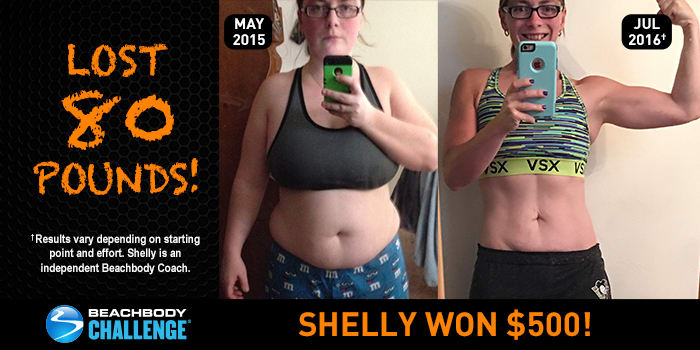 Shelly Leven lost 80 lbs. with a variety of Beachbody fitness programs and Shakeology. She entered her results into the Beachbody Challenge, and won the $500 Daily Prize for September 28th!
Tell us about your life before you started the program. How did you feel about yourself and your body?
I was up to 200 lbs. Being 4'11", I was tired and had anxiety and depression. My doctor was concerned about my blood pressure, and I knew I needed to do something with my life to change it.
What inspired you to change your life and begin your transformation journey?
I was overweight at 200 lbs., and I needed to do something about it. I needed to change my lifestyle to get healthier. Since beginning with Beachbody, I've lost 83 lbs. and completed FOCUS T25, INSANITY MAX:30, The Master's Hammer and Chisel, 22 Minute Hard Corps, and 21 Day Fix. It's changed my life!
What is the greatest challenge you faced before beginning the program? How did the program and Beachbody help you overcome that challenge?
I had to be consistent and not give up! I took it one day at a time! It wasn't easy, but I kept pushing myself. I kept myself motivated and telling myself I can do this!
What in particular did you like about the program you chose?
It kept me interested! Every day I looked forward to working out! It was challenging! I am more toned, have more muscle, and feel so strong.
Describe the results you achieved with your Beachbody program. Which achievements are you proud of?
I am proud I didn't quit! I pushed every single day telling myself I can do this! I want to be healthy and happy! Now I am more confident in myself. I want to inspire other people and to let them know, "If I can do this, so can you; it's possible!"
How has your life changed since completing your Beachbody program?
I have more energy than I ever had before. I have more confidence in myself and feel so much stronger. I am so proud of how far I have come. My doctor used to be concerned about my blood pressure, but now that is no longer a concern. This is the healthiest I have ever been in a long time!
How did participating in a Challenge Group help you reach your goals? How did your group support you and keep you accountable?
Every day I would post my workouts. Seeing other people's struggles, we lifted each other up and pushed each other. It made you want to work out for the accountability.
How did your Team Beachbody Coach support you on your journey?
Oh my goodness, my Coach is wonderful! Anything I had a question about, she helped me and guided me. She never let me down and was always checking on me about how I've been.
How did a Beachbody supplement, nutritional product, or program (such as Shakeology or Beachbody Ultimate Reset) support your transformation? What are the greatest benefits you gained? Did you see benefits to your energy, sleep, mood/mental clarity, or digestion/regularity?
I was using Shakeology every day. I have more energy, and it helped me lose the weight!2 It's a great product.
You can change your life, too. Take the Beachbody Challenge for the tools you need to Decide, Commit, and Succeed! Complete any Beachbody program, and enter your results for a free gift and a chance to win cash and prizes. What program are you committing to next?

†Results vary depending on starting point and effort.
2These statements have not been evaluated by the Food and Drug Administration. This product is not intended to diagnose, treat, cure, or prevent any disease.