Beachbody Results: Shelley Lost 44 Pounds with 21 Day Fix and T25!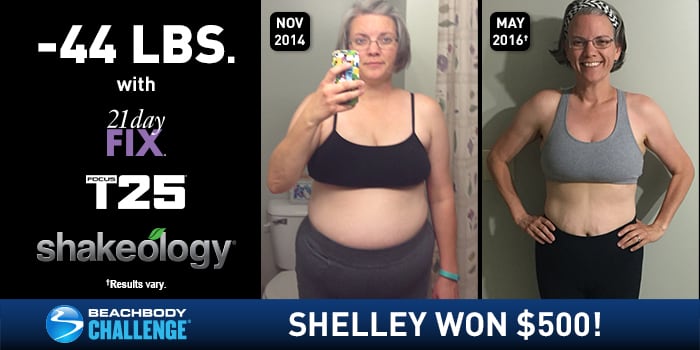 Shelley Bogenschutz lost 44 lbs. with 21 Day Fix and FOCUS T25. She entered her results into the Beachbody Challenge, and won the $500 Daily Prize for August 17th!
Tell us about your life before you started the program. How did you feel about yourself and your body?
Portion control, along with food choices, have always been a challenge for me. In addition to my poor food choices, other than taking care of my boys, I was pretty sedentary.
What inspired you to change your life and begin your transformation journey?
I was tired of not being comfortable in my own skin. Along with the need for confidence, I was done with being unhealthy! I knew I wasn't being the best me for my future self, for my husband, and boys. I knew I had to change the direction I was taking my health. I decided that I control what I choose to eat and how often I choose to exercise.
What is the greatest challenge you faced before beginning the program? How did the program and Beachbody help you overcome that challenge?
I was dealing with some auto-immune flare-ups and also discomfort/pain regarding digestion. By focusing on getting more clean foods and less processed foods in my daily diet, it has helped alleviate flare-ups and digestion pain.
What in particular did you like about the program you chose?
The portion control!
Describe the results you achieved with your Beachbody program. Which achievements are you proud of?
I know that my endurance has increased. I now run! I may be a bit slow for most, but I no longer need a breath treatment after.
How has your life changed since completing your Beachbody program?
Yes! I know I am much more mindful with my nutrition. And I know and respect the importance of exercise. Although I strive for at least 30 minutes of exercise a day, it may not always happen with life and family. So I focus now on making my exercise time the best I can in that moment. Just be better than I was the day before.
How did participating in a Challenge Group help you reach your goals? How did your group support you and keep you accountable?
Knowing that I needed to check in with the Group motivated me, because I knew it was expected for me to share what I accomplished for the day regarding the workout and eating plan. Being new to the 21 Day Fix, there were still many questions that I had. I was able to ask questions as needed. It was a wealth of knowledge.
How did your Team Beachbody Coach support you on your journey?
Staying motivated by seeing everyone's daily workout and food plan balanced with their lives, along with the individual progress, were all great motivators.
How did a Beachbody supplement, nutritional product, or program (such as Shakeology or Beachbody Ultimate Reset) support your transformation? What are the greatest benefits you gained? Did you see benefits to your energy, sleep, mood/mental clarity, or digestion/regularity?
Drinking Shakeology has certainly given me more energy, helped with digestion, and helped curb my sweet tooth. Not to mention it is very refreshing after a workout.
You can change your life, too. Take the Beachbody Challenge for the tools you need to Decide, Commit, and Succeed! Complete any Beachbody program, and enter your results for a free gift and a chance to win cash and prizes. What program are you committing to next?

†Results vary depending on starting point, goals, and effort.