Ryan Lost 125 Pounds With P90X and Other Beachbody Programs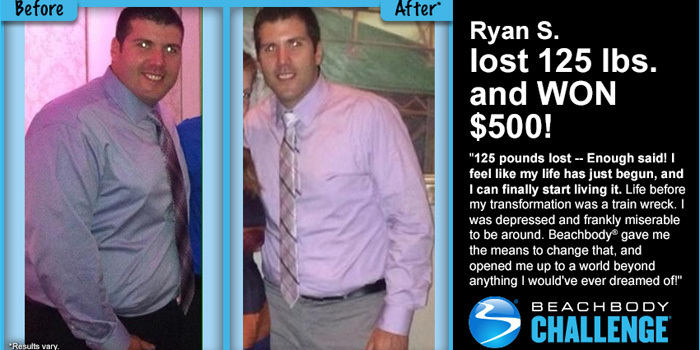 Meet Ryan Seabury. He participated in The Beachbody Challenge, lost 125 pounds with P90X, Focus T25, and PiYo, and he won the $500 Daily Prize for November 11th, 2014!
Tell us about your life before you started the program. How did you feel about yourself and your body?
Life before my transformation was a train wreck. I was 326 lbs and climbing fast. I only got 2-3 hours of sleep a night. I was sad and frankly miserable to be around. My inner unhappy self was showing on the outside without me realizing, and was leaving me isolated from friends and family. My body hadn't seen a swimming pool or beach in almost a decade, and my confidence and self-esteem were at rock bottom.
What inspired you to change your life and begin your transformation journey?
There was a couple red flags that in hind sight I should've paid attention to. There wasn't just one thing that triggered my life-altering journey. My friend was diagnosed with diabetes for one. Knowing it not only should've but inevitably could've been me was the short term reason. Long term, I had recently become an uncle for the 2nd time. Not only did I want to be healthier and live longer to see them grow old, but also I didn't want to be that uncle that watched from the sidelines because I was out of breath and couldn't keep up. I wanted to prolong my life and one day be a husband and father. One restless night, back pain keeping me up, I came across an infomercial for P90X. I knew at that moment what I needed to do. Beachbody gave me the means to change, and opened me up to a world beyond anything I would've ever dreamed of!
What is the greatest challenge you faced before beginning the program? How did the program and Beachbody® help you overcome that challenge?
Honestly, getting off the couch was challenging enough. Pushing play was in a class all to itself at first. Adhering to any kind of meal plan was way out of my league. Especially one that involved any kind of portion control. Week 1 snowballed into week 2, week 3, and as days progressed, the more habitual and easier it became. My only regret is that I didn't become a Coach sooner and have that support system that challenge groups provide.
What in particular did you like about the program you chose?
The modifiers! God bless the modifiers! Without them, I would've been extremely discouraged that I wasn't able to keep up and probably would not have kept pushing play. As time progressed, I did like the charisma and intensity of both Tony Horton (p90x), Shaun T (Focus T25) and now Chalene with PiYo.
Describe the results you achieved with your Beachbody program. Which achievements are you proud of?
I lost 125 pounds. Enough said!
How has your life changed since completing your Beachbody program?
Life hasn't changed since completing. My life has just begun, and I can finally start living it. Since completing and directly resulting from these programs, I have done countless races. I have participated in, to date, several 5K and 10K's, successfully completed 2 Spartan runs, and completed a half-marathon with plenty more planned.
You can change your life, too. Take the Beachbody Challenge, for the ultimate motivation to get fit! Select any Beachbody program and once you complete it, share your results for your chance to win cash and prizes.
Ryan is an independent Beachbody Coach.
Results vary depending on starting point, goals, and effort.