Beachbody Results: Pam Lost 45 Pounds and Won $500!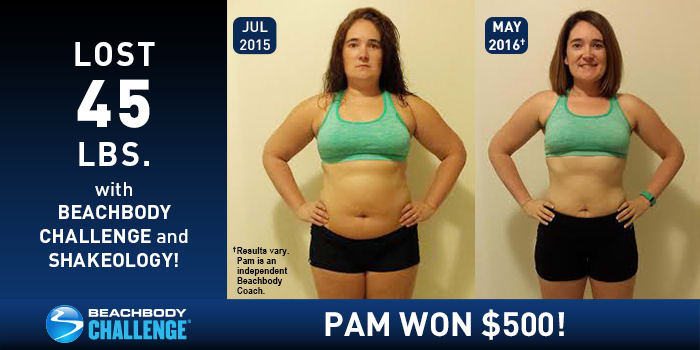 Pam Smith lost 45 lbs. with Beachbody fitness programs. She entered her results into the Beachbody Challenge, and won the $500 Daily Prize for August 1st!
Tell us about your life before you started the program. How did you feel about yourself and your body?
I was tired all the time and didn't have any energy to play with my kids. I just went to work, came home, and sat on the couch watching TV all afternoon. I was ashamed when I saw pictures of myself and did not feel comfortable at all.
What inspired you to change your life and begin your transformation journey?
I have always wanted to lose weight, but never wanted to do the work. My husband bought a scale to track his weight gain. I stepped onto it and was shocked at just how big I had let myself get. The very next day, I started my weight-loss journey.
What is the greatest challenge you faced before beginning the program? How did the program and Beachbody help you overcome that challenge?
Not sticking with a workout program long enough to see results was the biggest challenge. I was able to overcome this challenge because the Beachbody workouts were fun. I enjoyed getting to do them every day, and loved getting the feedback from friends and family.
What in particular did you like about the program you chose?
The first workout program I did was Hip Hop Abs with Shaun T. I loved it! He made it fun, and I enjoyed getting to do it every day. Once I finished that one, I started 21 Day Fix. This was my introduction to weights, and although I loved the dancing workouts more, I stuck with it and completed it. Next, I made my way through CIZE, The Master's Hammer and Chisel, Beachbody On Demand, Brazil Butt Lift Carnivale, Rockin' Body, and just started INSANITY.
Describe the results you achieved with your Beachbody program. Which achievements are you proud of?
Since I started in July with this journey, I have lost almost 50 lbs. Not only can I see and feel a difference, but my friends and family can too. I love hearing the comments from others. It makes me want to keep going, and strive to be better and stronger.
How has your life changed since completing your Beachbody program?
I wake up ready to go, work out, work all day, come home, and usually go on a walk with the family, play with my girls, cook supper, and still have energy to do things around the house. I have started running and competing in some 5ks, 10ks, and even finished two half-marathons.
How did participating in a Challenge Group help you reach your goals? How did your group support you and keep you accountable?
It was awesome keeping up with everyone, seeing their posts about their struggles, and sharing recipes.
How did your Team Beachbody Coach support you on your journey?
She was there to answer any questions that I had and still have.
You can change your life, too. Take the Beachbody Challenge for the tools you need to Decide, Commit, and Succeed! Complete any Beachbody program, and enter your results for a free gift and a chance to win cash and prizes.

†Results vary depending on starting point, goals, and effort.