Beachbody Results: Mark Lost 38 Pounds and Won $1,000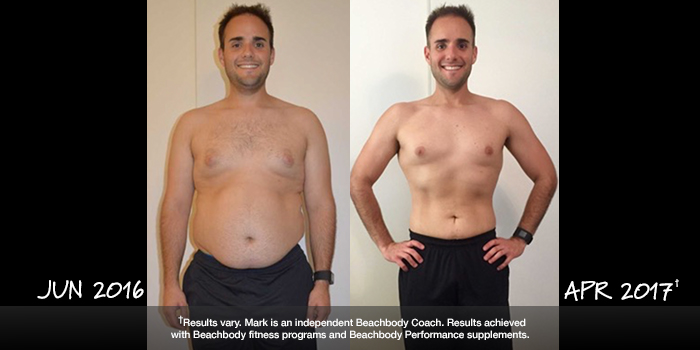 Mark Pennington, age 30, lost 38 lbs. in 9.5 months with a variety of Beachbody fitness programs on BOD, Shakeology, and the Beachbody Performance supplements. He entered his results into The Beachbody Challenge and won $1,000!
Tell us about your life before you started the program. How did you feel about yourself and your body?
My wife and I have always enjoyed being active and living a healthy life. We came to a point where we wanted to start a family, however, the pregnancy had some complications and we were in and out of the hospital with several extended stays. She was put on bed rest about half way through the pregnancy and at that point I started trying to take care of her and gave up on taking care of myself. She struggled with "morning sickness" that was much more of an "all-day" sickness. Her morning sickness was so bad that eating anything other than macaroni and cheese and steak would make her throw up. Happily, I ate the mac and cheese and steak right along with her. I definitely put on more weight that pregnancy than I ever have before. Binge watching TV became our favorite activity, and the most strenuous activity that I did was getting off the couch to make the popcorn for the next show! I was watching my belly grow right alongside hers!
What inspired you to change your life and begin your transformation journey?
Becoming a dad single-handedly transformed my mindset. This beautiful baby girl needed a father she could look up to. I didn't want to be a fuddy duddy daddy any longer! My wife had this program T25 on DVD that she had since she was in college. It was made by the same guy who made INSANITY or something like that… (just kidding Shaun T, we love you!). Between being a new dad, not getting any sleep, and work taking up the majority of my day, I needed something short and to-the-point. I committed to Shakeology and the other Beachbody Performance products and gave them a shot. Now, almost a full year strong of drinking Shakeology nearly every day, and working out as often as I can, I can say I enjoy my new lifestyle and never plan on changing! CORE DE FORCE is my "soul workout." I can tell very quickly when I skip a day. Something needs to break if I don't get my workout in!
What is the greatest challenge you faced before beginning the program? How did the program and Beachbody help you overcome that challenge?
Not enough sleep! Being a new dad, with my wife back at work full-time, we try to alternate who gets the kiddo throughout the night for those feedings that seem to be every few hours. We both work nearly 10–12 hours, 5 days a week. By the time we're both home, eat dinner, make lunch for the next day, clean up the kitchen and get our daughter ready for bed, it's time for us to go to bed! I found that the best time for me to work out is starting at 5am; first thing in the day. Take some Energize, and get at it. I have found that my body now is acclimated to that and it's not really a big deal. As Tony Horton says in P90X3, going to a gym is a waste of time. Working out at home saves so much time and really helps me be efficient with my time management so I can be the best dad/husband I can be for my family.
What in particular did you like about the program you chose?
We have Beachbody On Demand as well as many of the programs on DVD from earlier. I have tried many of the programs, but have only completed T25 and CORE DE FORCE so far. I loved how T25 started off very do-able for my out-of-shape self. It ramped up to Gamma at a pace that I could barely keep up with, but gave me an amazing foundation to continue building upon. When CORE DE FORCE came out in November, I had to get it and try it out. I instantly fell in love with the program. It taught me a little about fighting, a lot about fitness, and gave me a lot of confidence. My abs are not perfect yet, still have a ways to go, but that program helped shape them. I have never seen them before! "Oh hello abs!" I also feel like I can defend my family a bit better than I could have before, and that's a very nice bonus! I have completed an abbreviated, second round of T25 and still love it just as much as when I first started it nearly a year ago!
Describe the results you achieved with your Beachbody program. Which achievements are you proud of?
I'm proud of losing almost 40 pounds! I still need to transform my body as I need to continue losing body fat and gaining muscle. I'm also proud of the healthy habits Beachbody has helped me form: working out daily and getting my "daily dose of dense super-food nutrition!" But most of all, I'm proud to say that I'm starting to feel like I'm actually a good role model and example for my family!
How has your life changed since completing your Beachbody program?
Lets be honest, we're never truly done! Sure, I did the 14 week T25 program (Alpha, Beta, and Gamma), the 60 Day CORE DE FORCE (Standard and Deluxe), and now a one month round of T25 Alpha, Beta, and Gamma and I'm super proud of it; but I plan on doing every Beachbody workout. I guess that answers the question itself — it changed my mindset to be much more fitness oriented. Beachbody has helped me realize the daily need for body maintenance, working out and eating healthy.
How did participating in a Challenge Group help you reach your goals? How did your group support you and keep you accountable?
My wife and I along with some friends did the Health Bet in January. That was a lot of fun. Getting fit for money is always fun! Having others help keep you accountable along the way really helps out.
How did your Team Beachbody Coach support you on your journey?
I have the benefit of my Beachbody Coach being my wife. She supports me in more ways than I can list with only 1000 characters for this text box. If it wasn't for her introducing me to T25 and Shakeology a year ago, who know's where I'd be? To summarize though, she encourages me when I'm low on motivation. She pushes me when I'm lazy. She kicks me out of bed when I'm sleepy. I want to be a husband she is proud of, and want to be a great example for our family. In all, she helps encourage me to be a better man.
How did a Beachbody Supplement or Nutritional Product or Program (such as Shakeology or Beachbody Ultimate Reset) support your transformation? What are the greatest benefits you gained? Did you see benefits to your energy, sleep, mood/mental clarity, digestion/regularity?
Shakeology has helped me fight off cravings, and lose weight, all while making sure I get the veggies I need for a good start to the day.2 The Ultimate Reset was a tough but great way to start the year off. And the 3-Day Refresh is perfect after I've fallen off the band wagon with a weekend of binge eating and need to get back on. Energize helps me get my day going and Recharge helps me prepare for the next day all while helping me to stay away from the peanut butter or ice cream late at night!2 In all, the Beachbody line offers many great options to help stay on the right nutrition track.
Tell us about your experience with Beachbody On Demand. If applicable, how has it helped you achieve your goals?
I think it's an amazing program and I'm looking forward to seeing how Beachbody continues to improve it. I love how I can get bonus workouts like MMA Speed 2.0 and MMA Shred 2.0. I think that's a great idea and I hope to see more CORE DE FORCE workouts! I love how all the books are on the app as well. Very useful! I'm also really looking forward to Shaun Week!
You can change your life, too. Take the Beachbody Challenge for the tools you need to Decide, Commit, and Succeed! Complete any Beachbody program, and enter your results for a free gift and a chance to win cash and prizes. What program are you committing to next?

†Results vary depending on starting point and effort.
2These statements have not been evaluated by the Food and Drug Administration. This product is not intended to diagnose, treat, cure, or prevent any disease.